Everette Brown
, DE/OLB, Florida State
6'2, 256 lbs
2008: 37 tackles, 31 solo, 13.5 sacks, 21.5 tackles for loss
Combine: 4.73 forty, 26 bench reps
Pro Day: 3/16
Junior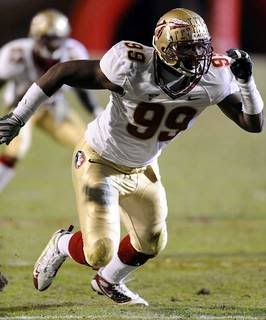 Robert Ayers
, DE, Tennessee
6'3, 272 lbs
2008: 49 tackles, 33 solo, 3 sacks, 15.5 tackles for loss
Combine: 4.80 forty, 18 bench reps
Impressive Senior Bowl
Pro Day: 3/11
Ev's stock has been dropping due to size, however Ayers stock is on fire.
Personally, I feel Brown is the better player and pass rusher regardless of his height. He has the moves and drive to pressure QB's in the pros.
Although I like him more, Ayers is still a fine DE and 1st round prospect. He had a great senior bowl and is moving to the early first in a number of recent mock drafts.
Who is the better prospect; who should be off the board first?