With the season over I'll offer my writeup of the potential pro prospects from this seasons SR/JR's on the KU team.
* Kerry Meier; WR, 6'3/220#. Former QB moved to WR part-time as a soph. Only began practicing at WR fulltime this season. Responded by catching 102 passes for 985 yards with a long of 71 yards. In 2.5 years at WR became KU's all time leading pass catcher. Pros: Has great hands, good explosiveness (rumored 4.5 40 yard dash, 34+" vertical), upside (still learning the position), body-control and route running ability. Great toughness. Cons: Has only played fulltime at WR for 1 year, injury concerns (played thru nagging injuries for much of JR year), faster than he is quick. Pro comparison: Dwayne Bowe or Mushin Muhammed.
* Maxwell Onyebule; DE, 6'5"/258#. Good coordination and looks fluid on the field but isn't overly athletic (4.9+ 40, 28-30" vert). Part-time starter as a JR/SR. Consistently around the ball and can make outstanding plays (36 yard int return for TD as a SR, 21 yard int return as a JR). Pros: Long-arms, quickness, well rounded/decent athleticism, knack for being around the ball. Cons: Never could consistently put it all together even though he benefited by having Jake Laptad on the other side of the line. Pro Comparison: Can't think of one. Could possibly make the move to 3-4 OLB.
* Todd Reesing; QB, 5'11/185#. All Big XII QB is a playmaker when healthy but lets just be honest...the NFL isn't looking for 5'9.5" QB's who are better off rolling out of the pocket and throwing on the run than dropping back. Good college QB but very limited pro potential. Pros: Very good at avoiding the rush, great quickness, can improvise and make plays when the protection breaks down, throws fastballs on the short-medium range passes. Cons: Will occasionally stare down a receiver, balls flutter on passes over 40 yards, will take losses trying to make a big play. Pro Comparison: Doug Flutie with less arm strength.
* Jake Sharp; RB, 5'11/190#. Fastest player on the roster is a great athlete, rushed for 800+ yards during his SO/JR seasons but missed the equivalent of 3.5 games as a SR with a fractured tibia. Super explosive, rumored to have been electronically timed at 4.29 in the 40 yard dash during spring testing before his SR year. Tied Cowboys CB Terrence Newman's school record in the 100m dash with a 10.36 in highschool (
http://www.usd305.com/central/athlet...20Records.htm)
.
Pros: Speed and explosiveness, very good at catching the ball out of the backfield, toughness (played thru cracked ribs as a JR, attempted to play thru a cracked tibia as a SR).
Has never fumbled in his entire career
, not just never lost a fumble, he's never fumbled period (
http://espn.go.com/ncf/player/stats?playerId=191559
) Cons: Size/Durability (for all his toughness his body has broken down every time the team used him as the featured back). Pro comparison: Can't think of one. Possesses
similar
size/skillset as Chris Johnson but less size and explosiveness.
* Darrell Stuckey, SS, 6'1/205#. Great combination of instincts/intelligence and athleticism. Probably the most complete player on the roster. Not flashy but does everything very well. Also averaged 25+ yards per kick return as well. Hard to find a knock on the guy. Pros: Great instincts, very smart player, very good all around athlete. Cons: Has had minor injury problems over 2 season in his career. Pro comparison: Erik Coleman
* Justin Thornton, FS, 6'1/212#. Marginal pro prospect due to limited athleticism. Pros: Good vertical explosiveness but average to below average speed (4.65-4.7 40 yard dash). Cons: Not overly instinctive and doesn't take great pursuit angles. Pro Comparison: Aaron Francisco.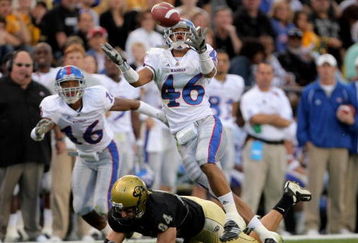 * Dezmon Briscoe, WR, 6'3/205#. I'll copy and paste the write-up that I posted in another thread.
It's a 90% forgone conclusion Briscoe will enter the draft this year. He struggles with academics and the rumor is that his family is struggling for money. While Briscoe has great open-field running ability and body control his speed and hands (i.e lack of concentration) make him a give-and-take player. For every good/great play he'll make he will let an easy ball slip thru his hands and hit him in the facemask. His route running ability and quickness allow him to get separation from DB's and make up for his lack of top-end speed he reminds me a bit of Ed McCaffrey though McCaffrey may have been a step faster (Briscoe is said to run in the low 4.6's). With his penchant for dropping balls I might even say a less athletic Braylon Edwards.
I will add that he does he a good job of high-pointing the ball when it's in the air, that's something other WR's struggle with.