With the First Overall Pick in the 2010 NFL Draft,
The St. Louis Rams select...
This could be better suited for the team boards, but I think it's something that's better and more appropriately discussed here. The St. Louis Rams hold the 1st Overall pick in 2009 and you don't have to be a Rams fan to admit interest in this one. The franchise hasn't had a strong, promising face in years and lacks a true personality on offense or defense. Steven Jackson is still among the league's three best backs in my opinion, but due to shaky OL play, the lack of a passing game, and the futility of the team's defense he hasn't been able to receive the recognition or success he deserves.
Since 2007, St. Louis has picked in the Top 12 three times, and has targeted the DL (Adam Carriker - 2007, Chris Long - 2008) and OL (Jason Smith - 2009). The team will be under coach Steve Spagnuolo for the second consecutive year and considering his defensive background, feeling is this is a guy who will build in the trenches first. Still the question has to be, how long can they put off picking a Franchise Quarterback if they continue to fall flat on their faces during the regular season? Can this team win next year or in 2011 without a passing game? You look at the situation now, realistically, and you see four options.
Nebraska DT
Ndamukong Suh
is the consensus #1 prospect in this years draft right now. Suh took home plenty of hardware this season, and proved to be the most dominant college Defensive Lineman in recent memory. Another interior DL, Oklahoma's
Gerald McCoy
, perhaps the most explosive lineman to come out in years, will challenge him for the top spot. If Suh is #1 then McCoy is #1B and there is a serious argument to be made which is a better prospect, and more importantly who fits better with what the Rams are trying to do.
Sam Bradford
, had a miserable injury-ridden campaign this year after claiming the Heisman trophy for Oklahoma in 2008. There is some speculation the Rams would have considered him last year with their Top 5 pick and with a good showing on March 29th (his NFL workout) that interest could be revived. Quarterback
Jimmy Clausen
from Notre Dame surged to the top of some boards at his position after a strong Junior campaign. He projects as the freshest, most dramatic new face in St. Louis and the team loves his body of work for the Irish.
Two positions. Four prospects. One pick. It's shaping up to be one of the most interesting battles in recent years, and as with the Reggie Bush/Mario Williams situation, I wouldn't be surprised to see this decision made in the final 24 hours. There's not going to be anything I say, or anyone else says, that will break this thing open and force everyone to see the light. There's going to be unrest about this pick, even from more casual football fans, up to the day of the draft. So what's the best move from a business standpoint, and is that the best move from a strictly football standpoint?
Ndamukong Suh - DT - Nebraska
6'3 7/8 - 307 - 5.00
#2 Defensive Tackle - #2 Overall
The nation's most feared defender, a guy who a defense was already built upon, and perhaps the most dominant college DT in over a decade is also the #1 NFL prospect on mine and many other boards. Most college football fans are familiar with the big Cornhusker, and if there was any doubt about his ability it was squashed in the Big XII Championship when Ndamukong Suh was unblockable. Double teams are routine for Suh and triple teams are also common. He holds the opposing OL to a whole other level of accountability as he can take over a game occupying two blockers. He's the rare DL prospect that makes every single defender's job easier; he makes his teammates better.
So what makes Suh so unstoppable on the field? It starts in his upper body. No DT prospect in years actively threw OL around the way he does. He's very strong in the upper body and uses his hands at an elite level. Suh is quick off the snap, and very quick to engage blockers with his hands. Once he gets his hands inside, he controls OL, and he displays the ability to do this to two blockers at a time. In his lower body he doesn't have a whole lot of girth or anchor strength. Still, a soccer background shows on the field, as his feet are very fluid, he gets good leg drive, and in space Suh shows the ability to track down Quarterbacks and Running Backs. He's surprisingly athletic for a DT, and projects more to NT in a 4-3 because of his ability to engage and occupy & control interior linemen.
There are no glaring holes in Ndamukong Suh's game, though there are some doubts about his projection to the NFL game. First, there's a concern about his knees which required surgery toward the beginning of his career in Lincoln. He has a fairly thin lower body for a 295+ player and will need to add some strength there if he's going to operate in a 4-3 scheme at NT. He doesn't play particularly low either, so injuries are a long-term concern due to the cut-blocking tendencies of interior linemen and pass-blocking RBs. He relies a lot on his hands, strength, and ability to control blockers so shorter explosive drive blocking OL may give him a tough time.
Still, despite a couple doubts here and there, I feel Suh has all the makings of a Pro Bowl DT at the next level. His skill-set is rare, he plays consistently at a high level, and he projects as a player to build a defense around. I've already covered his hands, his upper body strength, his natural athleticism, and his surprisingly nimble feet. No scouting report on Ndamukong would be complete without mentioning his motor and effort on the field. He's willing to contribute in any way he can: he rushes the passer, he makes plays in the run game behind the LOS, he gets his hands up in throwing lanes, and he even blocks kicks at a high level. Suh may be a shade below 6'4, but he has long arms and isn't shy at all about getting them up in the air to disrupt plays while battling double teams. He's a three down player and you can expect his motor to be running strong through the fourth quarter every game.
Though his first sports passion was soccer, Suh was a quick learner in football, a game that suited his size and physicality much better. His football instincts and ability to lead have developed remarkably fast and you'd be hard-pressed to find a guy more respected by his teammates/coaches than him. He displays remarkable intelligence not only on the field, but also in the classroom as an honor roll student. By all accounts I've seen and read, he's a great guy, high character and blue-collar all the way. His mean streak is just what you want to see inside and he's an intimidator to QBs, OL, and RBs alike. If you can believe it (which you have to) Ndamukong Suh has led the Cornhuskers in total tackles each of the past two years, he blocked five kicks in that period, and he made 43 tackles behind the line of scrimmage. His statistics speak loud about his game, especially when you see that he broke up ten passes last year, and he's picked off three passes over the last two years. He's a crushing hitter when he lines up his target and he possesses rare instincts/chase ability inside.
He's as active a front four prospect as I've ever seen following the draft, and he's got all the tools both physically and mentally to achieve his massive potential. Nebraska's Ndamukong Suh leaves college perhaps the most decorated college DT of All-Time and he made a strong late push for the Heisman trophy. The current favorite prospect for many.
Pros
+ Upper body strength, throws OL around and has no problem handling two
+ Hand use, very quick to engage, gets leverage, & controls lineman with his hands
+ Non-stop Motor, Suh will do it all and will keep it going in the 4th Quarter
+ Nimble feet, changes directions surprisingly well, benefit of soccer
+ Makes teammates better, occupies blockers & must be accounted for on every play
+ Football instincts, read-react skills, gets good position, uses hands to defend passes/kicks.
+ Elite level production, perhaps college football history's most decorated DT
+ Mean streak, plays angry, physical, doesn't quit, and intimidates opponents
+ Reliable tackler, delivers big hits, is a natural wrap-up tackler
+ Size, at 6'4 307 with long arms, broad shoulders and a very strong upper body
+ Natural athlete, not sluggish in any way, fluid in chase
+ Terrific football character, strong leader, excels in the classroom
+ Scheme Versatility, fits well at 4-3 NT or 3-4 DE
+ Had a great week in Indy where he outperformed Gerald McCoy in drills/tests
Cons
- Somewhat thin lower body, will have to put in some time in the weight room
- Knee injuries, had a history of knee surgeries earlier in his career
- Lacks elite anchor strength, may struggle with more stout, drive-blocking OL
- Is not overly quick to penetrate and doesn't explode off the snap
- Often stands up a bit too tall out of his stance and relies on his hands
- Has a soft-spoken personality that won't do him favors in the media/with teams like it will some others
Why the Rams will draft Ndamukong Suh 1st Overall
- Suh's the current favorite in the early stages of the process. It was his performance in Nebraska's Big XII Championship game that vaulted Suh to the top of most draft boards, and there he's stayed. Right now the Rams lack a true defensive identity, and have been shaky in the front seven. The team is looking for a top talent to build around and Suh fits exactly that, while it's not certain whether NT Clifton Ryan will move to UT in the starting lineup, find himself in a backup role, of staying at NT while the rookie is tried at UT. Ndamukong fits best at NT in a 4-3 scheme, and Spagnuolo typically prefers quicker, more explosive linemen for his UT spot. He'd certainly generate some buzz and confidence among the fan base, as he may have been the biggest name beside Tim Tebow by the end of the season. He's a rock to build a defense around, Spags is a defensive guy that saw a Defensive Line pave the way for a Super Bowl in New York.
Or...
Gerald McCoy - DT - Oklahoma (Jr.)
6'4 1/8 - 295 - 4.96
#1 Defensive Tackle - #1 Overall
Lost in the midst of a Sam Bradford injury and one of the best college seasons ever by fellow DT Ndamukong Suh, Oklahoma's Gerald McCoy had another great season and is a very elite prospect in his own right. The total package of size, strength, explosiveness, and instincts, McCoy was the rock of the Sooners defense the past two seasons. A picture perfect 4-3 UT prospect that lives in opponents' backfields and is a force against the run and pass.
The first thing you notice about him is the first thing you see, his explosiveness off the snap. It can be argued that no interior lineman in college football was as quick off the snap as Gerald McCoy was at an impressive 6'4 295. On the field, he appears to be one of the most athletic players out there, moving like he weighs 15-20 lbs less. He's very quick to get upfield, and it typically takes a double team to keep him out of the backfield immediately. McCoy is a rare penetrator and has found success on big stages (2009 National Championship) rushing the passer and stopping the run behind the LOS. He pushes the pocket from the inside and is athletic enough to change directions in space and run down a QB or RB.
Not everything he does is finesse and there is a lot of power in his game. His trunk is thick and his lower body is very strong. He gets a lot of power from his legs and is terrific when he gets into a lineman's pads. He might not have the raw brute strength of Ndamukong Suh, but McCoy uses his hands very well to shed and control blockers. In space, McCoy shows the feet and athleticism to run & chase and he changes his directions fluidly. The way he explodes off the snap and chases Quarterbacks often makes him resemble a Defensive End. He sets the tone and pace for OL and too often they'll struggle to adjust and need help.
Another thing I like about Gerald McCoy is his versatility. In the past two years at Oklahoma, I've seen him line up at every front four position (including NT in 3-4 and 4-3, DE in 3-4 and 4-3) in addition to his natural 4-3 UT. I've seen him turned loose to run the passer on the outside and I've seen him drop back and make plays in zone coverage against both the pass and against the run. Often his value to Oklahoma team is not evidenced in statistics and I think some confuse his versatility (and attention received) with inconsistency. Like Suh, he has to be accounted for on every single play, receiving constant double teams wherever he lines up. He makes the defense around him better by occupying two blockers, creating one on one situations for his teammates and more flexibility in coverage.
Few Defensive Tackles in the past decade have been able to push the pocket and affect the pass and run game as much as Gerald McCoy. Still, there were a lot of plays the past couple years that he took himself out of by over-pursuit and he's missed some tackles that way. Generally speaking, McCoy plays very smart, pushing the pocket from the inside, forcing the play outside, and (when he plays DE) pushing from the outside, forcing the play up into the teeth of the D. I've seen him overrun plays though and miss potentially big plays. Also, McCoy is occasionally washed down the line, as his defense required him to do a lot of slanting/stunting; this is a big reason why his statistics aren't what say, Ndamukong Suh's, are. He has good football character, he always plays hard, and he's extremely personable. He'll have an easier time than the soft-spoken Suh building relationships with teams and the media.
I completely believe that if Ndamukong Suh hadn't had the year he did, we'd all be talking about a once in a decade Defensive Tackle prospect named Gerald McCoy. He'd have been a Top 5 pick a year ago and figures to go in the Top 3 this year. The gap between he and the #1 DT is very, very small and different teams will prefer either though they're going to be closely rated on every team's board. Some forget that before Suh won Big XII Defensive Player of the Year in 2009-10, McCoy won it as a Sophomore in 2008-09. McCoy is a dominator in his own right and should fit in any scheme. A picture perfect 4-3 UT, but also a damn good 3-4 DE prospect. Top Three lock, #1 a distinct possibility.
Pros
+ Extremely explosive, very quick off the snap, quick to engage & penetrate
+ Thick, powerful lower body, draws his explosion/power from his legs
+ Strong pass-rusher, he pushes the pocket and penetrates from both inside & outside
+ Very versatile, has experience everywhere on the DL and drops back into zone coverage
+ Good hands, flashes a good punch, uses his hands to shed & control OL
+ Strong, physical and powerful playing style
+ Moves well in space, good feet and plenty of athleticism evident
+ Good size at 6'4 295, with a thick, proportionate build
+ Makes plays behind the LOS, active and instinctual in the run game
+ Big hitter, solid tackler and will stay with the play downfield
+ Great motor, gives an outstanding effort in whatever role he plays
+ Draws double teams, frees up teammates in one on one situations
+ College production, Second Team All-American as a Soph. & Junior
+ Strong football character, very passionate about the game
+ Very durable, didn't miss a college start
Cons
- Can overrun plays and can be baited
- Was forced out of some plays when slanting/stunting
- Lacks elite power to consistently handle double-teams
- No real marked improvement in 2009-10.
- Had average Combine #'s with only 23 reps of 225
Why the Rams will draft Gerald McCoy 1st Overall
- Despite what some will have you believe, Gerald McCoy not only deserves to be mentioned in the same sentence with Ndamukong Suh, he should also be garnishing major attention with the first pick. Schematically, there is no doubt that McCoy steps right in and makes everything easier for the Rams, playing the 4-3 UT spot. Coach Steve Spagnuolo prefers explosive, penetrating DL and he has a hole open right in the middle of his defense for McCoy, a picture-perfect fit. McCoy was a Second Team All-American the past two years and was the National Freshman Player of the Year before that. He has perhaps a more NFL-friendly body without the knee injury concerns. His ceiling is unlimited and his floor also seems very high, a truly special talent at all stages of his career and has a top passion and understanding for the game. The game starts in the trenches and Spags gets his rock in the middle.
Or...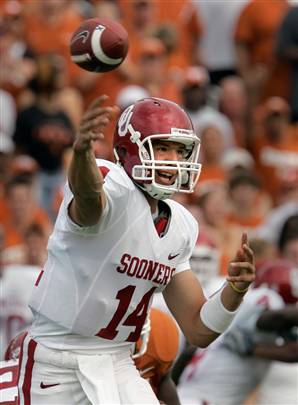 Sam Bradford - QB - Oklahoma
6'4 1/2 - 236 - 4.78e
#1 Quarterback - #3 Overall
Since the day Sam Bradford became the starting Quarterback for the Oklahoma Sooners, he was a star. In his (Redshirt) Freshman year he was the most efficient QB in the nation, and as a Sophomore he won the Heisman Trophy as the best player in college football. If he had declared for the 2009 NFL Draft, he would have likely been a Top 2 Pick perhaps to the St. Louis Rams. In the most recent example of a player making the wrong decision regarding underclassman entry into the draft, Bradford was hurt the first week when he landed on his throwing shoulder, then later re-injured it in October. It's hard to ignore his body of work on the field though and despite his serious durability question (and a few others) he's likely a Top 5 pick in this draft and the top player at his position depending on who you ask.
At 6'4 236, Sam Bradford has the prototypical NFL Quarterback build, he has excellent pocket presence, and he throws an accurate ball with great zip. On film I'm most impressed by Bradford in this class, though his learning curve remains higher than his competition Jimmy Clausen. In college, he may not have played in a pro-style offense, but he did an unbelievable job at surveying the field, reading defenses, and finding the open man. He's extremely smart on and off the field and has the look of a film-room junky. Even on the move, Sam can be seen surveying the field and checking his options. Though he'll have to adjust to dropping back from under center, his footwork and throwing mechanics are solid. He steps into his throws and usually throws with a high release point and a compact delivery. He finds open receivers, gets the ball out on time, and fires off his back foot.
There is some question as to how good Bradford's arm is. He has a good, but not great, NFL arm. His system didn't have him throw too many deep balls and when he did he showed the ability to put the ball downfield accurately, though it's not necessarily the prettiest all the time. He'll need a lot of reps leading up to the draft throwing 40+ yard passes and should be fine. His arm strength really shows on his intermediate throws between 10-25 yards, where he displays great command, a tight spiral, and very good zip. Bradford's capable of making most if not any NFL throw and hits receivers 20 yards downfield on the far hash, in stride, with that same velocity.
He's an extremely accurate passer with a lot of patience and confidence. He fits the ball into to tight spots and is capable squeezing throws in through traffic. Bradford shows a lot of touch on his short passes and can drop balls in downfield as well. His ball is very catchable and he commands his teammates respect on the field and in the locker room. He distributes the ball very well and shows rhythm & timing standing in the pocket. Outside the pocket, his athletic background (including Golf and Basketball) help him as he does not appear so stiff or slow when the heat is on. He's very capable of picking up yards with his feet, and can escape from pressure and throw on the move.
There's a lot of concern over Sam Bradford's injuries and his adjustment to a pro-style offense. His recurring shoulder injuries are going to be obstacle for him to climb and there is legitimate concern that durability is going to be an issue at the next level (especially now that he can't lean on the shotgun formation.) He'll need to check out medically at the Combine and show it's capable of handling reps in workouts. His inexperience in a pro-style offense is another cause for concern, as he played his college career in mostly the shotgun formation behind the nation's best Offensive Line. Bradford's a rhythm passer, and he'll need to adjust his footwork in the pocket and tweak his throwing mechanics to be a consistent player.
At the Combine, where Bradford weighed in impressively, interviewed very well, and scored an exceptional 36 on his Wonderlic. I expect he'll build a strong relationship with the top teams and figures to be off the board among the draft's first four picks. Were it not for injuries, we may be talking about Bradford as the unanimous top pick in the draft realistically. He will be seen as a Franchise Quarterback to the team that drafts him.
Pros
+ Pocket presence, is very calm, patient, and keeps his eyes active
+ Prototypical NFL Size/Athlete at 6'4 236 with athletic background
+ Strong arm, shows great zip on intermediate passes, can make every throw
+ Very precise and accurate, developed great timing, fits the ball into tight spots
+ Footwork in/out of the pocket, steps into his throws, good escapability
+ Very intelligent, cerebral player who reads defense/sees the entire field
+ Leader and a Winner, great command of his team & won games
+ Work ethic, a blue-collar worker on the field, in the weight room, & in the classroom
+ Unbelievably Productive, Decorated QB, 2009 Heisman Trophy Winner
+ Likable Personality, personable guy and a well-liked/respected teammate
+ Good Throwing Mechanics, keeps the ball high and has a compact delivery
+ A young new face for the team that drafts him to play QB
Cons
- Durability a major red flag, recurring injuries to throwing shoulder sidelined him in 2009
- Played in a spread offense, saw mostly man coverage & lined up mostly shotgun
- Needs to make adjustments to his footwork to become a drop-back passer
- Was surrounded by a strong supporting cast and the nation's top OL
- Not the prettiest deep ball, not a lot of experience airing the ball out 40+ yards
- High learning curve for Top 5 pick
Why the Rams will draft Sam Bradford 1st Overall
- The prototypical 6'4 236 Quarterback fits the team's West Coast offense and brings a fresh face and a winning attitude. Sam Bradford brings a well-liked, well-established college football star to St. Louis to turn around the Rams losing ways. He brings all the physical tools necessary to be a star QB, has the intangible qualities you look for, and would likely start from Day One in St. Louis. Last year before the Underclassmen deadline there was speculation the Rams could look to Bradford with the 2nd Overall Pick and the idea makes the same sense today. He goes to St. Louis as a try-hard guy with plenty of God given talent (like Jason Smith) and he brings a much needed fresh face to the passing game. The injuries don't deter Spagnuolo as Bradford's had ample time to heal and has shown the ability to make any throw. A Franchise Quarterback in St. Louis.
Or....
Jimmy Clausen - QB - Notre Dame (Jr.)
6'2 5/8 - 222 - 4.77e
#2 Quarterback - #7 Overall
We all heard about Clausen a few years ago, as he came out of California's Oaks Christian High School touted as one of the most college ready Quarterbacks in recent memory. While he failed to bring Notre Dame back to national glory, he did live up to his own personal hype by his Junior season. This past year, with future early round picks Golden Tate and Michael Floyd, Jimmy looked comfortable, he looked dynamic, and he looked extremely efficient. He projects as the most NFL-ready Quarterback prospect in 2010 and has a good deal of upside with a nice blend of accuracy, arm strength, and intelligence.
He may not be the tallest guy, at just around 6'2 5/8, but he possesses a good, strong build and still makes efficient reads downfield. He displays a terrific feel for the position and has excellent mechanics. His delivery is short and his release is quick, the result is a very catchable ball. His footwork in the pocket and outside the pocket is impressive and he's able to throw well on the move. He shows a good feel for pressure and thinks on the move when the pocket collapses. Clausen is by no means a dual-threat Quarterback, but he shows good athleticism and escapability. He reads defenses well, keeps his eyes downfield and steps into his throws. His draft stock really benefits from his experience under center in a pro-style offense during his college years.
Clausen displays both a strong arm and impressive accuracy. His deep ball could use some work, as right now he often gets too much air under it and it hangs. Still, he shows terrific zip and command on his short to intermediate routes and has the arm to make any throw. He throws a tight spiral, has good touch, and throws a catchable ball. He's very accurate downfield and to the far hash, his timing with his receivers really shows. On the move, Clausen keeps his eyes downfield, displays good patience, and get drive the ball downfield accurately with that same tight spiral. He anticipates both his receivers and the defense well which has allowed him to become one of the most efficient QBs in the college football.
A big question mark some have about Jimmy Clausen is his character. Most questions seem to revolve around his maturity, how good a teammate he'll be, and how big a part the Clausen family will play for any team that drafts Jimmy. I think the maturity/teammate issues are overblown and likely go back more to high school when he was on magazine covers by his Sophomore & Junior years. At Notre Dame, I know he's taken the time and put in work with his receivers and in the weight room. This past summer, Clausen flew Golden Tate, Kyle Rudolph, & Michael Floyd out to California to work on timing and precision. He definitely earned his teammates respect this past year and I buy him more as a leader these days than an immature me-first player. How big a factor his family will be remains to be seen and I think new leaves will be turned during his Combine interviews, private workouts, and contract negotiations (if St. Louis decides to negotiate with 2 or more players).
Ultimately, with so many teams in need of a new face and franchise Quarterback, it would really surprise me to see Clausen escape the Top 9 picks. There are some questions that need to be answered about the Notre Dame product, but he has the tools to be a Franchise Quarterback for a team and appears to be a Top 5-10 value in a weak draft at the position. Expect his name to emerge as a prominent option in the #1 Pick race because of St. Louis' futility in the passing game, their lack of a fresh face, and his fit in their West Coast offense.
Pros
+ Strong football background & rare feel for the position
+ Excellent throwing mechanics, short delivery and quick, clean release
+ Very accurate, shows great timing and fits the ball into tight areas
+ Strong arm, displays great zip and the ability to make any NFL throw
+ Plays smart, very efficient, reads defenses well and anticipates coverage
+ Experience in a pro-style offense, worked under center in college and threw a complete route tree
+ Anticipates the pass rush well, is a quick decision maker
+ Has good feet, shows escapability from the pocket, and steps into his throws
+ Throws well on the move, keeps his eyes downfield, is patient
+ Breakout year in 09', big time production and great TD:INT ratio (28:4)
+ Athletic build, is not fragile
+ Durability
+ Is a leader and a new face for the team that drafts him
Cons
- Deep ball needs work, often hangs in the air
- Average height at 6'2 5/8
- Has to answer some maturity questions with a frat-boy personality
- Uncertainty about his family and contract negotiation
- Was not a real winner in college, average record on a big stage (Probably not his fault)
- Occasionally his feet will be a bit too active and he'll feel pressure that's not there
Why the Rams will draft Jimmy Clausen 1st Overall
- It's hard to think the "Greatest Show on Turf" has been gone for so long, though they looked like they were going in a promising direction just a few years ago (Marc Bulger, Steven Jackson, Torry Holt, Orlando Pace, etc.) Injuries have derailed this franchise and it's time for a fresh new face on offense. The 2009 Rams used Keith Null to start a few games at Quarterback and this QB class really doesn't scream NFL-ready. Jimmy Clausen is an NFL-ready passer that can make all the throws, provides a new face to the struggling franchise, and fits the team's West Coast Offense perfectly. The learning curve is not very steep for Clausen who would likely step in from Day One behind 2009 2nd Overall Pick, Jason Smith. This pick energizes the lifeless St. Louis passing game and takes attention from All-Pro caliber RB Steven Jackson. With so many high picks invested on the defensive line under previous coaching, it may be up to Steve Spagnuolo to revive the offense with a Franchise Quarterback prospect.