Figured it's never too early.
Ole Miss Rebels
DE Kentrell Lockett 6-5 250 SR
-Everyone knows about Hardy and his injury issues, well this is the guy who has been playing in his spot for the better part of two seasons. Lockett is a lanky guy but is very athletic and tough against the run for his size. He is the emotional leader of our defense and really can get to the QB. Many feel he has been the most consistent player on our very talented defense over the last two years, and has played without his hands in the dirt at times. Possible 3-4 OLB candidate.
DT Jerrell Powe 6-2 330 SR
-A potential Vince Wilfork type NT prospect. His learning disabilities are well documented, but Powe has emerged into a force and extremely hard worker. His talent is unquestioned, he can do things a man his size should not be able to do. Is extremely explosive off the ball and commands double teams, and has really benefited from dropping around 50 pounds in a year. This guy is not limited to a 3-4 though he may have the most value, certainly a guy to watch. Was the #2 recruit in the country at one point before word got around that his intelligence would raise red flags. When the coaches thought he was ready they turned him lose and he has been a force ever since, could be dominant next year.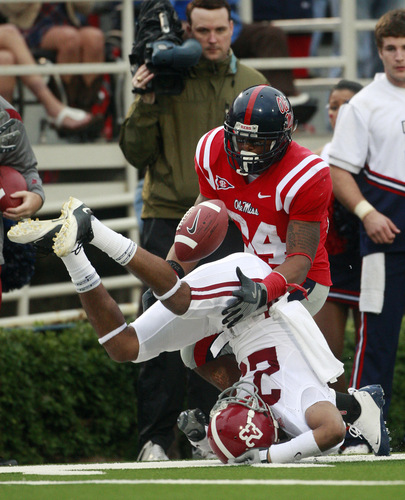 RB Brandon Bolden 6-0 225 JR
-Bolden had an outstanding true freshman year, but with the early season focus on the passing game and the late season emergence of McCluster in the backfield he became sort of a forgotten man. Bolden is a terrific talent with ideal size and great athleticism, he is also a threat out of the backfield as a receiver. With McCluster gone and question marks at quarterback, Bolden should have a big role next year. During the beginning of our loss to South Carolina last year he busted a long TD run breaking several tackles and broke away from everyone else, but it was called back and many felt that was the turning point of his season as well as the Rebs as a whole. We have some talent at RB but I hope to see a lot of Bolden and fellow talented junior EnriqueDavis.
WR Markeith Summers 6-2 200 SR
-Summers has decent size and probably won't blow anyone away with his timed speed, but he is a great athlete with big play ability and big ups. Has been an outstanding blocker for us and his hands have been improving as well. Next year will be huge for him with Hodge and Dex gone, but he has great talent and with the recent success of some Rebel wideouts he is one to watch. He doesn't have Mike Wallace speed, but like Wallace has been steadily improving and could be poised for a big senior year if has someone throwing it to him.
SS Johnny Brown 5-11 210 SR
-Brown is a talented athlete who developed into a very good all around safety for us last year. He is a playmaker and very solid in the run game. Brown looked like a potential all-SEC player early on but battled some injuries as well as swine flu as the season progressed, he will need to step it up next year with Kendrick Lewis gone opposite him at FS.
DT Lawon Scott 6-1 330 SR
-Scott is a big body and has some pretty good athleticism. He is very tough and stout against the run, could be a potential 3-4 NT candidate.
DT Ted Laurent 6-0 305
-Ted rounds out what looks to be another tough Ole Miss DL. He doesn't have the size of Powe or Scott, but is a pentrator with great quickness. He came to Ole Miss with high expectations and has been a solid performer; but he has had Peria Jerry, Scott, and Powe to battle for time with constatnly. Will be a 4-3 guy and probably projects best to a 3 technique there.