Carolina's Dilemma: Picking First in a Weak Draft
This year the first pick in the NFL Draft belongs to the Carolina Panthers. The team formally announced that they wanted Stanford Quarterback Andrew Luck with this top selection, but when he went back to school someone made a lot of money. The John Fox era is over in Carolina, enter former Chargers Defensive Coordinator Ron Rivera. With a laundry list of needs, the Panthers could use an upgrade at almost every position. It's up to Rivera to decide what he's got in young Jimmy Clausen and where the first overall pick would be used. Like the Miami Dolphins in the 2008 NFL Draft, there's no obvious #1 and no prospect in this class screams "can't miss."
There are many comparisons to be drawn between Carolina's situation this season and the decision that Miami faced just three years ago. That 2008 Draft lacked a sure-fire top player and graded out fairly weak at the top. The Dolphins, under a new regime, had holes at most positions and were forced to choose from: the Quarterback (Matt Ryan), the unanimously safe offensive talent (Jake Long), and potential defensive cornerstones (Chris Long, Vernon Gholston.) Similarly, Carolina could be tempted by the Quarterback: Auburn's
Cameron Newton
. They could target the safe, offensive building block: Georgia Wide Receiver
A.J. Green
. Defensive-minded Ron Rivera may want to add a cornerstone in that side of the ball in Auburn Tackle
Nick Fairley
or Clemson End
Da'Quan Bowers
. If the Panthers choose not to re-sign Richard Marshall or are unable to, LSU Cornerback
Patrick Peterson
even becomes a viable possibility.
Five positions. Five players. One pick. What's the best business move, and is that the best move from a strictly football standpoint? The possibilities are numerous but without a viable top prospect or most glaring need, it's a crap-shoot projecting the First Overall Pick in 2011.
A.J. Green – Georgia
6'4Ľe 214e 4.48e
#1 Wide Receiver - #1 Overall
It's not very often that a receiver comes along that is as smooth, dynamic, and as long as A.J. Green. After coming to Georgia as a highly touted recruit, Green paired with 2009 1st Overall pick Matthew Stafford to form an electric 1-2 combination. The Bulldogs weren't shy using him as a freshman as he was featured in the deep, vertical passing game, across the middle of the field, and working the sidelines beyond the sticks. Though he came to school a bit raw, Green has obviously worked hard to become a crisp route-runner. He's developed moves to beat the jam and he shows the elusiveness after the catch needed to create big plays from next to nothing.
What makes A.J. Green a truly special prospect is his incredible catching radius, which ranked second to none at the college level. Green is sudden, he's fluid, and he's gifted in jump-ball situations, but where he really shocks you is the type of plays he can make away from his body. Simply put, if you put the ball in his zip code he's going to come down with it. He shows exceptional hands, body-control, and awareness all packaged with tremendous natural length at 6'4. Coming into college, Green was a bit slight in stature but it looks as if he's made efforts to add muscle mass and I wouldn't be shocked if he weighed in around 215 by the Combine.
This season he was once again without much in terms of a supporting cast in Georgia's offense. Freshman Quarterback Aaron Murray played admirably, but Green's numbers would have looked absolutely gaudy had he gotten to play with him two years from now. He is the most proven receiver in the class with an extreme amount of talents and very little weakness as a player. It's not likely that A.J. Green will get past Cincinnati at 4th Overall.
Pros
+ Catching radius is incredible; can catch anything in his area & above his head
+ Can make any play; goes vertical, across the middle, works the sideline
+ Extremely fluid; moves very smoothly, gets in and out of breaks well
+ Top body control in the air and on the sideline
+ Shows excellent awareness; very aware in the air, of defensive backs, and of his position on the field
+ Tall (6'4) and long-limbed
+ Elite deep threat; will always be a weapon over the top
+ Great concentration, tracks the ball into his hands
+ Good leaper with long arms; can really climb the ladder to bring a ball down
+ Very fast for his size; long-legged, creates separation & isn't caught from behind
+ Elusive after the catch; can make the first defender miss and spring plays
+ Beats the jam with moves, hands, and suddenness
+ Good understanding of the game; finds soft spots in the defense
+ Makes tough plays in traffic, will come down with contested balls
+ A matchup nightmare, has given Patrick Peterson all he can handle
+ Greatly improved route runner with experience in an NFL-style offense
+ Runs hard with the ball in his hands and is tough to bring down
+ Very dedicated, competitive, & smart with a desire to be the best
+ Good effort, always plays hard and is a wiling run-blocker
+ Impressive college production against SEC competition
Cons
- Slightly over-aged, will be a 23 year old rookie
- Needs to continue to add muscle to his frame
- Missed four games in 10' due to suspension
- Leaving college without putting up 1,000 yards or 10 Td's once
- Would benefit from more reps crossing the middle of the field
- Slight injury history: hurt shoulder in 09'. Missed three games
- May not be blessed with sprinter's speed, needs to continue to develop his complete game
Why the Panthers will select A.J. Green First Overall
Carolina went and used their first pick last season (51st Overall) on Quarterback Jimmy Clausen. Though he struggled in 2010, it was apparent the team was receiving lackluster play from the Wide Receiver position. Steve Smith may not be washed up, but he's far from a #1 receiver and his future with the team may be in jeopardy. A.J. Green may very well be the best prospect in this draft class and as close to a sure thing as you'll have. If the team chooses to go forward with Clausen, they'll want to do everything possible to help the young signal-caller. Green is a future top-tier receiver in the NFL and gives the Panthers a #1 target for the next decade.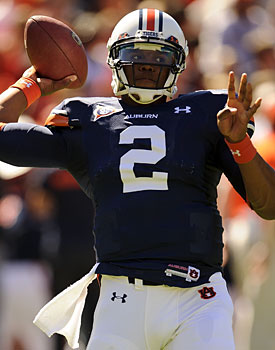 Cameron Newton – Auburn
6'5Ľe 241e 4.65e
#1 Quarterback - #4 Overall
No player burst onto the college football scene this year quite like Auburn Quarterback Cameron Newton. His name appeared in the media for all the right and wrong reasons during the season. In leading his Tigers to their first National Championship victory since 1957, Newton was named a First Team All-American and won the Heisman trophy, all despite being a subject of a serious NCAA investigation. Days after the title game, he chose to give up his eligibility and enter the 2011 NFL Draft.
The demand for a franchise Quarterback has never been greater in the NFL. Still, with the size of the investment teams must make these days when picking high in the draft, it's important that they don't get it wrong. The interview process may be as important for Cameron Newton as his actual workouts. Quarterback coaches and Offensive Coordinators may come to the conclusion that his flaws are all very coachable. On the other hand, some franchises will not have the patience to take eight to sixteen games to let him sit and learn.
He surely can't be expected to be a serious running threat in the NFL; however, he has the feet to escape the pocket and pick up first downs a la Aaron Rodgers or Josh Freeman. He'll be groomed as a pocket passer and it will take some patience from the team that drafts him. Despite a sizeable learning curve, Newton possesses all the tools to be a top-notch pro Quarterback in the mold of a young Donovan McNabb or Ben Roethlisberger.
Without a clear-cut top Quarterback in this class, Cameron Newton will be battling to be the top player selected at his position. He's raw, inexperienced, and still a bit of a mystery character-wise; however, he is among the draft's most naturally gifted players and perhaps one of the greatest physical specimens to ever play the position. Newton's tremendous upside will entice Quarterback-needy teams early come April.
Pros
+ Excellent size at roughly 6'5 240; sees the field well
+ Very strong arm
+ Displays exceptional escapability
+ Throws with terrific velocity and touch
+ Tremendous athlete who is a threat to take off at any time
+ Throws well on the move
+ Great leader on the field
+ Flashes elite accuracy though inconsistency in mechanics is apparent
+ Throws a very pretty deep ball
+ Shows vision and elusiveness in the open field
+ Tough and powerful; won't go down without a fight
+ Incredibly productive; Heisman Trophy winner
+ Very competitive and passionate
+ No injury history
+ Success came in the face of great adversity during the season
Cons
- Lacks refined footwork; too often throws flat-footed or off his back foot
- Comes from a spread-option scheme that kept reads very simple
- Only one year of starting experience
- Questionable Intelligence; could take some time to digest an NFL playbook
- Accuracy and focus can be inconsistent
- Occasionally holds the ball too long
- Will have to answer serious questions about maturity and his past
- Throwing mechanics can be improved
- Raw pocket awareness; was encouraged to use his feet a lot at Auburn
- Projects as a guy that may take time to develop as a pocket passer
- Running ability will be largely negated at the next level
Why the Panthers will select Cameron Newton First Overall
Sometimes great teams can find a way to get by with average play at the Quarterback position, but most acknowledge that a strong QB is the foundation of any perennial-playoff team. The Panthers greatest struggles a year ago stemmed from the position and Ron Rivera realizes he may not want to put all his team's marbles in Jimmy Clausen's basket. The team already had committed itself to a new Quarterback in Andrew Luck before he decided to go back to school, so it's clear they see it possible to upgrade the position. Cameron Newton is this draft's top signal-caller. He possesses elite physical tools, an impeccable college track record, and may be the charismatic face of the franchise needed to stir up excitement in Carolina. Risk factor is huge when considering Newton's checkered past and lack of polish, but no player in this draft class offers higher reward potential for this barren offense.
Da'Quan Bowers – Clemson
6'4e 277e 4.72e
#1 Defensive End - #3 Overall
Due to being a highly touted 5-Star recruit, the expectations for Clemson's Da'Quan Bowers were set ridiculously high. He was an elite pass-rushing recruit that looked to be the Tigers replacement for 2007 Top 5 pick Gaines Adams. For two years, Bowers struggled with his weight among other barriers that made it tough for him to get going at the college level. During his freshman and sophomore campaigns, many would describe him as pudgy, slow, or even invisible at times. It's tough to argue with those statements because Bowers, despite receiving plenty of playing time, remained relatively quiet and unproductive (at least as a pass-rusher.)
Perhaps because he realized this was more or less his "contract year," or perhaps because coaches urged him, Da'Quan lost almost twenty pounds in the offseason to get down to a much slimmer 270 or so. The result of that weight loss and extra year of coaching was a whole new player. He was a First-Team All-American and the winner of the Bronco Nagurski Award as the best defender in the country. Considering his size, Bowers has rare closing speed and athleticism. He's developed several reliable pass-rush moves and simply lived in the backfield this past season.
A couple traits that have stood out in Da'Quan's play throughout his college career are his ability to track the ball and his ability to finish plays as a solid, secure tackler. In three seasons, Bowers accumulated 179 Tackles from his Defensive End spot and this season he finished second on his team with 74 stops. He's a smart defender that has really found his stride as a pass-rusher and the sky appears to be the limit in terms of NFL upside. In a breakout season, he finished with an incredible 26 Tackles for Loss and led the nation with 15.5 Sacks. While he may lack an elite first-step, he should be able to put up big sack numbers in the pros with his recognition skills, strength, and speed.
Rarely do we see such a great physical specimen put it together like Bowers wound up doing in his Junior season. As an NFL prospect he also has everything you look for intangibly. He's smart, positive, has a clean record, and is a very well-spoken young man; he even plays guitar in his father's gospel band on weekends. He'll likely only draw great interest from 4-3 teams high in the draft and will be capable of playing Left End or Right End in that scheme. There's no reason to believe that Bowers won't come off the board in the top three selections with such a high demand on players of his caliber at the position.
Pros
+ Incredible closing speed for his size
+ Terrific recognitions skills
+ Excellent in pursuit, makes tackles behind the line of scrimmage and down the field
+ Prototypical size at roughly 6'4 275 with great physique
+ Secure, wrap-up tackler that can lay the lumber
+ Great strength and impressive power for a college end
+ Long-limbed end that can hold up to double teams
+ Tremendous natural athleticism, could play at any weigh between 265-295
+ Motor that never sleeps; plays with good energy and stamina
+ Three-down player
+ Uses his hands to disengage from blockers
+ Extremely effective and productive run-stopper
+ Has versatility in the 4-3, could play almost anywhere on the line
+ High character; well-spoken and a team leader
+ Very productive college career, First Team All-American as a Junior
+ Durable, missed only two games in college due to injury
Cons
- Only one season of great production as a pass-rusher
- Lacks an elite first-step
- Won't really appeal to 3-4 teams
- Is neutralized sometimes by better pass-blocking tackles
- May never be a 15+ Sack player in the NFL
- Lacks elite anchor strength in his lower body
- Struggled to get anything going against Boston College, even though he went up against Anthony Castonzo for less than half the night
Why the Panthers will draft Da'Quan Bowers First Overall
The departure of Julius Peppers left Carolina without a difference-maker in the front four. Instead of using one of last year's draft selections target a defensive lineman, the team chose to address it's passing game. The jury is still out on whether that was the right decision, though the early indications point to no. The team finished in the bottom half of the league in Sacks and 23rd against the run. Da'Quan Bowers would instantly be a major upgrade at Defensive End opposite young Charles Johnson. With young reserves in Greg Hardy and Everette Brown, the addition would give the team depth, stability, and talent at the position. He's a high character player that will be one of the safer picks in the draft. An equally effective run and pass defender, Bowers would be the cornerstone of the defense for years to come.
Nick Fairley – Auburn
6'4˝e 299e 5.1e
#1 Defensive Tackle - #5 Overall
There could be an argument made that Nick Fairley played as indispensible a role as Quarterback Cameron Newton for the Auburn Tigers' National Championship-winning team. No player dominated big games this season quite like big number 90. After entering the season as a virtually unknown rotational tackle, Fairley burst on to the scene and into the backfield in 2010. It's hard to believe he was playing at the JUCO just two years ago. He was unstoppable in must-win games for the Tigers this season, playing an invaluable role when the team was locked in close battles with South Carolina, LSU, Alabama, and Oregon.
Nick Fairley showed the ability to take over games with a blend of quickness, power, and ferocity. In addition to possessing prototypical size, he displays excellent athleticism on the football field. He enters the backfield at will with a great first-step, quick hands, and a variety of pass-rushing moves. He has an extremely strong bull-rush which helps him to split double-teams and push linemen into the backfield. His production this past season rivals any Defensive Tackle in recent memory; he was a First Team All-American and the Defensive MVP of the National Championship. Like Ndamukong Suh, Fairley clearly is an intimidator on the field and he plays with rare energy & ferocity. He's a violent penetrator who fits best at 3-Tech in any 4-3 scheme. His immense ability made him unstoppable at that position at the collegiate level.
Talent-wise, Nick Fairley stacks up with the best of Defensive Tackle prospects. On the field this year he was on par with 2009 top three selections Gerald McCoy and Ndamukong Suh. Unlike those players, Fairley's character will undoubtedly be something teams must look into. Though he has no history of trouble off the field, he certainly lacks discipline on it. By the end of the regular season he'd earned a reputation for being one of the dirtiest players in the country. If he's unable to tone it down when he needs to, he could really shoot his team in the foot in the NFL with more sensitive rules protecting Quarterbacks. His lack of intelligence and professionalism is a concern that could push him down some boards. Still, he should be selected very high on draft day, likely fitting into the first five picks. If he's mature enough to handle the pressures and responsibilities of being a pro, he could develop into a dominant force and the cornerstone of a front seven.
Pros
+ Explosive off the snap,
+ Extremely powerful, very strong
+ Devastating bull-rush, drives blockers back and splits double teams
+ Dominated top competition, definition of a "big-game player"
+ An intimidating presence, plays mean, nasty, and isn't short on energy
+ Terrific pass-rusher, lives in the backfield and terrorizes QBs
+ Prototypical size at roughly 6'4 300
+ Long-limbed with good anchor strength; can control & manipulate blockers
+ Very good athlete for his size, can dunk a basketball
+ Uses his hands to disengage, very quick and can be violent
+ Above average motor, can play three-downs
+ Only a slight learning curve, is ready to contribute immediately
+ Very productive Junior season, First Team All-American
+ Durable, hasn't missed a game the past two seasons
Cons
- Only one year of production and relevancy
- Undisciplined player who takes stupid penalties
- Lacks intelligence and is not well-spoken
- Needs to continue to work on his technique
- Has "boom-or-bust" prospect written all over him
Why the Panthers will select Nick Fairley First Overall
Carolina has lacked a dominant interior presence since they started as an expansion team. Currently the team lacks any effective players at the position, the depth chart is very thin, and Defensive Tackle looks to be their greatest need. Defensive-minded coach Ron Rivera knows the game is won in the trenches and will look to add talent in the middle. Fairley was one of the best players in college football this past season and may be this draft's greatest talent. He should be an instant impact player and would offer the most significant & immediate upgrade to the Panthers roster.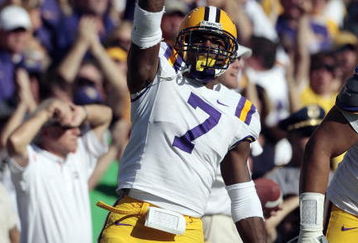 Patrick Peterson – LSU
6'1e 211e 4.35e
#1 Cornerback - #2 Overall
Coming into the season Patrick Peterson was touted as a rare physical specimen, the best Defensive Back in the country, and the elusive Top 5 prospect at the Cornerback position. Despite lofty expectations, he managed to live up to the billing. Peterson was named a First Team All-American, was the winner of the prestigious Thorpe Award, and also added a Bednarik Award to his shelf as the nation's top defender. By midseason most casual fans knew him as one of the most dynamic talents in college football. He became an Internet celebrity due to his astounding punt returns and even garnered a bit of Heisman Trophy hype early on. It was a no-brainer for him to declare for the NFL draft after the season and a decision that could not have shocked any within the program or fan-base.
Not every year do we see such a physical specimen that has started to put it together on the field the way Patrick Peterson has. At roughly 6'1 210, he possesses the size to matchup against any pro receiver. He's chiseled, he's long, and he plays to his size, often covering his opponents' biggest receiver. His incredible physique may only be eclipsed by his ability to run. Simply put, the guy can flat-out fly. Peterson is a shocking athlete with great explosiveness, agility, coordination, and straight-line speed. Though teams will rarely challenge him, he has displayed terrific ball-skills and anticipation when the ball leaves the Quarterback's hand. He's a very good tackler capable of delivering powerful hits. There is some concern about the fluidity of his hips, but he should be able to answer those questions at the NFL Combine, where he will show up roughly 10 pounds lighter than his 2010 playing weight (220.)
Some draft analysts may begin to refer to Patrick Peterson as the Calvin Johnson of the Cornerback position, and I can't say I disagree. Where Johnson was the prototype receiver, Peterson appears to be the prototype corner. He has everything teams look for when scouting a Defensive Back and will have a chance for NFL stardom at any position he plays. There are no schematic limits to his abilities and the absence of an injury history makes him one of the safer top picks in this draft class. Peterson will likely come off the board within the first five picks on draft day. He could be the highest rated Cornerback prospect since Charles Woodson coming out of Michigan.
Pros
+ Tremendous closing speed, very fast in straight-line
+ Great agility, quick feet, changes directions well moving forward
+ Very good ball skills; great anticipation, hands, and awareness
+ Shutdown corner down the field, not one to try to throw over
+ Solid, secure, wrap-up tackler capable of making crushing hits
+ Has size at roughly 6'1 210 to challenge any pro receiver
+ Smart football player who doesn't give up a lot down the field
+ Possesses startling physique, both chiseled and long-limbed
+ Naturally incredible athlete with fluidity & sprinters speed
+ Dynamic with the ball in his hands; a threat to go the distance every chance he gets
+ Strong enough to outmuscle even big receivers for jump-balls
+ Is big and physical enough to re-route receivers at the line
+ Versatile; talent will allow him to play anywhere in the defensive backfield
+ Offers Special Teams value, returned both punts and kicks at a high-level
+ Productive and highly decorated, First Team All-American, Thorpe Award winner
+ Very durable, has no significant injury history to this point
+ Consistently battled the most gifted receivers in the nation in the SEC
+ High character; humble, well-spoken, motivated, and mature
+ Can play right away, should be able to contribute from day one
+ Finished college with 30 career starts
Cons
- Will have to prove the fluidity of his hips at the NFL Combine
- Gave up a lot underneath to Alabama's Julio Jones and Texas A&M's Jeff Fuller
- Could stand to improve his open-field tackling a bit
- Got off easy this year in the SEC not having to face A.J. Green or Alshon Jeffery
- Might have been carrying a bit too much weight this season at 220+
- Plays at a position rarely deemed worthy of a Top 5 Overall selection
Why the Panthers will select Patrick Peterson First Overall
If the Carolina Panthers choose not to re-sign Richard Marshall, or are unable to, then Patrick Peterson makes a whole lot of sense with the first pick. In a passing league, or more importantly a passing division, a lockdown corner can be invaluable. Without Marshall in the picture, the team lacks a player capable of sticking their opponents' best receiver week-in and week-out. Peterson is a rare talent at the position and perhaps the caliber of player we won't see for years to come. Newly appointed Head Coach Ron Rivera will make sure the secondary won't be operating with gaping holes in 2011, and Patrick Peterson could be exactly the type of elite talent to make a huge difference in Carolina for the next decade.
Final Verdict
There's no denying that here in late January the race for the First Overall Pick is wide open. Carolina has only just begun to form relationships with these prospects at the most basic level. Projecting this pick is an enormous guessing game and will be that way for months. Head Coach Ron Rivera is evaluating what he has in place and the results of his assessment won't be known until the NFL Draft. The team will surely use smoke-screens and be purposely ambiguous throughout the process. Up into the week of the draft itself, I expect the Panthers will be negotiating with each one of the players I listed in this article. My gut guides me toward three favorites, chosen perhaps for positional reasons over sheer value. Those three would be: Cam Newton, Nick Fairley, and Da'Quan Bowers.
If the draft were held today, it would almost certainly be Bowers or Fairley. It's important to note the draft will occur in late April, after the Panthers have gotten a chance to talk to each player at length and watch each player workout. Though he appears to be the best fit and perhaps the most talented player in the class, Nick Fairley lacks some professional traits and may not prove himself to be a suitable face of this struggling franchise. Da'Quan Bowers is one of this class' safest bets, but with some promising young players at the Defensive End position, the Panthers may not be racing to add another so high on draft day. That leaves me with Cameron Newton.
Out of the players I listed, Newton seems like the least likely at this point to go First Overall and rather the most likely to fall out of the Top 10 all together. He won't throw at the NFL Combine, so teams will be watching him throw in a controlled, choreographed setting at his Pro Day. His workout will create a buzz around the league and should cement him as the top Quarterback on most boards in this weak class. His charismatic personality will help him say all the right things during the pre-draft process while coming across as mature and driven. Carolina's Achilles heel a year ago was their Quarterback play. The common theory is: if you don't have a franchise Quarterback on the roster then you better make it the off-season's top priority. I think that's exactly what they will do. Jimmy Clausen will be a nice stop-gap starter while Newton learns to NFL game and may wind up building some trade value & get a chance to start elsewhere in 2012. So, although it is dependent on a whole lot of early speculation, I'd like to endorse
Cameron Newton
as my prediction as 2011's First Overall Pick to the Carolina Panthers.
-Ryan Lownes