Well here are my first set of rankings for the 2011 Draft. It includes my postional rankings as well as a tiered Big Board consisting of my Top 64 players overall. I plan on doing an updated version before the draft. Top 10 at each position with the exception of WR and CB (12) and Fullback (5). I didn't want to make them too extensive because I don't feel comfortable ranking a player who I know very little about. Also, I decided to include a lot of crossover between positions so several players will be included in more than one positional ranking. I only did this for prospect who have been discussed at playing more than one position or I feel has a legitimate shot at starting at somewhere else; though you'll find the positional carryover is quite prevalent.
I don't expect you all to agree. That's not the point. These are my personal rankings and my opinions and are in no way an indication of where I think these prospects will be drafted. Let me know if there are any inconsistencies between where players are ranked in the rankings and in the Big Board. Minor tweaking may happen here or there. So here it is....my 2011 Post-Combine Positional Rankings and Big Board. Enjoy (or don't, it's your call).
QUARTERBACK
1. Cam Newton, Auburn
2. Ryan Mallett, Arkansas
3. Jake Locker, Washington
4. Blaine Gabbert, Missouri
5. Christian Ponder, Florida State
6. Colin Kapernick, Nevada
7. Nathan Enderle, Idaho
8. Andy Dalton, TCU
9. Greg McElroy, Alabama
10. Ricky Stanzi, Iowa
RUNNINGBACK
1. Mark Ingram, Alabama
2. DeMarco Murray, Oklahoma
3. Mikel LeShoure, Illinois
4. Taiwan Jones, Eastern Washington
5. Delone Carter, Syracuse
6. Da'Rell Scott, Maryland
7. Ryan Williams, Virginia Tech
8. Daniel Thomas, Kansas State
9. Kendall Hunter, Oklahoma State
10. Shane Vereen, California
FULLBACK
1. Henry Hynoski, Pittsburgh
2. Stanley Havili, USC
3. Owen Marecic, Stanford
4. Keith Payne, Virginia
5. Anthony Sherman, UConn
WIDE RECIEVER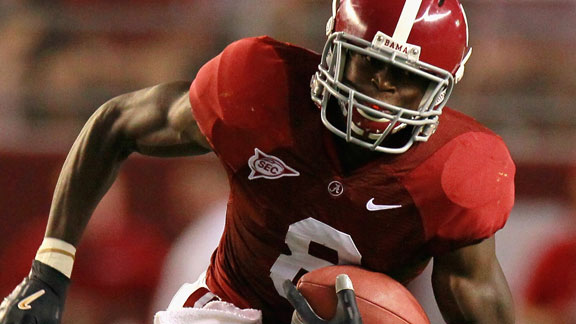 1. Julio Jones, Alabama
2. AJ Green, Georgia
3. Randall Cobb, Kentucky
4. Greg Little, North Carolina
5. Edmund Gates, Abilene Christian
6. Leonard Hankerson, Miami
7. Titus Young, Boise State
8. Jerrel Jernigan, Troy
9. Torrey Smith, Maryland
10. Jon Baldwin, Pittsburgh
11. Denarius Moore, Tennessee
12. Jeff Maehl, Oregon
TIGHT END
1. Kyle Rudolph, Notre Dame
2. Virgil Green, Nevada
3. Lance Kendricks, Wisconsin
4. Julius Thomas, Portland State
5. DJ Williams, Arkansas
6. Jordan Cameron, USC
7. Rob Housler, Florida Atlantic
8. Luke Stocker, Tennessee
OFFENSIVE TACKLE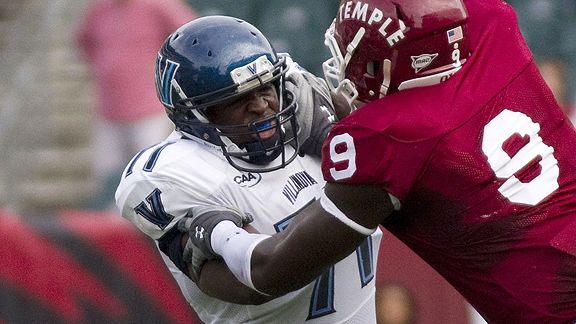 1. Ben Ijalana, Villanova
2. Gabe Carimi, Wisconsin
3. Tyron Smith, USC
4. Nate Solder, Colorado
5. Anthony Castonzo, Boston College
6. Derek Sherrod, Mississippi State
7. Clint Boiling, Georgia
8. Jah Reid, UCF
9. Oralndo Franklin, Miami
10. James Brewer, Indiana
GUARD
1. Ben Ijalana, Villanova
2. Danny Watkins, Baylor
3. Stefen Wisniewski, Penn State
4. Mike Pouncey, Florida
5. Orlando Franklin, Miami
6. Will Rackley, Lehigh
7. Clint Boiling, Georgia
8. Rodney Hudson, Florida State
9. John Moffitt, Wisconsin
10. Marcus Cannon, TCU
CENTER
1. Stefen Wisniewski, Penn State
2. Mike Pouncey, Florida
3. Rodney Hudson, Florida State
4. Bradon Fusco, Slippery Rock
5. John Moffitt, Wisconsin
6. Zane Taylor, Utah
7. Jake Kirkpatrick, TCU
8. Kris O'Dowd, USC
DEFENSIVE TACKLE
1. Nick Fairley, Auburn
2. Marcell Dareus, Alabama
3. Cameron Heyward, Ohio State
4. Phil Taylor, Baylor
5. Corey Liuget, Illinois
6. Stephen Paea, Oregon State
7. Muhammed Wilkerson, Temple
8. Drake Nevis, LSU
9. Martin Parker, Richmond
10. Sione Fua, Stanford
3-4
DEFENSIVE END
1. JJ Watt, Wisconsin
2. Marcell Dareus, Alabama
3. Nick Fairley, Auburn
4. Cameron Heyward, Ohio State
5. Cameron Jordan, California
6. Muhammed Wilkerson, Temple
7. Corey Liuget, Illinois
8. Adrian Clayborn, Iowa
9. Christian Ballard, Iowa
10. Allen Bailey, Miami
OUTSIDE LINEBACKER
1. Robert Quinn, North Carolina
2. Von Miller, Texas A&M
3. Justin Houston, Georgia
4. Ryan Kerrgian, Purdue
5. Brooks Reed, Arizona
6. Jabaal Sheard, Pittsburgh
7. Aldon Smith, Missouri
8. Dontay Moch, Nevada
9. Martez Wilson, Illinois
10. Sam Acho, Texas
4-3
DEFENSIVE END
1. JJ Watt, Wisconsin
2. Da'Quan Bowers, Clemson
3. Cameron Jordan, California
4. Robert Quinn, North Carolina
5. Justin Houston, Georgia
6. Ryan Kerrigan, Purdue
7. Aldon Smith, Missouri
8. Jabaal Sheard, Pittsburgh
9. Adrian Clayborn, Iowa
10. Brooks Reed, Arizona
OUTSIDE LINEBACKER
1. Von Miller, Texas A&M
2. Mason Foster, Washington
3. Nate Irving, NC State
4. Martez Wilson, Illnois
5. Chris Carter, Fresno State
6. Akeem Ayers, UCLA
7. Bruce Carter, North Carolina
8. Dontay Moch, Nevada
9. Colin McCarthy, Miami
10. KJ Wright, Mississippi State
INSIDE LINEBACKER
1. Mason Foster, Washington
2. Nate Irving, NC State
3. Quan Sturdivant, North Carolina
4. Martez Wilson, Illinois (3-4)
5. Colin McCarthy, Miami
6. Kelvin Sheppard, LSU
7. Mike Mohamed, California
8. Casey Matthews,
9. Oregon Mario Harvey, Marshall
10. KJ Wright, Mississippi State (3-4)

CORNERBACK
1. Patrick Peterson, LSU
2. Jimmy Smith, Colorado
3. Prince Amukamara, Nebraska
4. Brandon Harris, Miami
5. Curtis Brown, Texas
6. Aaron Williams, Texas
7. Ras-I Dowling, Virginia
8. Curtis Marsh, Utah State
9. Johnny Patrick, Louisville
10. Brandon Hogan, West Virginia
11. Korey Lindsey-Woods, Southern Illinois
12. Brandon Burton, Utah
SAFETY
1. Ras-I Dowling, Virginia
2. Rahim Moore, UCLA
3. Aaron Williams, Texas
4. Marcus Gilchrist, Clemson
5. Chris Culliver, South Carolina
6. Deunta Williams, North Carolina
7. Tyler Sash, Iowa.
8. DeAndre McDaniel, Clemson
9. Quinton Carter, Oklahoma
10. Shilo Keo, Idaho
I've divided my Big Board into tiers. I find it makes more sense that way then you are definitely comparing DB's to OT's and so on and so forth. The tiers are all different sizes and there are no exact cut off points. It's more of a feel of what caliber of prospects these players belong amongst. I still numbered them but the gap between two prospects within the same tier is not going to be not meant to be significant at all. I included a brief description for each player in the top 3 tiers.
TOP 64

Tier 1
1.
Patrick Peterson
– CB – LSU
If there's one player I'd bet on to become an elite player in the NFL, its this guy. Still a little raw technically because he's been able to rely on pure athleticism but the talent and ability are overwhelming.
2.
Julio Jones
– WR – Alabama
Julio and AJ are 1 and 1a in my mind and have been for a while now. I gave Julio the slightest nod after his combine and also the fact that personally, I am partial to strong, physical WR's and Julio certainly fits the mold.
3.
AJ Green
– WR – Georgia
Could quite easily of been ranked anywhere from 1-3. What else needs be said about AJ. You just gotta love how natural he is. His workout was a tad disappointing but there's nothing preventing him from being able to become a top flight NFL WR.
4.
JJ Watt
– DE – Wisconsin
I can honestly say, Watt has not moved at all in my rankings since the combine. But his combine performance (which I felt was the best of any player in Indy) did solidify him as my clear cut #1 DE. Finding an elite 5-tech with great pass rush potential is very rare and he has the ability to be a highly disruptive player in the 4-3 as well.
5.
Cam Newton
– QB – Auburn
In general, it seems people are far too wrapped in where he is now opposed to where he is a couple years down the road which is what really matters. He's an immensely talented player who is highly competitive and possess a strong work ethic. I don't see the transgressions and accusations at Florida and Auburn truly having any effect on the type of NFL player he becomes. His biggest issues as a quarterback and fixable with two things: reps and coaching.
6.
Nick Fairley
- DT - Auburn
Possibly the second most dominant player in college football last season. A long, explosive athlete who is as disruptive of a force in the backfield that we've seen at the college level. He just barely gets the nod over Dareus because of his pass rush and ability to impact the game on 3rd down.
7.
Marcell Dareus
– DT – Alabama
Dareus has the prototype DT build, is highly athletic, with great feet and plays with exceptional power and leverage at the point of attack. He is going to be an absolute rock inside for whoever drafts him. But some of his film combined with his poor 3-cone time leave me questioning his pass rush ability a bit which is what has him just ever so slightly behind Fairley.
_____________________________________________
Tier 2
8.
Da'Quan Bowers
– DE – Clemson
Bowers is a little unconventional in that his get off is underwhelming but he's incredible in the second phase of his pass rush. His inconsistency leaves me unsure sure he ever becomes an elite pass rusher but he certainly has the ability to become one.
9.
Robert Quinn
– DE – North Carolina
Is almost like a bigger version of Von Miller. Elite athleticism and is special when it comes to his ability to dip and turn the corner. But like Miller, he is a bit of a one trick pony as a pass rusher and needs to be more physical at the point of attack. I definitely prefer him as an OLB in a 3-4. I have some questions but his edge rushing ability is undeniable.
10.
Von Miller
– OLB – Texas A&M
He still scares as a 3-4 OLB because his pass rush is so one dimensional. Still, he is as good as an athlete as you'll find at the OLB position. It's hard to bet against a guy who is highly aggressive, highly instinctive who possesses elite athleticism and explosiveness.
11.
Mark Ingram
– RB – Alabama
Would of liked to see him run a little faster but it really doesn't change my opinion on him. If you over-analyze him on paper, he doesn't look all that appealing. But you put the tape on and you realize what a naturally talented RB this guy is and what a terrific feel he has for the position. It's hard not to notice that almost all the top RB's right now (Johnson, Peterson, Charles, MJD, McFadden) all were guys who ran sub 4.4. Maybe his style of play is out of vogue in the league today. But with that being said, in the right situation, I see now reason why he couldn't fulfill his potential and become a Ray Rice-Frank Gore type back.
12.
Cameron Heyward
– DE – Ohio State
Physically he is the prototype 5-tech. He's never going to be a great pass rusher, but he plays with great power at the line of scrimmage, has heavy hands, can shed blocks, finds the ball very well and is impressive natural athlete. He has everything you look for in your two gap DE.
13.
Jimmy Smith
– CB – Colorado
This is a guy I've been high on since mid season. Exceptional size and length at 6'2 211 and combined that with an impressive 4.46 forty. He needs to show a bit more in off man and zone but he really excels in press. Also he's got some cockiness to him which I like in DB's.
14.
Cameron Jordan
– DE – Cal
I actually prefer him much more as a LE in a 4-3 than I do as a 5-tech. And big all around athlete, he moves very well and uses his hands exceptionally well. Don't know if he ever becomes a top flight pass rusher but he can be a very solid LE for many years that can impact the game on all 3 downs.
_____________________________________________
Tier 3
15.
Ben Ijalana
– OT – Villanova
Ijalana is a personal favorite of mine. He was flat out dominant in the FCS and was just on a whole 'nother level than the players he lined up against. It's unfortunate he was unable to participate at either the combine or Senior Bowl and put his talents on display. He appears to be a very good athlete on film who is very natural and fluid in his movements; something I can't say about most of the OT's in this class. He's on the shorter size, but has the length to play LT with his freakishly long 36" arms. He is still raw technically and will need time to develop and adjust, but he reminds me a ton of Jason Peters and think he can become a similar caliber player.
16.
Danny Watkins
– G – Baylor
Can step in and start on a lot of teams and play at a high level right away. I know the word has become taboo but I think he is one of the "safest" prospects in this draft.
17.
Gabe Carimi
– OT – Wisconsin
I've always been impressed with his physicality but he really surprised me with how well he performed in the one-on-one's at Senior Bowl. Can confidently play on either side. Reminds me a lot of David Stewart of the Titans.
18.
Tyron Smith
– OT - USC
A very unique prospect. Hopefully he can keep his weight up. Great athlete, freakishly long arms and is a much more physical player than he gets credit for. He'll need a few years to develop both physically and as a player. But he's only 20 years old right now and his ceiling is very high.
19.
Mason Foster
– OLB – Washington
My personal favorite prospect in this draft. Love his energy, love his instincts, love his fluidity and love his play making ability. He is a tackling machine who is very solid and will make some team happy.
20.
Prince Amukamara
– CB – Nebraska
I'm not quite as high on him as others. Though I still think he can be a solid, reliable player with the the size and speed to confidently match-up on the oppositions #1 WR.
21.
Justin Houston
– DE/OLB – Georgia
Another guy who needs to be in a 4-3. Houston can really attack edge as a pass rusher but is also strong at the point of attack and has a powerful lower body. Could be higher but needs to show better change of direction.
22.
Randall Cobb
– WR – Kentucky
Maybe other than #2 for Auburn, no player in college football meant more to their offense that Randall Cobb. A lot of people never really got to see him play at Kentucky, but he is one of the most dynamic playmakers in college football. He ran a nice time in Indy but really impressed me with how natural and fluid he was in the drills.
23.
Phil Taylor
– NT – Baylor
Physically, the prototype NT. Taylor has incredible movement skills for a man his size. He's capable of getting great leverage and plays with great power. Is a little inconsistent and will need to keep his weight in check but he has the making to be one of the top young NT's in the league.
_____________________________________________
Tier 4
24.
Greg Little
– WR – North Carolina
25.
Corey Liuget
– DT – Illinois
26.
Stefen Wisniewski
– G/C – Penn State
27.
Brandon Harris
– CB – Miami
28.
Ryan Kerrigan
– DE - Purdue
29.
Ryan Mallett
- QB - Arkansas
30.
Aldon Smith
– DE – Missouri
31.
Brooks Reed
– DE – Arizona
32.
Edmund Gates
– WR – Abilene Christian
33.
Jake Locker
– QB – Washington
34.
Mike Pouncey
– G – Florida
35.
Leonard Hankerson
– WR – Miami
36.
Kyle Rudolph
– TE – Notre Dame
37.
Titus Young
– WR - Boise State
38.
Jerrel Jernigan
– WR – Troy
39.
Stephen Paea
– DT – Oregon State
40.
Torrey Smith
– WR – Maryland
41.
Jabaal Sheard
- DE - Pittsburgh
42.
DeMarco Murray
- RB – Oklahoma
_____________________________________________
Tier 5
43.
Ras-I Dowling
- CB/S – Virginia
44.
Adrian Clayborn
- DE – Iowa
45.
Muhammed Wilkerson
– DT – Temple
46.
Jonathan Baldwin
– WR – Pittsburgh
47.
Nate Irving
- LB - NC State
48.
Mikel LeShoure
– RB – Illinois
49.
Curtis Brown
– CB - Texas
50.
Nate Solder
– OT – Colorado
51.
Aaron Williams
– CB/S – Texas
52.
Quan Sturdivant
– LB – North Carolina
53.
Drake Nevis
– DT – LSU
54.
Rahim Moore
- FS - UCLA
55.
Anthony Castonzo
– Boston College
56.
Blaine Gabbert
- QB - Missouri
57.
Martez Wilson
- OLB - Illinois
58.
Akeem Ayers
- OLB - UCLA
_____________________________________________
Tier 6
59.
Derek Sherrod
– OT – Mississippi State
60.
Taiwan Jones
- RB – Eastern Washington[
61.
Christian Ponder
– QB – Florida State
62.
Delone Carter
- RB - Syracuse
63.
Christian Ballard
- DE/DT - Iowa
64.
Allen Bailey
- DE - Miami
SWAG