I think both could be cool "underdog" Rudy-type football movies...which one would you rather see and who should play who?
Boise State Blues
Rated R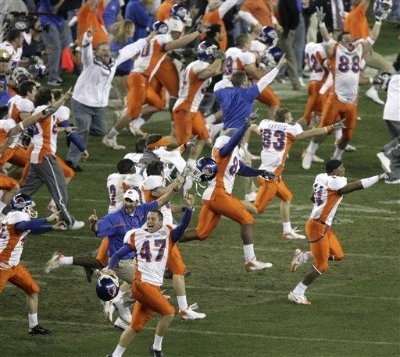 Plot
Watch as a team loved by their town, but unknown throughout the rest of the town, overcome all adversaries, and take their place as the darling team of college football.
It would start around pre-season of the 2006 season, and the two main characters could be Ian Johnsona and Zabranski. It would focus on the teams practice/ect but also their personal life of Johnson and his relationship with the snowbunny (the prejaducies they face...ect). Then the climax of the movie would be the game against Oklahoma, with the end being Johnson proposing to white white chick
Cuba Gooding Jr could play Ian Johnson lmao
who would play Zabransky? Ashton Kutcher?
OR?????
would you rather see

Appalachian Dreams
Rated PG-13
Plot
Follow the dreams of a tiny school, town, and program, as they go up against Goliath...and win
The beginning would be they winning their D2 National Championship and someone narroating it...saying how happy they were when they won it, ect...then the entire movie takes place as the school schedules a game with Michigan, then the off-season...the movie would go into the main characters personal lifes and yaddy yadda yadda they somehow brand together as a team after some antagnoizations and conflict...the climax/end would be the Michigan game, and somehow the director ties in "dreams" and beating Michigan in the Big house (and how only 29 players played in the game...both way athletes while Michigan had over 70 highly recruited and NFL players who suited up)...u know how those sappy, underdog movies end with the sad but happy music and slow motion celebrations...then it ends with the narriation of a real quote

"That may be one of the great victories in college football - maybe the greatest," said Moore. "This victory today - you've got to remember these kids have won two national championships - and this is not bigger than those because the championships are in our league, our division. We were the best that year. But they will never ever forget today's experience as long as they live
the WR Dexter Jackson could be played by Omar Epps
the Soph QB could be played by a random dude with dreads
anyway, which movie whould you rather see, and who would you cast?
come on all you photoshop/sig genuisis, make a film poster for one of the movies