First let me say this : Penn State will probably always be a 2nd tier Big Ten team until Joe Paterno leaves, or completely hands over the reins of the offense to someone who thinks running on first and second down with Rodney F**ING Kinlaw is a bad idea. It was foolish and obnoxious for me to stomp around these forums and parade before the PSU vs. Michigan game.
- College Football is ******. The original idea of the BCS is to have voters sort out seemingly identical teams with identical records in nearly identical conferences in terms of quality of play, and depth of talent. That is no longer the case as the SEC is clearly the dominant conference and what is traditionally considered a power conference like the Big Ten, has really fallen off in terms of talent. Until the gap between the conferences narrow, we will continue to see teams like Hawaii get blown out in a BCS Game, and Ohio State get romped year after year. If there was ever a time for the restructuring of the CF post season, now is the time.
- The parity level in college football along with out of conference games between traditional powers, has generally eliminated Undefeated teams. This year we did not have one single team from a traditional power conference go undefeated, possibly the first time since lord knows when. This is both good and bad, the good is that this means the talent level on teams in general is alot closer, as we see teams like Arkansas beating LSU and teams like Illinois beating OSU. The bad is that we can no longer rely on records and wins to determine who should get a shot at being "The Champion." This year was the first we had a 2 loss team crowned the national championship, but it certainly won't be the last of the BCS era.
To put this into perspective, Joe Pa has coached 5 undefeated teams in his career, and only 1 was crowned a national championship. Nowadays LSU goes 12-2 and ends up as a National Champion, a travesty if I may say so myself.
- I don't know if anyone realistically expected OSU to win. I couldn't have been the only one at home thinking to myself "That's gonna be a blowout, again."
- See above but in terms of Illinois. That's even a bigger mismatch than OSU and LSU.
-
Now onto notes about players/teams :
- Percy Harvin is absolutely rediculious. Despite being the sole receiving target and most dangerous running threat on his team, he's still unstoppable. He is just flat out a great player.
- Dennis Dixon would have taken Oregon to the national championship save for injury. We would never know... if only...
"This is my show now."
- Steve Slaton has completely fallen off the map at WVU. I don't know what's going on, but his NFL future is in jeoprardy right now. His stock is extremely low if he comes out, and if he stays he'll probalby see more of his carries go to the prodigious one known as Noel Devine.
- Isiah Williams flat out cannot throw. You would think that even with that great of an arm, that he would gun it and chance some throws ala Michael/Marcus Vick. Nope, he flat out cannot throw. He just has no accuracy and because of such has even less confidence. The only thing worst than a QB without accuracy, is one who doesn't have confidence.
"!@#$% Me."
- Anthony Morelli has made the least development of any QB possibly in the history of college football. His scouting report is nearly identical to the one he had in high school : great arm, but terrible athlete, poor reads and has a tendency to collapse under pressure. If he didn't play at Penn State, he would have been benched long ago. Alternatively Anthony Morelli is blessed with more natural talent than PSU's previous 2 starting QB's combined. (Michael "Hines Ward 2.0" Robinson and Zack "1/1 TD-INT Ratio" Mills) Yet Morelli has never lead his team to more than 9 wins and a Capital One bowl. If someone told me 3 years ago that Michael Robinson would win an Orange Bowl and that Morelli would never win a game vs. Michigan OR Ohio State, I would probably have laughed in there face.
- Florida State and Miami have a long way to go before they regain there status as powerhouse schools. At least they haven't dipped as far as Nebraska, they can still recruit.
- Myron Rolle hasn't progressed into a playmaker at safety that most scouts predicted he would. His run stuffing ability is superb, but he seems to be rooted to the ground. Myron Rolle hasn't notched an interception in 2 years at Safety. All this despite the fact that FSU is starting 2 corners no taller than 5'9". I guess Myron really was serious about his academics, because he probably has no future in the NFL.
"Can someone find me a better Offensive Coordinator?"
- Derrick Williams is the most poorly utilized athlete at the NCAA Division 1-A level. I dare anyone else to find me someone with his physical talent who has been put into a poorer position to suceed.
"My name's the Digger... and err... listen to my speech. We ain't dead yet... oh wait..."
- This season it pained me to watch ND tumble so far down to obscurity and then to be bombarded by douchebags like "The Digger" and Regis Philbin try and boost morale with terribly cheesy speeches. Even Traditionalist Christian lametards who never drink or have sex like the kids at ND deserve better. Good news is next year's schedule looks winnable, with a rebuilding Michigan in week 2 followed by a slate of pedestrian teams such as Purdue, Michigan State, Standord and UNC before an ass romping at the hands of the Trojans in their home finale.
"What the **** is a spread?"
- It really isn't fair that kids like Ryan Mallett sign up for a team believing that the coach has a long term future and that the system will be in place for them when they finally get ready to play. Only to see Lloyd CArr get run off and have Rich Rodriguez come into town, fire off everyone on the staff and pledge to run a cat and mouse show on offense. Ryan Mallett is far from a cat or a mouse. He's more like an elephant. A large elephant at that. Best of luck to him wherever he goes.
"I didn't sign up for this... I'm the chosen one I tell you! CHOSENNNNN"
- Jimmy Clausen has throughly disappointed in his first year at QB. We were all bombarded by the hype train and led to believe that he was such a spectacular QB, that he could overcome things such as a terrible OL and inexperienced WR's. We were lead to believe he was an NFL level QB playing at the College level, and that he would sling the ball around for 70% completion rates and throw touchdowns all over the field. Now, we're discussing whether he will start over Evan Sharpley next season.
"Does that mean I get to have Kim Kardashian too?"
- Joe McKnight has the rare opportunity to become the "Next Reggie Bush" which is just another way of saying "The most explosive player in College Football. " But first he's going to have to wrestle it away from Percy Harvin...
"I guess Kanye was right... nothing's ever promised tomorrow today."
- Cameron Newton will most probably transfer. I doubt he ever sees the light of day in lieu of the recent development of Tim Tebow. So far he's said all the right things and has been patient. But when Tim Tebow stays for his senior year and Newton will end up as Matt Flynn/Todd Boeckman part Deux, his mind will change quickly.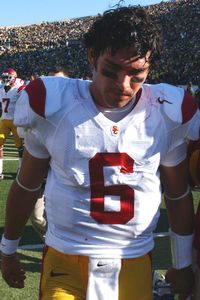 "BUT YOU PROMISED ME A TICKET TO THE NFL!"
- Mark Sanchez vs. Mitch Mustain and Aaron Corp. Aaron Corp has pretty much no shot. And between Mark Sanchez and Mitch Mustain, I'm goign to have to put my money on Mitch. Many might not remember but Mitch Mustain went 8-0 as a starter his true freshmen year in the SEC. Mark Sanchez barely beat Arizona and got romped by Oregon. Good bye Mark Sanchez, start filling out your transfer papers now...
"That lying fat son of a !@#$%."
- Zach Frazer and Demetrius Jones. They both decided to enroll at ND and were blinded by the hype that is Charlie Weis. A year later they were both at schools that were significantly less than where they coudl have been. Jones could be headed as the starter next season for either OSU, Tenn., UNC or Louisville. Whie Zach Frazer... well he never was very much talented away. However both will share one thing in common : welcome to obscurity.
Things to look forward to next year :
Ryan Perilloux finally starting as a tiger : will he live up to the hype?
Mitch Mustain at the helm of a loaded USC team : will they return to the National Title game?
Tim Tebow and the Gators undisputedly the frontrunners headed into next season.
ND : Will they rebound?
Michigan : running the spread offense with David Cone, a cautionary tale of "How to lose 10 games your inaugural season as head coach."
PSU : Daryl Clark the Michael Robinson part 2? We can only hope.
Where will Cameron Newton and Mark Sanchez go? Who else will be a depth chart casualty? The 08 season is 9 months away, and already I can't wait.
"She's the only one who hasn't had sex with the football team."