As far as I can see there is no thread on here for USC, so why not start one.
Now everyone is happy!
I am personally not that afraid of how the defense plays this season. The defensive line I have more questions about than the linebackers I must say, but overall they should be fine.
DL:
Griffin, Tupou, Spicer, Jackson.
Clearly need Griffin to show up more during the games, Tupou should have a fine season at tackle and I am sure a young defensive end or defensive tackle will show himself during the season. Easily the biggest question mark on defense in my book however.
LB:
Morgan, Galippo, Smith
Not worried at all, Smith is a stud, Morgan could be a star and supposedly Galippo is damn good as well. Have a little depth with Brown, and he might even end up starting. At least all of these guys got playing time last year so they are not totally new.
CB:
Wright, Thomas, Bryant
Will be really nice having Wright back, he was arguably their best corner last year. Pinkard can always move down however if they do have issues. Thomas is rock solid as well and I hear Bryant is a real player.
S:
Mays, Harris, Pinkard
Not concerned either, ideally I would love to see Harris in as starting SS but Pinkard is more experienced, depends on how the corners play I guess.
The biggest question obviously is the quarterback situation. Last year showed just how good they can be with an experienced quarterback. Because in 07 when Sanchez had less experience the offense looked totally different than it did last year. Hopefully it is not a long learning curve.
QB:
Corp, Barkley, Mustain
Have not see much from the first too but I hope they turn out because Mustain is nothing great and does not have a strong enough arm I feel potentially.
RB:
McKnight, Gable, Johnson, Havili, Tyler, Bradford
Absolutely not question mark, heard McKnight is trying time at corner, and why not with this many running backs. Even with the Green transfer, they still got the young guy Tyler waiting in the wings. I expect even more out of them this year because they should run the ball more
WR:
Williams, Johnson, Ausberry
Very good set or receivers, losing Hazelton is not that big of a deal turns out. Johnson is a flat out burner and Ausberry should get enough playing time to perform better than last year.
TE:
McCoy, Ayles
McCoy should be a flat out monster this year, and Ayles gives them potential to do a two tight end set with two very good pass catching tight ends.
OL:
Brown, Byers, O'Dowd, Lewis, Heberer, T. Smith
Great offensive line, might be the strongest point of the team outside of running back. Thus hope they run the ball more and that protect for the young quarterbacks will really help.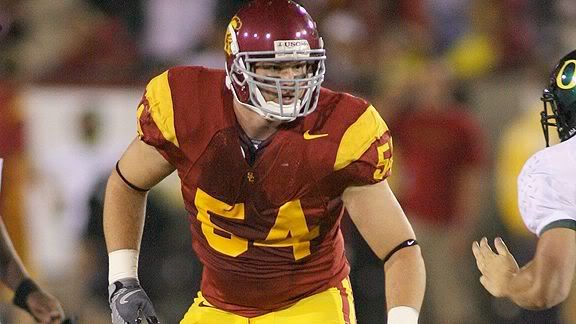 Huge key is how good this kid is, Chris Galippo, I remember seeing him in the Army high school All American game and he was lights out, however last year in limited time I was not all that impressed. Hopefully he steps up his game.
Any other potential standout new players this year? Will have to wait and see for them.
As for the different coaches, losing the offensive coordinator is not a big deal, who couldn't coach offense with the weapons they had last year. Bigger concern is losing Holt as defensive coordinator, he was a dang good coach but then again Carroll runs most of the defense anyway and I respect the coaches he brings in anyway.
I am almost more excited about this season than last season because of all the new fresh faces. I heard one reporter say if there is a year to "get" USC it is this year, I doubt that.