I don't know if this is against the rules, but if it is mods feel free to delete the thread. I figured that there has to be at least a few NBA fans on the board and with the draft less then a week away why not post a mock.
*Note: I copied this from my website so the picture sizes may turn out a little funky.
1. Portland Trailblazers - Greg Oden Center Ohio State
Other Possibilities: None
2. Seattle Supersonics - Kevin Durant Small Forward Texas
Other Possibilities: None
3. Atlanta Hawks - Al Horford Power Forward Florida
Other Possibilities: Trade, Brandan Wright, Mike Conley Jr.
4. Memphis Grizzlies - Mike Conley Jr. Point Guard Ohio State
Other Possibilities: Brandan Wright
5. Boston Celtics - Yi Jianlin Forward China
Other Possibilities: Jeff Green, Corey Brewer, Trade for Shaun Marion
6. Milwaukee Bucks - Brandan Wright Forward North Carolina
Other Possibilities: Mike Conley Jr., Jeff Green
7. Minnesota Timberwolves - Spencer Hawes Center Washington
Other Possibilities: None
8. Charlotte Bobcats - Corey Brewer Small Forward Florida
Other Possibilities: Jeff Green, Joakim Noah
9. Chicago Bulls - Joakim Noah Center Florida
Other Possibilities: Mike Conley Jr., Yi Jianlian
10. Sacramento Kings - Jeff Green Forward Georgetown
Other Possibilities: Yi Jianlin, Al Thornton
11. Atlanta Hawks - Acie Law Point Guard Texas A&M
Other Possibilities: None
12. Philadelphia 76ers - Al Thornton Small Forward Florida State
Other Possibilities: Julain Wright
13. New Orleans Hornets - Nick Young Shooting Guard USC
Other Possibilities: Thaddeus Young
14. Los Angeles Clippers - Javarris Crittenton Point Guard Georgia Tech
Other Possibilities: Acie Law
15. Detroit Pistons - Rodney Stuckey Shooting Guard Eastern Washington
Other Possibilities: None
16. Washington Wizards - Jason Smith Power Forward Colorado State
Other Possibilities: Thadeus Young, Derrick Byars
17. New Jersey Nets - Josh McRoberts Power Forward Duke
Other Possibilities: Tiago Splitter, Jason Smith, Kyrylo Fesenko
18. Golden State Warriors - Julian Wright Small Forward Kansas
Other Possibilities: Yi Jianlin, Tiago Splitter
19. Los Angeles Lakers - Derrick Byars Small Forward Vanderbilt
Other Possibilites: Josh McRoberts, Nick Fazekas
20. Miami Heat - Thaddeus Young Small Forward Georgia Tech
Other Possibilities: Gabe Pruitt, Morris Almond
21. Philadelphia 76ers - Daequan Cook Shooting Guard Ohio State
Other Possibilities: Rudy Fernandez
22. Charlotte Bobcats - Sean Williams Power Forward Boston College
Other Possibilities: Tiago Splitter, Kyrylo Fesenko
23. New York Knicks - Wilson Chandler Small Forward Depaul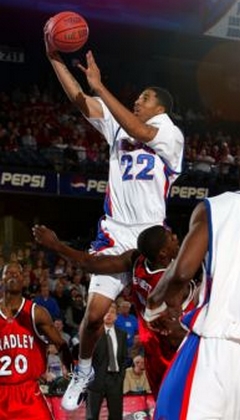 Other Possibilities: Daequan Cook, Morris Almond, Glen Davis
24. Pheonix Suns - Marco Belinelli Shooting Guard Italy
Other Possibilities: Zabian Dowdell, Alando Tucker
25. Utah Jazz - Morris Almond Shooting Guard Rice
Other Possibilities: Aaron Afflalo, Derrick Byars
26. Houston Rockets - Dominic McGuire Forward Fresno State
Other Possibilities: Kyrylo Fesenko, Ron Lewis
27. Detroit Pistons - Taurean Green Point Guard Florida
Other Possibilities: Marc Gasol, Rudy Fernandez
28. San Antonio Spurs - Zabian Dowdell Guard Virginia Tech
Other Possibilites: Kyle Visser, Tiago Splitter
29. Phoenix Suns - Ramon Sessions Point Guard Nevada
Other Possibilites: Arron Afflalo, Taurean Green
30. Philadlphia 76ers - Glen Davis Power Forward LSU
Other Possibilities: None