1 Oakland Raiders JaMarcus Russel QB LSU
The Raiders need a talented QB to get the ball in the hands of their playmakers.
2 Detroit Lions Brady Quinn QB Notre Dame
Kitna is old, so Detroit needs to find a talented QB to get the ball to their playmakers
3 Cleveland Browns Adrian Peterson RB Oklahoma
Need a good running attack to go with their passing attack
4 Tampa Bay Buccaneers Calvin Johnson WR Georgia Tech
Need a WR of the future, and Calvin Johnson is a beast, to provide a target for their two average QBs.
5 Arizona Cardinals Joe Thomas OT Wisconsin
Their offensive line couldn't get edgerrin james out of the backfield, they need some support
6 Washington Redskins Alan Branch DT Michigan
Washington was ran on a lot, and tiki barber got over 200 yards, they need a brick wall in the middle
7 Minnesota Vikings Dwayne Jarrett WR USC
Vikings are going to lose Johnson and their two backups are average, they need a good target for them
8 Houston Texans Reggie Nelson S/CB Florida
Nelson could play CB or S, he stood out in the nation's best defense, they need a playmaker, besides Dunta, in the secondary
9 Miami Dolphins Levi Brown OT Penn State
Miami Let up a huge amount of sacks and culpepper got injured, they need some support and a health insurance plan for Daunte
10 Atlanta Falcons Amobie Okoye DT Louisville
Okoye is a young, talented DT, The falcons got their DEs, they just need a run stopper and a pass rusher from the middle, hes got both.
11 San Francisco 49ers Gaines Adams DE Clemson
Gaines Adams is questionably the best defensive player in the draft, San Francisco has their probowl corner, their linebackers, and safeties, they need a tenacious pass rusher, he is very similar to Sean Taylor
12 Buffalo Bills Lawrence Timmons OLB FSU
Timmons is a solid linebacker, they need a potential starter and depth at linebacker after their injuries last year
13 St. Louis Rams Paul Posluszny OLB/ILB Penn State
Poslusny can play all three linebacker positions, the rams need and playmaker in the middle
14 Carolina Panthers Laron Landry S LSU
Landry is a great safety and can help their secondary and prevent things like the Colston incident from happening
15 Pittsburg Steelers Jamal Anderson DE Arkansas
Anderson is a power end and could convert to a OLB much like DeMarcus Ware, suits their defense
16 Green Bay Packers Sidney Rice WR South Carolina
Rice is a fast, tall, long-armed WR who had two different QBs throwing him the ball, he can provide a target to Favre, replace Driver after he retires, and when rogers starts, become his main man
17 Jaxonville Jaguars Leon Hall CB Michigan
Jaguars have mathis, but they need another corner to defend the pass on the other side
18 Cincinnati Bengals Michael Griffin S Texas
Cincinnati needs to improve their secondary and get a hard-hitting saftey/playmaker to stop manning, griffin is the guy for that
19 Tennessee Titans Ted Ginn Jr. WR Ohio St.
Vince Young is amazing, but he might need a WR to get yards after the catch so he doesn't have to run all the time, ginn is a playmaker and great kick returner, the Jones-Ginn duo will frighten every team the titans face.
20 New York Giants Marshawn Lynch RB Cal
Giants need a speedy, shifty RB to take tiki's place and tandem with Jacobs, Lynch showed a lot of productivity and shared carries while in college, they need a home run hitter and break away threat in the run game
21 Denver Broncos Adam Carriker DE Nebraska
Carriker improved his stock in the senior bowl, and the Broncos can vastly improve their run defense and pass rush with a gigantic monster on the edge
22 Dallas Cowboys Justin Blalock OG Texas
Dallas had trouble with protection, Romo is still playing like a rookie, and had a bad pro bowl, which he shouldn't have been in, they need protection.
23 Kansas City Chiefs Robert Meachem WR Tennessee
Kansas City relied too much on L.J., he broke the amount of rushing attempts in a single season in the NFL, they need another target on the outside
24 New England Patriots Dwayne Bowe WR LSU
New England could've went to the Super Bowl, They need a better WR and Troy Brown is getting old
25 New York Jets Darrelle Revis CB Pitt
Revis could be the first CB taken in the draft, the jets take a steal and get a corner opposite Miller to improve their secondary
26 Philadelphia Eagles Patrick Willis ILB Ole' Miss
Willis is a steal at this point, Eagles need a fast, tall, instictive MLB
27 New Orleans Saints Daymeion Hughes CB Cal
Saints take Hughes an improve their old secondary with a ball hawk at corner
28 New England Patriots Chris Houston CB Arkansas
Patriots pick up a corner in case Samuel leaves and to allow Brown a breather and not have to play DB
29 Baltimore Ravens Jarvis Moss DE Florida
Ravens pick up Adalius Thomas's clone who murdered Ohio state's offensive line
30 San Diego Chargers Arron Sears OT/OG Tennessee
Chargers give Rivers more protection and Tomlison more space and insure that he breaks the rushing record
31 Chicago Bears Ben Grubbs OG Auburn
Bears need a lineman to protect Grossman and preventing him from turning over the ball 5 times a game
32 Indianapolis Colts DeMarcus Tyler DT NC State
Colts picked up Booger and need another DT to improve their on and off incredible defense
33 Oakland Raiders Joe Staley OT Central Michigan
34 Detroit Lions Marcus McCauley CB Fresno St.
35 Cleveland Browns Quentin Moses DE Georgia
36 Tampa Bay Buccaneers Drew Stanton QB Michigan St.
37 Arizona Cardinals Victor Abiamiri DE/OLB Notre Dame
38 New York Jets Rufus Alexander OLB Oklahoma
39 Minnesota Vikings Eric Weddle S/CB Utah
40 Houston Texans Troy Smith QB Ohio St.
41 Miami Dolphins Brandon Merriwether S/CB Miami
42 Atlanta Falcons Aaron Rouse S Virginia Tech
43 Buffalo Bills Josh Beekman OG Boston College
44 San Francisco 49ers Anthony Gonzalez WR Ohio St.
45 St. Louis Rams Lamarr Woodley DE Michigan
46 Carolina Panthers H.B. Blades ILB Pitt
47 Pittsburg Steelers Tony Ugoh OT Arkansas
48 Green Bay Packers Michael Bush RB Louisville
49 Jaxonville Jaguars Jon Beason OLB Miami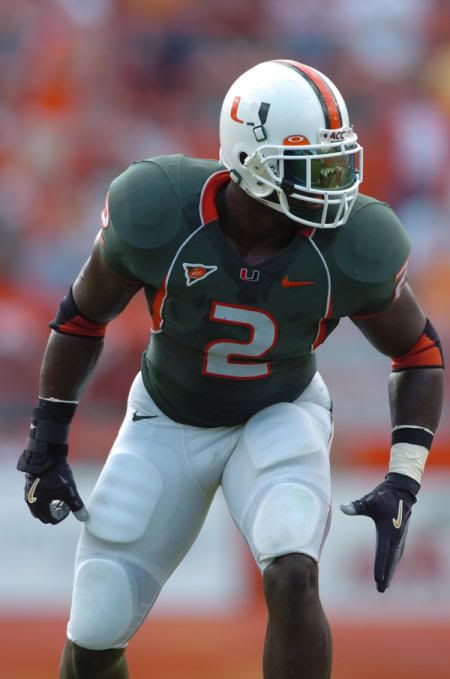 50 Cincinnati Bengals Quinn Pitcock DT Ohio St.
51 Tennessee Titans Charles Johnson DE Georgia
52 New York Giants Aaron Ross CB Texas
53 Denver Broncos Ryan Harris OT Notre Dame
54 Dallas Cowboys Buster Davis ILB FSU
55 Kansas City Chiefs Doug Free OT Northern Illinois

56 Seattle Seahawks Ryan Kalil C USC
57 New York Jets Jason Hill WR Washington St.
58 Philadelphia Eagles Johnnie Lee Higgins WR UTEP
59 New Orleans Saints Greg Olsen TE Miami
60 New England Patriots Tanard Jackson CB/S Syracuse
61 Baltimore Ravens Kenny Irons RB Auburn
62 San Diego Chargers Paul Williams WR Fresno St.
63 Chicago Bears Anthony Spencer DE/OLB Purdue
64 Tampa Bay Buccaneers Fred Bennet CB South Carolina