I am not much of a mock maker, but heres my first one for this year. Its round 1 and has explanations for each pick. There were a couple of picks which I was completely stumped at (like the Eagles one...lol). Do give feedback.
1. Maimi Dolphins: Chris Long, DE Virginia
Here Miami is after a 1-15 season and has many needs, but they decide to build up their Defensive Line or Linebackers. Chris Long is a top3 overall player in the draft and is a versatile guy, especially in the 3-4, where he can either play end or outside linebacker. He has a nonstop motor and I see him becoming a top player at his position in a couple of years time. Alternate Picks: Glenn Dorsey, Darren McFadden, Sedrick Ellis
2. St. Louis Rams: Glenn Dorsey, DT LSU
After a disappointing season, the Rams will head back to fixing their defense and it all starts up at the line. After picking Carriker last year and moving him to DT (a move I didnt like), I think they should be able to move him back to his DE position with the drafting of Glenn Dorsey (or they could keep him there and have him play next to Dorsey). Dorsey is a relentless pass rusher who penetrates the backfield well and is able to blow up running plays. Alternate Picks: Jake Long, Sedrick Ellis
3. Oakland Raiders: Darren McFadden, RB Arkansas
Despite their success running the ball with Fargas, I think the Raiders go with the best player in the draft with McFadden. He is about as close as it gets to being a perfect fit for a team. With the ZBS that Oakland runs, and the speed that McFadden brings, I think McFadden will be among the league leaders in rushing yards sooner or later. They do need help on defense, and Ellis would be a perfect fit to replace Sapp, but with Davis still running the show, I dont think they pass up on the chance to pair up Russell and McFadden. Alternate Picks: Sedrick Ellis, Ryan Clady
4. Kansas City Chiefs: Jake Long, OT Michigan
This is basically a no brainer here, I think. With the great Chiefs line decimating through retirement, I think the Chiefs go right back to building it back up with this monster of a tackle. Jake Long will be a great addition to a run first team. One of the best run blockers in the past couple of drafts that I have seen. I think Larry Johnson/ Kolby Smith's production will immediately increase with having him at LT. If he doesnt work out there, which there is a possibility of, he will be a Pro Bowl RT for years to come.
5. Atlanta Falcons: Sedrick Ellis, DT USC
He is definitely the talk of the Senior Bowl. He was a top10 pick in my books who had the chance to have a similar career as Dorsey BEFORE the SB. After the weigh in, and the dominating performances, I think he has vaulted himself into the top5 category. At 6'1" and 308 lbs he has the ability to play a NT in the 4-3, which is exactly what Atlanta needs. Add his great pass rushing skills, and you have a perfect pick for the Falcons. Alternative Picks: Matt Ryan, Ryan Clady
6. New York Jets: Vernon Gholston, DE OSU
Looks like the NYJ get to be the recipient of this beast. He is a freak athlete who fits perfectly as an OLB in the 3-4 scheme and will dominate as a pass rusher for the next couple of years. I see a Ware similarity in him. Alternate Picks: Leodis McKelvin (I dont know...I think I saw that you guys could use a CB at the team boards)
7. New England Patriots: Leodis McKelvin, CB Troy
Asante Samuels will be leaving for FA this season because the Patriots are not going to break the bank for this guy. So with the pick they got last year with the trade with the 49ers, they pick a guy who will replace him well. McKelvin has great ball skills and breaks for the ball well, but just cant hang on to it. He will fit in well into the Patriots scheme because of how well he goes for the ball and Samuels will be forgotten easily. I think he can raise his stock this high. He is already the top corner at the SB, and will run an impressive time at the combine. Alternate Picks: Derrick Harvey, Kenny Phillips
8. Baltimore Ravens: Mike Jenkins, CB USF
With Rolle not playing up to par, and McAlister getting older, they need to renew their cornerbacks. It seems as if everytime I watch them play, QBs are constantly picking on the CBs and the Ravens cant do anything about it. Their run defense is solid with the emergence of Ngata and with Lewis keeping his play up, and I think with a couple of CBs their defense can return to being dominant. I think Jenkins will jump up to this pick by running a great 40 time. He is already the top CB prospect right now before the combine and I see him just slipping to number 2 for the Ravens to scoop up. I was really deciding between Jenkins and Ryan for this pick. It could go either way, really. Alternate Picks: Derrick Harvey, Matt Ryan
9. Cincinnati Bengals: Keith Rivers, LB USC
The Bengals defense and inconsistent offense has always been the problem. They decide to use their first round pick on the top 4-3 linebacker in the class in Keith Rivers. Rivers is a terrific prospect who is already wowing scouts at the Senior Bowl and will continue to wow them at the combine and pro day. He will come in day one and start and will compete for DROTY. Though the Bengals have a long way to go on the defensive front 7, they get a great addition in this stud LB Rivers who is great in coverage and can lay the hit. Alternate Picks: Jonathan Stewart
10. New Orleans Saints: Kenny Phillips, SS Miami (FL)
The Saints need a stud secondary. If they are going to duel it out with opponents through the air, they need a secondary to match them and stop the opposing team from keeping up with them. This is why they take the best DB available (best DB in the class IMO). I know a couple of you guys would rather get Jackson and all, but I think with a player like Phillips, you cant pass him up at this spot. With defenses changing and all, you need a stud at the safety position to win championships. I think with this addition of a very solid safety, their pass defense will improve greatly. Alternate Picks: DeSean Jackson, Dan Connor
11. Buffalo Bills: Dan Connor, LB Penn St.
Bills have a couple of options here, but seeing that the top CBs are gone, they are going to have to wait a bit more to replace Nate Clements. They go for a stud linebacker in Connor here to team up with his old teammate Poz. Connor is a better and more athletic prospect than Poz was, and with the addition of Connor, Bills will have a ridiculous linebacking group with Crowell, Poz, and Connor. Alternate Picks: Malcolm Kelly, Justin King
12. Denver Broncos: Ryan Clady, OT Boise St.
My 2nd rated OT slides to the Broncos at 12, and is a match made in heaven. With the retirement of Lepsis, and Clady's athleticism, Ryan will fit in perfectly with the Bronco's zone blocking scheme. He will be a force in the run game and will be able to block Cutler's blindside long enough for him to get the ball in Marshall's hands.
13. Carolina Panthers: Matt Ryan, QB BC
Panther fans are ecstatic to see the number 1 ranked QB on most places drop all the way to 13 for them. Chances are, this probably wont happen. Chances are, Falcons will probably draft them, but not in this mock. I didn't really see a place where he could go before this. I was thinking about the Ravens, but they need secondary help, and I am willing to give Troy Smith another year. Ryan will be a great addition to this team and has a chance to sit a year behind Delhomme and learn how to throw the ball to Steve Smith.
14. Chicago Bears: Brian Brohm, QB Louisville
The Chicago Bears miss out on Matt Ryan, but the difference between Brohm and Ryan will shrink, and the Bears will scoop him up at the 14th spot. Brohm, I think, will raise his stock with the combine and pro day and show why he was the number 1 ranked quarterback going into this year and why he has been picked apart unnecessarily. Brohm gets drafted can sit a year or so behind Greise/Grossman and learn the offense. He will bring a change for the Bears. They will have to adjust to a QB who will make good decisions and wont turn the ball so much.
15. Detroit Lions: Jeff Otah, OT Pittsburgh
Almost a no brainer. They have a massive OT in Otah here on the board for them to take. This helps shore up the OL and gives more time and room for the other drafted skilled position guys to work, like Kevin Jones, Roy Williams, and Calvin Johnson. If they could find an answer at QB though. Who knows what Stanton holds.
16. Arizona Cardinals: Dominique Rodgers-Cromartie, CB TSU
This is a stab in the dark, really. I think I remember a Cards fan saying that he was interested in FA CBs, so I figured CB was a need. Once considered a sleeper pick, DRC has seen his stock rise with the senior bowl, and is only going to see more of this with the combine and pro day (if his school ahs one). I really like him as a prospect, and the Cards will soon have one of the best secondaries in the league with Wilson, Hood, and DRC.
17. Minnesota Vikings: Derrick Harvey, DE Florida
The Vikings need some help with the pass defense and a perfect guy to help them would be one of the best pass rushers in the draft. With Harvey working with Kevin Williams and Pat Williams, he will see less and less double teams or free up Kevin or Pat Williams. With the pressure brought to the QB with the front 4, their solid secondary of Winfield, Williams, Sharper, and …Smith? will have an easier time defending against the pass.
18. Houston Texans: Jonathan Stewart, RB Oregon
Texans missed out on Bush (good thing?) and Adrian Peterson (bad thing) but now have a chance to land a franchise back, who I actually think might end up having a better career than McFadden. His blend of power and speed is pretty amazing and I really expect him to raise his stock after the combine, but he is here right now. The Texans get a legit running threat to take the pressure off Schaub and Johnson.
19. Philadelphia Eagles: Reggie Smith, S Oklahoma
After checking up on the boards, it seemed like LB and WR are not needed in the first round, so I have them reaching for Smith. It's a pretty terrible pick, I know, but I don't know who else to give them. Smith is a CB/S tweener who could play out as a great safety at the next level. He will be learning with one of the best with Brian Dawkins. Who else is an option here?
20. Tampa Bay Buccaneers: DeSean Jackson, WR Cal
I don't see Jackson dropping this far after the combine, especially because Ginn was taken at 9, and Jackson is a better prospect (my opinion. Lets not argue.) but he has the chance to drop into the laps of the Bucs. The Bucs would be extremely pleased with this pick. With their WR corp growing older, they need to start replacing them with this explosive wideout in Jackson. He has amazing speed and is a threat to score every time he touches the ball, and has decent route running ability. Add on to the fact that he might make the same impact Devin Hester did as a PR (okay. Not same, but maybe close) and he becomes that much more valuable.
21. Washington Redskins: Malcolm Kelly, WR Oklahoma
I think the Redskins need to give Campbell some more weapons. I am not too fond of Moss, except for his deep routes and YAC ability. Randel El is decent, but with Kelly here, I think they should pick him up to get a big wideout for Campbell. From what I have seen, I think Kelly could end up being the best Pro from all the WRs in the class. He reminds me a lot of Roy Williams and can adjust to the ball very well in the air and makes a lot of nice grabs. I also think he has some very nice speed for a guy his size.
22. Dallas Cowboys: Felix Jones, RB Arkansas
I think here they will have to decide between Felix Jones and Rashard Mendenhall. I can see Jones impressing at the combine and vaulting himself above Mendenhall for some teams. Though I think Mendenhall is a better back, I think that Jones with Barber is a VERY good running back combination. You have your thunder and lightning with these 2 backs. Both are questionable as full time backs and will be able to compliment each other well.
23. Pittsburgh Steelers: Chris Williams, OT Vanderbilt
With all the departures on the offensive line for the Steelers, they go with Chris Williams at offensive tackle with the 23rd pick. I think this may be a bit early for him, but he had a solid senior bowl and could raise his stock. Plus, it seems as if Steeler fans would be okay with this pick. It was really between Baker and Williams for me right now, but I don't think Baker seems like a Steeler type fit, but they Steelers are changing, so I don't know…
24. Tennessee Titans: Limas Sweed, WR Texas
Vince Young needs weapons. Period. He has a solid running game with Brown and White. Has a very good offensive line to work with. He needs more guys to pass to. At this pick, it was between Carlson and Sweed for me. I think a good TE is needed for a young QB and is a good safety blanket. Carlson has great size and Vince just needs to put it around him for him to catch it. But putting Sweed and Young back together was too good (I am not sure if they played together actually… whatever). A tall rangy guy who can go up for balls is good for Young. He might end up dropping past this spot though. I can see him 40 time hurting him and dropping him to the 2nd.
25. Seattle Seahawks: Rashard Mendenhall, RB Illinois
The Seahawk's runningbacks are bad. Alexander is done, I am sorry. He doesn't have the same drive that he had before the contract and is getting a lot older. Morris is not a long term solution. Lucky for the Seahawks though, they have Mendenhall at the 25th pick. I doubt he will last this long, but he is a perfect replacement for Alexander. Great back with good power and enough speed.
26. Jacksonville Jaguars: Calais Campbell, DE Miami (FL)
A player that looked like he was going to be a top5 pick drops to the 25th pick because of a poor junior campaign. But Calais still has a lot of potential, and playing in a line with Stroud and Henderson will only make it easier. I don't see many teams having success running against those 3 guys.
27. San Diego Chargers: Gosder Cherilus, OT BC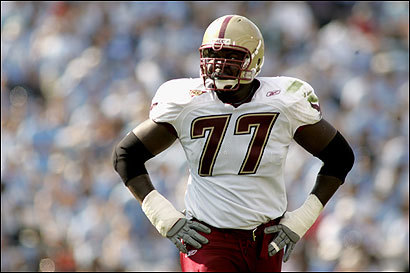 This team doesn't really have any holes. QB, RB, WR, DE, DT, OLB, CB, S…everything covered…damn. I think they could use better ILB but that's just asking for too much. I am sure the ILB are solid, even if I don't know their names (Cooper…someone else…) I guess they just have to add depth to some places, and you can never have too much depth at OL or DL. Cherilus had a great weigh in and did well for himself at the Sr. Bowl. I think he is going to be a great RT…Don't think he can make it to LT, but he will be an excellent RT.
28. Dallas Cowboys: Aqib Talib, CB Kansas
The Cowboys have a lot of talent everywhere, but could use some more defensive talent. CB is a need with their CBs getting older and Henry not really being that amazing and all (yeah he gets his picks, but that's just because teams don't throw at Newman). They pick up the top CB available right now with Talib.
29. San Francisco 49ers: Early Doucet, WR LSU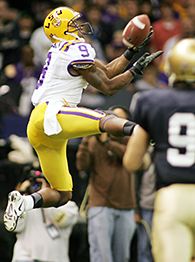 Looks like trading their future first round pick came to bite them in the ass in the end. With pick 7 they could have picked up an explosive guy like DeSean Jackson for their offense or another OL but will have to settle with Early Doucet at the bottom of round 1. Solid WR who has contributed to a winning team for a couple of years. Runs good routes and catches balls around him, but he has limited upside. Doesn't have blazing speed, amazing hands, or great size.
30. Green Bay Packers: Sam Baker, OT USC
Though they have 2 of the most underrated tackles in the NFL today, I think the Packers will shore up their offensive line again with the pick of Baker. He is perfect for the ZBS and could start out as guard before taking over for Clifton. I could also see this team going for Cason or Godfrey.
31. New York Giants: Charles Godfrey, CB Iowa
With a great offense lead by a good offensive line and a variety of good RBs, I think the Giants go for some defensive help on the secondary. CB is an issue and they pick up the workout warrior that will rise through the combine by posting a great 40 time and vertical jump. He is extremely raw and will have to sit out for a while, but after a year or so he should be able to contribute well.
32. New England Patriots: Forfeited