Round One
1. St. Louis Rams: QB: Sam Bradford: Oklahoma:
With the first pick of the 2010 NFL Draft, the St. Louis Rams select Sam Bradford. The Rams in desperate of a new face to their franchise select, the former Heisman winner, Sam Bradford. Many experts and draftniks have varying opinions on this spot in the draft, some believe Ndamukong Suh should be the pick while others staunchly believe Bradford or Clausen will be the pick. I believe the Rams need a new face to their franchise no matter what; Marc Bulger, Brock Berlin and company will not suffice. Although I have grown to like Jimmy Clausen more overall as a QB prospect, it has been circulating (Adam Schefter) that the Rams seem poised to take Bradford with the first pick. Sam Bradford, at 6'4 236 would likely have competed for #1 overall last year and this year he has persevered through a major setback with his shoulder injury to be considered yet again for the top spot.
2. Detroit Lions: DT: Ndamukong Suh: Nebraska:
The Lions at #2 find themselves in an excellent position where they can either draft Suh, McCoy or Okung. A tough choice indeed, but when it comes down to it there aren't too many DT who can take over a game like Suh can. Okung would help protect QB Matt Stafford and McCoy is a great DT prospect in his own right but Suh is one of the best DT prospects we have seen in quite some time. Suh was ultra productive and many thought he was deserving of this yearís Heisman award, his 12.5 sacks were more than most DE in the NCAA racked up. Suh will give the Lions an anchor to their front seven which every team needs, and if the Lions can get something resembling a secondary this defense will be pretty good.
3. Tampa Bay Buccaneers: DT: Gerald McCoy: Oklahoma:
The Tampa Bay Buccaneers pick the 2nd rated DT in this class and that's not a very bad consolation prize at all. Some draftniks argue that McCoy would be the pick regardless as he fits their hybrid cover 2 scheme much better than Suh does. In any other draft McCoy would be at the top spot, but unfortunately for him he has Suh this year. However, Suh might be the top prospect now, but in my opinion Gerald McCoy has not yet even begun to scratch the surface of his potential; down the line, it might be McCoy being the better player than Suh, though I think both will be great pros.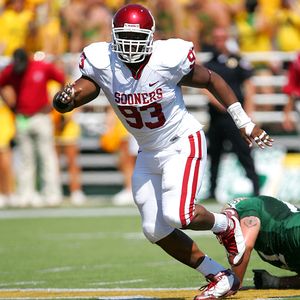 4. Washington Redskins: OT: Russell Okung: Oklahoma State:
At the combine Russell Okung solidified himself as the #1 OT in the draft. His doubters proclaim that he was never dominant during his career with the Cowboys, but one must point he was always consistantly great. His athleticism was also questioned but he shut that up with a very respectable 40 time (5.15). Even before the retirement of Chris Samuels OT was a huge need in Washington and now with Samuels gone it so much as guarantees an OT will be the pick. The Redskins offensive line was among the worst in the league last year, whether they were running or passing, Okung will make some big changes to that this year and help keep whoever is back there in the pocket upright.
5. Kansas City Chiefs: S: Eric Berry: Tennessee:
The Chiefs offensive line gets too much of a bad rep; they're not as bad as we have made them out to be. I feel for the Chiefs S/ILB are much bigger needs for their team. Pioli is not afraid to go against the grain, taking a 3-4 DE in the top 3 last year, so passing on an OT shouldn't come as a surprise. Eric Berry is an excellent all around safety whose only knock is his less than great size at 5'11, but other than that he hits hard, wraps up well, runs fast, and is an astonishing ball hawk. Berry is all you can ever want in a safety and to many he is Ed Reed 2.0.
6. Seattle Seahawks: OT: Trent Williams: Oklahoma:
Some of you may be surprised to see Trent Williams so high up, but you shouldn't be. Anthony Davis' stock is in free fall and the one has benefitted most from has been Trent Williams. After putting a very nice combine he has shot up boards, and some scouts even debate whether he or Okung should be chosen first. In my opinion it is still Okung, but Williams might have more potential. Trent is extremely similar to Michael Oher last year, and Oher has played amazingly for the Baltimore Ravens. Although, Trent struggled last year at LT, he had no help and the whole Oklahoma team disappointed that season.
7. Cleveland Browns: CB: Joe Haden: Florida
Haden ran a pretty bad 40 in the combine and normally I wouldn't agree with a corner that slow being a top 10 pick, but this an extremely weak draft for corners and Haden is still on top. He might run a slow 40 but he certainly plays fast. The best case scenario for the Browns is if somehow Eric Berry falls to them which I just can't see happening. They may have to settle for Joe Haden but the pick will give them the best pair of young corners in the league presuming Haden turns out well. Eric Wright and Haden could make an excellent duo for years to come, and with a rebuilding defense it would help bring things along much faster. Jimmy Clausen would be an interesting pick here but I believe Quinn should get one more year, and not only that Holmgren just traded a 5th for Seneca Wallace 2010/2011 will be a transition season for the Browns I doubt a pick as risky as QB will be taken here. Also, there is less turmoil surrounding the Browns this year and things seem a bit more stable with Holmgren running the show now, this will probably be Quinn's last chance.
8. Oakland Raiders: OT: Bruce Campbell: Maryland:
Maybe Al Davis should work out a deal with Maryland so that all their players eventually go to the Raiders, because it seems these two football programs were made for each, at least in Davis' eyes. Whatever your opinion on Oakland or Maryland is one thing should be said and that is the guys running the strength and conditioning program at Maryland deserve some applause because they have been doing a great job. Now Mr. Davis finds himself once again picking up an outstanding athlete from Maryland, this time itís an OT and this time I agree with this pick. Bruce Campbell is astoundingly lean for 300 pounds and ran a 4.85 40 while putting up 34 reps and coming in with the longest arms at the OT position. Behind Okung and Davis Campbell should be the next OT off the board, he might have even more potential than the previously mentioned OTs and this isn't just going off his workouts he was definitely a very good player at Maryland, he just never got great amounts of press.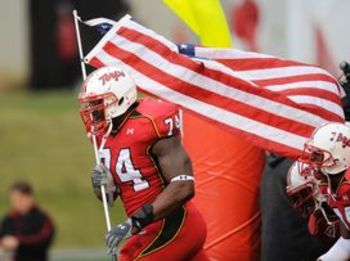 9. Buffalo Bills: WR: Dez Bryant: Oklahoma State:
Many probably expected QB Jimmy Clausen here, but the more I thought about it the less I liked the pick. Chan Gailey does not run a regular offense; looking back he's been known for QBs like Kordell Stewart and Tyler Thigpen. One thing Clausen is good for is his prototypical height, pocket presence and experience with a pro system. Chain Gailey is the reason Clausen won't be a Bill, but instead they will get the BPA and the best wide out in the draft to help Lee Evans and whoever the stop-gap at QB maybe. Dez is arguably better than Michael Crabtree who everyone drooled over last year and is a top 5talent, WR may not be a huge need but letís face it Lee Evans is a one-trick pony and he needs someone to allow him avoid double teams and get open. Dez Bryant runs smooth routes and has great hands; he'll quickly become the favorite target of whoever is under center in Buffalo.
10. Jacksonville Jaguars: S: Earl Thomas: Texas:
After signing Aaron Kampman I am very doubtful the Jags draft a defensive lineman in round one, however their defense still needs some work. Linebacker and Safety seem to be their biggest concerns now, and while Rolando McClain is great he is a better fit as a 3-4 ILB, and Reggie Nelson's awfulness allow me to conclude the best safety on the board will go to Jacksonville. That safety's name is Earl Thomas. Earl Thomas is a playmaker and can play either FS or CB in the NFL. Like Eric Berry the only thing going against him is his height (5'10) but also like Berry he is an extremely productive safety with a nose for the ball. The Jaguars will be getting the playmaking safety Nelson was supposed to be with Earl Thomas.
11. Denver Broncos (From CHI): ILB: Rolando McClain: Alabama:
The Denver Broncos defense completely overachieved last year, but with a new and improved defensive line and a 2nd year of Elvis Dumervil the defense will actually improve. Though DJ Williams was good he is a bit undersized to play ILB in the 3-4, McClain would take over for him eat up blockers and allow Williams to be more free to make tackles and cover. McClain is a leader and would no doubt be an excellent piece to build this Broncos defense around, it is a shame Mike Nolan left he could have made this defense elite.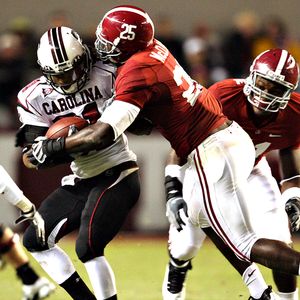 12. Miami Dolphins: DE/OLB: Jason Pierre-Paul: USF:
Jason Pierre-Paul seems to be the consensus #1 DE in the class, and that is due mostly to his athleticism. I can see JPP go much higher than this, anywhere from KC, to Cleveland, to Oakland, but this is how I feel the draft plays out. I, myself, am not too high on JPP but I have heard good things about him and going by stats is not the way to draft its by tape. With the signing of Karlos Dansby the Dolphins are secure in the middle with Channing Crowder and Dansby, but on the outside Cam Wake is one-dimensional and Joey Porter is running out of steam fast. Pierre-Paul will secure one of the OLB positions in Miami and give them two pass rushing monsters in him and Wake.
13. San Francisco 49ers: RB: C.J Spiller: Clemson:
Although OT might the bigger need for the 49ers, I don't think there can be much complaining with the Spiller pick. Either Trent Williams or Bryan Bulaga will most likely be available by their next pick (17) but Spiller would most likely be taken by Seattle. Spiller adds a whole other dimension to the 49ers offense; if only that team could get a QB they'd be set. The three headed monster is of Gore, Coffee, and Spiller would be near unstoppable, not to mention the emerging receiving corp. with the likes of Vernon Davis and Michael Crabtree. Spiller can handle returns, be a receiving back, and be the lightning to Gore's thunder.
14. Seattle Seahawks: QB: Jimmy Clausen: Notre Dame
Jimmy Clausen's free fall ends right here, as Pete Carroll snatches up a player he was unable to recruit in college. Clausen could have been taken at #6 but the Seahawks make out like bandits getting both Anthony Davis as a franchise tackle and the QB of the future, now hopefully they both pan out. Clausen is one of the more productive pro style QBs to come out in awhile posting 27 TDs and 4 INTs, he has an NFL arm and can make all the throws, his only question marks are his cocky personality and his ability to just win, which didn't look to good at Notre Dame. By now Clausen has most likely matured from his cocky 18 year old self and you can't blame him for the defense's woes.
15. New York Giants: OLB: Sean Weatherspoon: Missouri:
The Giants needs are simple ones: a RT/O-line depth, a C, a NT and LBs. Shaun O'Hara and Kareem McKenzie are good for another year, Chris Canty should be healed up this year, and that means only one spot is left LB. By cutting Antonio Pierce the Giants created quite a competition for the MIKE spot contestants are Mike Goff, Bryan Kehl, Chase Blackburn and now Sean Weatherspoon. New Defensive coordinator Perry Fewell looks like he is going to run a hybrid Cover 2 and if he does that basically eliminates Sintim as our SAM, putting us with two JAGs at MIKE and SAM. Sean Weatherspoon can play any position in a Cover 2 he will be able to start from day at either spot. He is athletic and instinctual, he just needs to get a bit stronger to shed blocks better but he has even more potential than the #11 overall pick Rolando McClain in my opinion.
16. Tennessee Titans: DE: Derrick Morgan: Georgia Tech:
The Titans are now without both Kyle Vanden Bosch and Albert Haynesworth, it seems that what was once one of the stronger points on that defense has become one of the weakest and now itís time for the Titans to change that. The pick here is easily Derrick Morgan the next best DE off the board; he is a mini Justin Tuck, with a non-stop motor, excellent run stopper and a very good pass rusher. At 6'3 266 he plays bigger than his size, he is very versatile and could probably play 4-3 DE, 3-4 OLB, and even 4-3 UT at an exceptional level. He might not have the most potential but is one of the safer picks in the draft.
17. San Francisco 49ers: OT: Bryan Bulaga: Iowa:
The 49ers may have Joe Staley but their offensive line is still weak. Joe Staley has been an above average tackle, but other than him the players on that line are sorry. At 17, the 49ers take Bulaga to play either LT or RT, whichever way they feel that both Staley and Bulaga can play to the best of their abilities. With C.J Spiller and Bryan Bulaga it looks like the 49ers did pretty well for themselves. This is definitely a team to look out for next year, with the Cardinals weakened, the Seahawks and Rams struggling; the 49ers could be poised to win that division.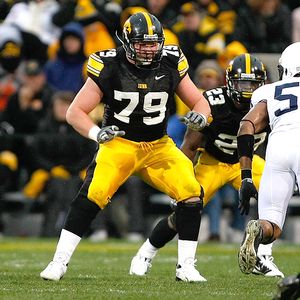 18. Pittsburgh Steelers: OT/OG: Mike Iupati: Idaho
The Steelers one true weakness has been there offensive line; that and injuries hobbled them last year. I feel that their O-line gets treated a little unfairly due to how long Big Ben stays in the pocket but they still leave a lot to be desired in run blocking as well. Mike Iupati maybe the best guard prospect since Mike Hutchinson, and has All-World potential. Huge, strong, tough, and hard-working Iupati will allow the Steelers to return to a more smash mouth game of football that they invented. Iupati can also play either guard or right tackle, which could greatly help the Steelers whichever way they plan to set up their line.
19. Atlanta Falcons: DE: Brandon Graham: Michigan:
If we had a DE who led Division 1 in sacks (?), TFLs, and was the hardworking leader of his football team, where would he be drafted? Well thanks to him coming in at only 6'1 he won't be that top 10 pick, but his production still warrants him a 1st round selection. Jamaal Anderson has been a bust of epic proportions, taking, I believe, two seasons to record his first sack. By drafting Graham and pairing him with John Abraham you get a force to be reckoned with along the defensive front, and this young Atlanta team continues to get better.
20. Houston Texans: S: Taylor Mays: USC:
The Texans are steadily improving this year but that secondary is still awful even before Dunta Robinson jumped ship. They can take any improvement they can get at either safety or corner, so the Texans go ahead and take the next best DB off the board, Taylor Mays. Many people believe Mays is an in-the-box safety, but that is just completely untrue, he may hit hard but he played Cover 1 for most of his USC career. What Cover 1 means is that there is only one safety playing deep and that was Mays, he was excellent at this job, he never got many picks but he was able to lock-up the deep half of the field almost never letting up a pass go for more than 20 yards. Coaches know what they're getting in Mays, drafting him they won't expect a 5+ INT guy they expect someone to lock down the deep half of the field while laying the wood, and Mays will not disappoint there.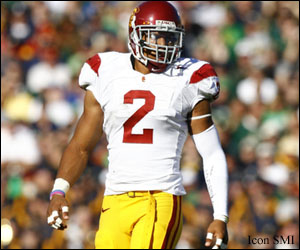 21. Cincinnati Bengals: DT: Brian Price: UCLA:
By signing Antonio Bryant that pretty much kills any chance the Bengals had at taking receiver with #21. There are still many options for them here such as: TE Jermaine Gresham, and DEs like Sergio Kindle, Everson Griffen and Carlos Dunlap. However, the Bengals will take Brian Price who will add some interior pressure and slowly improve against the run. Price would be a perfect UT for the Bengals as they continue to improve their defense, now hopefully Bryant makes an impact at receiver.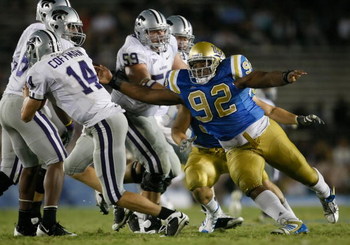 22. New England Patriots: DE/OLB: Sergio Kindle: Texas
The Patriots seem to be running a lot of both 3-4 and 4-3 defenses lately, yet they still lack a pass rush. Sergio Kindle can play both a DE in 4-3 (albeit mostly as a pass rusher) and a rush backer in the 3-4. Other than a few character concerns there is nothing you should be worried about with this guy, he is just an excellent football player. If you watched Texas you could see that a few times he just took over games for them. Kindle would vastly improve the Pats pass rush which seems to be the most glaring chinq in their armor. If Sergio Kindle behaves, we will be watching a pro bowl caliber player for the next few years.
23. Green Bay Packers: OT: Anthony Davis: Rutgers:
Thre is absolutely no possible way Anthony Davis, no matter how big a hit his stock has taken, will fall out of the first round thanks to the Green Bay Packers. Davis has the potential of a top 5 pick but the work ethic of a JV highschool player. This is a classic boom or bust pick as scouts wonder whether Davis cares more about football or his paycheck. We will find out soon enough.
24. Philadelphia Eagles: DE: Everson Griffen: USC:
Opposite Trent Cole in Philadelphia there isn't much to talk about. However, when this pick is made it changes everything. Griffen will add a great amount of pass rush to the Philly defense, who already have one of the best DEs in the league. Griffen didn't have great numbers but is an intriguing athlete who could grow into one of the better pass rushers in the league if coached correctly. It scares me to think Philly's D-line gets even better.
25. Baltimore Ravens: TE: Jermaine Gresham: Oklahoma:
The Ravens have a franchise QB in Joe Flacco, a franchise RB in Ray Rice, a franchise LT in Jared Gaither, and lastly they just traded for pro bowl receiver Anquan Boldin. Now the Ravens draft the last piece to their puzzle, the TE, Jermaine Gresham. Gresham can do it all, block, catch, you name it. He is an amazing all-around tight end, and if it weren't for a season ending injury this year he would have been a top 15 pick.With this pick the Ravens offense will be stacked and all the pressure will fall on Cam Cameron and Joe Flacco, hopefully they can make something great happen. For once, the only concern on the Ravens is now the defense, but that isn't too big a hole.
26. Arizona Cardinals: DE/OLB: Jerry Hughes: TCU:
The Cardinals defense stepped up big last year, and they will need to do even more this year. The Cardinals offense is crippled with the loss of Kurt Warner and Anquan Boldin only adds insult to injury. The Cardinals defense improved leaps and bounds last year, but they have been setback just a bit by losing Antrel Rolle and Karlos Dansby. Even so, pass rushing was still a problem for Arizona last year, and this year they'll draft someone to take of that. Thus here we are with Jerry Hughes at the pick. Hughes is still very raw but he is extremely explosive with a good motor, if a coach can fix up his mechanics and technique, and adds a little weight he could be a DeMarcus Ware type rushbacker, but he has a long way to go.
27. Dallas Cowboys: CB: Kyle Wilson: Boise State:
With the 27th pick the Cowboys pick-up Kyle Wilson. The main reason for this pick is that Terrence Newman is more or less done, and though Mike Jenkins has shown some promise he is a pretty soft player. There isn't much difference between Wilson and #7 overall Joe Haden, except Haden went to a big school and Wilson had a much better combine. By draft day it would not surprise me at all if Wilson rises up draft boards while Haden falls hard. Kyle is a much more phyiscal corner than Jenkins and can match up well against the bigger receivers; I believe this duo could mask each other's weaknesses and become great in time.
28. San Diego Chargers: DT: Dan Williams: Tennessee:
With the release of Jamaal Williams it leaves the Charges with a huge hole at NT, which is probably the most important posistion in a 3-4 defense. The Chargers get lucky here and the best NT in draft happens to fall to them. Dan Williams has gone from late rounder to 1st round pick in just a year, thanks to his play under his new defensive coordinator Monte Kiffin. Dan Williams has shot up past Terrence Cody as the #1 NT in the draft, thanks in part to his better conditioning and much better pass rushing potential. Effectively making him more than just a 2 down player like Cody is. The Chargers might have biggers needs at RB, but the value of a NT is just twice more important than RB, since they can find a perfectly serviceable one in the later rounds.
29. New York Jets: WR: Golden Tate: Notre Dame:
The New York Jets defense may be the best is the league. Unfortunately their offense is rather anemic, even with the addition of Braylon Edwards and emergence of Shonn Greene. Believe it or not, their best receiver maybe Jerricho Cotchery who by no means is a bad player but shouldn't be a teams number one. The running game will be just fine without Thomas Jones, as Shonn Greene has proved many doubters wrong and Leon Washington will have fully recovered from his leg injury. Mark Sanchez will still need some help and the only way to draft is WR. The Jets already have a big man (Braylon), they have the consistent target (Cotchery) and now they need the playmaker which will be Golden Tate. Tate has been a playmaker from the start for the Irish and will continue to do so in the NFL as WR/return man; he has effectively placed himself as the #2 receiver in this draft by wowing scouts with a 4.38 40 time, even with his 14% body fat.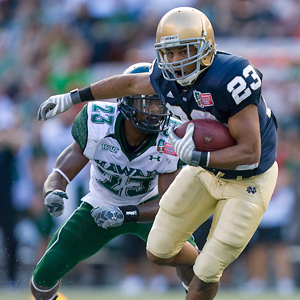 30. Minnesota Vikings: CB: Devin McCourty: Rutgers:
Like Kyle Wilson, Devin McCourty's stock shot up during the combine. Now, thanks in part to a weak CB class McCourty now finds himself with a late first/early 2nd round grade. Although the Vikings would have rpobably preferred one of the top safeties to fall to them, maybe Dan Williams or Sean Weatherspoon, they end up with McCourty who may seem like a bit of a reach. If he can play up to his measurables this a great pick. Antoine Winfield is really getting up there in age, and Cedric Griffin is nothing more than a JAG, McCourty will add some depth and probably be the #2 corner by season's end.
31. Indianapolis Colts: DT: Jared Odrick: Penn State:
The Colts have yet to find someone to fill their hole in the middle of their line and their run defense annualy suffers because of it, esepecially when Bob Sanders is out. Considering, Sanders has been out a lot recently it would be wise for the Colts to invest in some help in the middle. They take the best run stuffer available in Jared Ordick. Although non of the top tier DTs are available; Ordick should do more than suffice he would greatly improve the Colts run defense from day one.
32. New Orleans Saints: DE: Carlos Dunlap: Florida:
Thanks to poor work ethic, questionable character, and an all-around average year of play, one of the most ahtletic DEs in the draft has gone from top 10 to late first/early 2nd. Saints snag Dunlap here, and pair him with Will Smith. If he can live up anywhere close to what his massive potential suggest he could him and Smith could do some huge damage especially in Gregg Williams' defense. Dunlap impressed at the combine and that might have guaranteed him a first round selection but it's still a shame that he managed to allow himself to fall so hard.
Round 2
33. St. Louis Rams: WR: Arrelious Benn: Illinois:
34. Detroit Lions: OT: Charles Brown: USC:
35. Tampa Bay Buccaneers: WR: DeMaryius Thomas: Georgia Tech:
36. Kansas City Chiefs: OT: Vladimir Ducasse: Massachusetts:
37. Washington Redskins: DE/OLB: Ricky Sapp: Clemson:
38. Cleveland Browns: RB: Ryan Matthews: Fresno State:
39. Oakland Raiders: DE: Corey Wootton: Northwestern:
40. Seattle Seahawks: S: Chad Jones: LSU:
41. Buffalo Bills: QB: Tim Tebow: Florida:
42. Tampa Bay Buccaneers: CB: Patrick Robinson: FSU:
43. Miami Dolphins: WR: Damian Williams: USC:
44. New England Patriots: LB: Brandon Spikes: Florida:
45. Denver Broncos: WR: Brandon LaFell: LSU:
46. New York Giants: DT: LeMarr Houston: Texas
47. New England Patriots: OG/C: Maurkice Pouncey: Florida:
48. Carolina Panthers: DE: Koa Misi: Utah:
49. San Francisco 49ers: S: Nate Allen: USF:
50. Kansas City Chiefs: DT: Terrence Cody: Alabama:
51. Houston Texans: RB: Jahvid Best: Cal:
52. Pittsburgh Steelers: CB: Kareem Jackson: Alabama:
53. New England Patriots: TE: Rob Gronkowski: Arizona:
54. Cincinnati Bengals: S: Reshad Jones: Georgia
55. Philadelphia Eagles: LB: Daryl Washington: TCU:
56. Green Bay Packers: CB: Brandon Ghee: Wake Forest:
57. Baltimore Ravens: CB: Perrish Cox: Oklahoma State:
58. Arizona Cardinals: TE: Aaron Hernandez: Florida:
59. Dallas Cowboys: WR: Mardy Gilyard: Cincinnati:
60. San Diego Chargers: RB: Toby Gerhart: Stanford:
61. New York Jets: DT/DE: Arthur Jones: Syracuse:
62. Minnesota Vikings: DT: Cam Thomas: North Carolina:
63. Indianapolis Colts: OT: Jason Fox: Miami:
64. New Orleans Saints: LB: Eric Norwood: South Carolina: