I went through every team and chose who I felt will be the breakout player for them. I did not include rookies, as I feel it's hard for a rookie to "breakout". Obviously all 32 selections won't turn into great players, but every team has a guy who comes out and plays above expectations. These selections don't necessarily mean that these players will become stars. They could go from being a backup to a decent starter. Or they could go from being a starter to being a star. But these are just players who I think will significantly improve their games.
Oakland Raiders - Ronald Curry, Wide Receiver
The Raiders are a bit tough to choose for, as the best quarterback on their roster is a rookie, they have a veteran starting tailback coming off a rough season, and on defense, most of their players saw a breakout season in 2006. In the end, I went with Curry. He saw action in all 16 games last year, starting alongside Randy Moss. Curry put up 62 grabs, which is rather impressive considering he played on the most dismal offense in the NFL. Curry will start yet again alongside Jerry Porter, and I think he could be the team's leading receiver. I think you'll see Curry possibly have a 70 catch year with 4-6 trips to the endzone.
Detroit Lions - Stanley Wilson, Cornerback
Wilson was drafted in the third round out of Stanford in the 2005 draft. During his rookie year he saw action in 9 games, but he really started to get significant playing time last season. He was a key reserve for the Lions on defense. I feel the Lions had to have a lot of confidence in him with the trade of Dre Bly. Wilson could be the opening day starter for the Lions and I think he could be a really solid player for them.
Cleveland Browns - D'Qwell Jackson, Inside Linebacker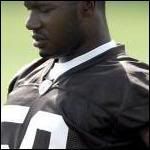 Jackson began his rookie year as a starter for the Browns, and while he wasn't outstanding, he was around the ball alot and showed promise. I think he did a fine job, considering that he was playing in a 3-4 at 225-230 pounds, and he was playing with a very lackluster defensive line. I think he'll win the starting job across from Andra Davis, and I expect him to really show why he was drafted in the top 35 in 2006.
Tampa Bay Buccaneers - Maurice Stovall, Wide Receiver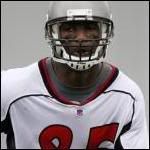 Joey Galloway had a productive 2006, but he took a step back from 2005 and he is getting up there in age. Michael Clayton is one of the true enigmas of the league over the past 3 years. He had a sensational rookie year, with 80 catches, nearly 1200 yards, and 7 touchdowns. Since then, he's almost fallen off the face of the earth. He has only 63 catches in the past 2 years, and a once bright future looks quite dim. Stovall was drafted on the first day and really didn't get a chance to show what he could do in his rookie season. But I like what he brings to the table with his size and playmaking ability. Michael Clayton has to be on a short leash, and if Stovall steps up and Clayton continues to underachieve, I think Maurice could see alot of playing time. I expecet him to have a productive sophomore campaign.
Arizona Cardinals - Antrel Rolle, Cornerback
Rolle was the 8th overall pick in the 2005 draft, and while he hasn't been bad, thus far he hasn't
fully
lived up to expectations. I think 2007 could be the year where we see why he was drafted so high and why so much is expected of him. Rolle has always had a great blend of size and athleticism, and I think he will turn into a legit #1 corner for the Cards, and they need in a division that is filled with some rock solid offensive clubs.
Washington Redskins - Sean Taylor, Safety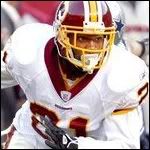 Sean Taylor gets alot of mixed feelings from fans. Some fans feel he's a top tier safety, and some feel that he is very overrated and has a lot of holes in his game. I'm somewhat in the middle. I feel that he is on the cusp of the top 5, maybe just at #5. He's a devastating hitter, and while some may feel that the hype he gets for that is one of the reasons he is overrated, I think he really makes his presence felt to oppossing receivers and there's alot to be said about that. He has struggled in coverage, and that's part of the reason why he's dropped weight this season. I've heard that Taylor is down to 212 pounds, and if that's the case, I think you can expect him to be a bit more nimble and his pass coverage should improve. We'll have to see if the weight drop impacts his run coverage, but I feel he will be just as effective. The presence of LaRon Landry will also do alot for him. All in all, I think it's a big year for Taylor and you'll see him in almost everyone's top 5 safety lists by the end of the year.
Minnesota Vikings - Bobby Wade, Wide Receiver
Wade was brought in to Minnesota for a nice chunk of change, and he should be Tarvaris Jackson's #1 target. He was an effective player for Tennessee last year, and I think he can be effective as the top target. While I'm not expecting any guady receiving numbers, I expect Wade to provide a nice veteran presence for young guys like Williamson, Rice, and Allison. 60-70 grabs and 5 touchdowns may not be too far-fetched for him.
Atlanta Falcons - Jerious Norwood, Running Back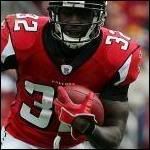 Norwood had a great rookie campaign for the Falcons, putting up over 6 yards a carry as a backup to Warrick Dunn. In 2007, I think you'll see Norwood take over the starting job early, probably as the opening day starter. Norwood's a shifty player with alot of big play ability, and he shows some surprising power at times. I think he has a huge future and will put up some big numbers.
Miami Dolphins - Ronnie Brown, Running Back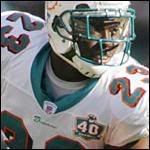 Brown is a guy who I feel has actually become a bit underrated. I personally feel that he's a top 10 back in the league. He brings alot to the table with his size and athleticism. He runs outside and inside equally well and can catch the ball. His production hasn't been eye-popping, but part of that could be contributed to the fact that Brown has never really been given all of the workload for the phins and that he was injured for a few games last year. Last year he put up some nice stats, with over 1000 yards, and he did it in a shortened season. Not to mention that he's been behind an average line at best. I think the line improves this year, and Ronnie has a big season.
Houston Texans - Kevin Walter, Wide Receiver
Houston has one of the best receivers in the game with Andre Johnson. Unfortunately, Johnson has been the only consistent receiver for them. I think this could change in 2007 with Kevin Walter. Gary Kubiak has said that Walter reminds him of a young Ed McCaffrey. I think Walter could be that solid possession receiver that can complement the great #1.
San Francisco 49ers - Aubrayo Franklin, Nose Tackle
Franklin played with Mike Nolan when he was with Baltimore, so he is familiar with the system and he knows what Nolan wants from him. Franklin was a key reserve for the Ravens and he has massive potential. He is very quick, which is surprising for a guy with a 320 pound frame. I think he's up to the challenge of being a starter and I think he'll be a good addition to the middle of that 3-4 line.
Buffalo Bills - Duke Preston, Right Guard
The Bills have had one of the more inconsistent lines in the game for the past year or two. But I expect a big upgrade in 2007, as they added Derrick Dockery through free agency and have one of the up and coming linemen in the NFL with Jason Peters. Duke Preston has a great frame, at 6'5", 326 pounds. He started 8 games last year, and from what I saw, he showed some promise, but was inconsistent. But I think he's got a bunch of potential and I think he'll raise his level of play in 2007. If Preston plays as well as I'm anticipating, the Bills should have a much improved line and running game.
St. Louis Rams - Richie Incognito, Guard
Incognito is one of the more underrated players on the Ram squad. He's a mauler and played very well last year. I expect more of the same this year, but Incognito should get a bit more recognition.
New York Jets - D'Brickashaw Ferguson, Left Tackle
Ferguson had an okay rookie year, but I don't think he was nearly as good as Jets fans may have expected. He was overshadowed by fellow rookie tackle Marcus McNeil, drafted a round and a half later. I do think he will improve on his rookie year and look like the stud that everyone thought he would be.
Pittsburgh Steelers - Rian Wallace, Inside Linebacker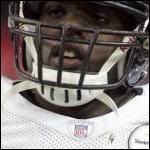 Anthony Smith is the popular pick for the Steelers, and he's not a bad one. But I'm going to go with a name that may not be familiar to alot of people. Wallace was drafted back in 2005 in the 5th round out of Temple. He's got good size and some nice athletic ability. James Farrior is rock solid on the inside for Pittsburgh, but Larry Foote is a weakness in my eyes. He's become overrated by some and many Steelers fans have become frustrated with him. He doesn't excel in any aspect of the game and has become notorious for missing tackles. MIke Tomlin is a difference coach from Bill Cowher and I don't think Tomlin will be afraid to try some new things. I know I may be going out on a limb with this one, but I think Wallace could see alot of reps for Pittsburgh, and I think he could be the future for them on the inside.
Green Bay Packers - Donald Lee, Tight End
Bubba Franks has become nothing more than an extra blocker for the Packers. The tight end position hasn't been a point of offensive emphasis for the Pack, but I think this could change this year, with Lee as the main target. Lee has always had nice size and athleticism, and as I said, I think more emphasis on his position will really benefit.
Denver Broncos - Jay Cutler, Quarterback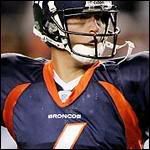 I felt Cutler was the best quarterback in the 2006 draft, and I still feel that way. He showed a bit of what he can do last season, and he'll have a full year to showcase his talents this year. He has a huge arm and can make so many plays. The presence of Travis Henry should be a help to him and I fully expect Cutler to put himself in the top 6 or 7 signal callers in the NFL.
Cincinnatti Bengals - Tab Perry, Wide Receiver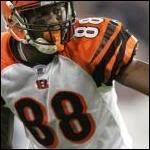 Chris Henry has been suspended for 8 games, and this make Perry the third receiver almost by default. I've always like Perry, as he's a physical player that can do alot. He can return kicks and he's been used some clever ways on offense. Chris Henry has been a huge threat out of the slot for the Bengals, and I don't think the use of the slot receiver will go down any with Tab. He could also contribute on special teams.
Tennessee Titans - Brandon Jones, Wide Receiver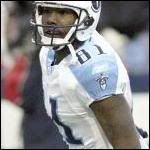 Jones has shown promise since he was drafted by the Titans, with nearly 14 yards a reception and a nose for the endzone with 2 touchdowns in his rookie year and 4 in his sophomore year. With the uncertainty of David Givens and the departure of Bobby Wade, there is a definite possibility that Jones could be Vince Young's #1 target. I like what I've seen out of him and I think he's up to the challenge.
New York Giants - Barry Cofield, Defensive Tackle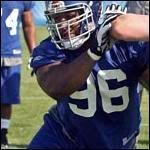 Cofield suprised many fans, playing in all 16 games and making a big impact for the Giants. Cofield comes into 2007 as the starter at tackle. Some may say that he has already broken out, but I expect him to only improve on his rookie year. He should be a key cog on that line for a long time.
Jackonville Jaguars - Matt Jones, Wide Receiver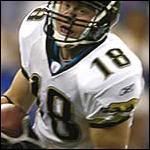 To be honest, it seems as though I've been waiting for Matt Jones to breakout since his rookie year. Again, I'm expecting big things, and hopefully this is the year it clicks for him. Everything is there. The size. The athleticism. The hands. He has it all. It baffles me as to why he isn't a star yet. Byron Leftwich is healthy, and I think Jones will be his #1 target. Hopefully this is his year.
Dallas Cowboys - Chris Canty, Defensive End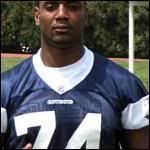 Chris Canty's upside is outstanding. He has great size and great athletic ability. He can really be as good as he wants to be. I think Canty, along with teammate Marcus Spears, really put it together this season, and solidify that defensive line.
Kansas City Chiefs - Bernard Pollard, Safety
The 'bonecrusher' had a solid rookie season in which he showed his intimidating presence and ability to make big plays. He'll come into 2007 as the starter at strong safety, and I think the Chiefs will let him show what he can do. He's intimidating to receivers coming over the middle, and he has the skills needed to be a force against the run. He should really help that secondary.
New England Patriots - Wes Welker, Wide Receiver
Welker was very productive out of the slot for the Dolphins last year. The Patriots gave up alot to get him and I felt he was a great pickup. He just seems like the perfect Patriots receiver and I think Tom Brady will establish some great chemistry. I think you'll see him benefit greatly from playing with Brady and being surrounded by a boatload of weapons. Welker's catches and yards may not increase much because of all the weapons he is playing alongside, but I expect his touchdowns total to rise and I just expect him to be more of a threat. He'll obviously contribute on special teams as well.
Carolina Panthers - Richard Marshall, Cornerback
Marshall was a force in his rookie year and he is a part of what may be the best trio of corners in the league. He played well in coverage and was great against the run. Ken Lucas and Chris Gamble really have no room for error because Marshall may be just as good if not better than both of them. Whether he starts or play nickel, I see another great year for him.
Seattle Seahawks - D.J. Hackett, Wide Receiver
Hackett has shown loads of potential with Seattle, he just hasn't been able to get consistent playing time. With the departure of Darrell Jackson, Hackett could find himself starting oppossite Deion Branch. Hackett has the size, athleticism, and knowledge to be a good starter in the league, and that's just what he should be.
New Orleans Saints - Josh Bullocks, Safety
The Saints had a lackluster secondary last season, due in part to Fred Thomas' bad play and Roman Harper being out for some of the year. Bullocks is one of the reasons why I feel the secondary can turn their play around. Coverage is a strength for Bullocks, and his style complements Roman Harper well. Bullocks will have a good year along with Harper and they will form a nice young safety duo.
Philadelphia Eagles - Trent Cole, Defensive End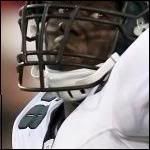 Cole is on the verge of being a great player. He started 14 games in 2006 and ended up with 8 sacks and even an interception. This year he comes back as a starter and I think you can put him down for 10-12 sacks in Jim Johnson's defense. He could be headed for big things.
Baltimore Ravens - Jarret Johnson, Defensive End/Outside Linebacker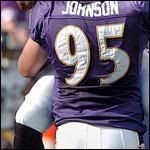 I thought about a few players for the Ravens. Willis McGahee, Mark Clayton, Demetrius Williams, and Jarret Johnson. Johnson has been a key reserve for us the past few seasons, in a defensive end/linebacker role. He possesses perfect size for that role in our defense, and he's very versatile. He reminds me alot of Adalius Thomas, just minus the outstanding athleticism. Jarret will be taking Thomas' spot on the defense and I think he will be very good for us. There were some designed plays for Jarret last season, so Rex Ryan has faith in him. He plays the run and the pass fairly well, and he has the ability to rush the passer. I could easily see 8+ sacks with all the talent we have and how great of a job Rex Ryan does.
San Diego Chargers - Vincent Jackson, Wide Receiver
Jackson saw the field alot in 2006, and he came up big in a few games. He's got outstanding size and the athleticism to complement it. He'll be taking over the #1 receiving job in 2007, and he could put up some impressive numbers in an offense with LT, Antonio Gates, and a quarterback like Philip Rivers.
Chicago Bears - Bernard Berrian, Wide Receiver
Bernard Berrian has been a huge deep threat for the Bears, but he hasn't exactly been a consistent threat in terms of catches, and he hasn't been able to get open on a consistent basis. This year I think he takes his game to the next level and becomes more of a complete player.
Indianapolis Colts - Joseph Addai, Running Back
Addai was great for the Colts on the way to their Super Bowl run, and his second year will be even better. I feel that Addai's second year will be the best of all sophomore tailbacks, and he could end up having the best career of all of them. I think he'll end up being better than Edgerrin James was for them. He does everything well and fits with the Colts extremely well, and I think he'll be a great player.