Ok here are my week 6 thoughts, as usual I will start off by posting the skins game, cause that's just how I roll. When I write these it is basically one big thoughts, so I decided to put pictures this week to help ease some of the reading transitions.
Redskins vs. Packers
The Packers squeak out a close victory in poor conditions. This was the kind of game that was tailored for a Packers win. Cold and raining the entire game the wet field conditions most definitely played a huge role in this game. Whereas the Redskins are spoiled by Snyder by not having to practice outside when the weather is bad, the Packers are used to these kind of harsh conditions and they were able to easily exploit them. The Redskins defense was stellar and is top 5 in the NFL, but their offense really stalled, and dropped passes, fumbles, and poor coaching in terms of clock management cost them the game. For the Packers it was anemic at best. Brett Favre played poor, he really is a gunslinger, you take the good with the bad. He could have easily had 10 interceptions in the game. While some passes I guess you can blame the weather on many of them were just bad decisions. Sean Taylor is definitely a top 3 safety in the NFL. While he was not great with his hands and only had 2 INTís, he should have had 5. Someone needs to get him some gloves, but he dictated Brett the entire game. He baited Brett every single pass play, his one crazy INT, he gained about 30 yards on the receiver in 5 seconds to make the play, he is still yet to get beat deep all season long, and really only has bad play all season which was a missed tackle against Plaxico Burress. He already has 4 INTís in 5 games, but again that number should be 8-10, but if you donít make the play it doesnít matter. Anyways back to the Packers their offense really struggled. They had no run game whatsoever. Wynn and Morency had no impact on the game. Their one offensive play was an intermediate pass to Donald Lee in which crackhead Carlos Rogers tried to tackle him high, if it wasnít for that the Skins would have won. Not taking anything away from the Packers but the Redskins moreso gave the game away than the Packers winning it, but I give them credit for capitalizing on terrible Redskins mistakes. I think people need to see that this Redskins defense is top 5 in the NFL. Last week the Lions came in as the #1 passing offense in the NFL and they held Jon Kitna to 106 yards passing, 0 TDís, 2 INTís, while holding their leading rusher Kevin Jones to 48 yards and no TDís. This week it was the Packers who came in as the #1 passing offense in the NFL, and the skins held Brett Favre to 19/37 for 188 yards no TDís, 2 INTís, and their leading rusher was Wynn with 37 yards on 13 carries. Previous to that they held Ronnie Brown who has been hot to just 32 yards against the Dolphins. The team is getting pressure with 4 down lineman as Rocky McIntosh continues to make a strong case for the pro bowl and the addition of London Fletcher has been incredible. As for the secondary Sean Taylor has been amazing, LaRon Landry is stout against the run but is still this far in the season yet to be tested deep, but that could be accredited to how well he is covering TEís and slot receivers. Smoot was very good yesterday, Carlos Rogers was ok, while Springs struggled. All this and Marcus Washington was out with injury so were forced to start Randall Godfrey. As much good as the defense was yesterday the offense was equally bad. First to start off yes injuries have killed the offense. Losing 2 pro bowlers on the line for the season in Jon Jansen and Randy Thomas is painful. Even worse replacement RT Todd Wade gets hurt yesterday and undrafted free agent rookie Stephon Heyer is forced to play. Then in a bad looking injury Heyer goes down with a bad leg injury. That then forces reserve DT Lorenzo Alexander to step in and play RT on offense, he fall starts, so we put back in an injured Wade. To add to the injury starting Center Casey Rabach also gets hurt and we are forced to play some jokester. So as you can so no team can really be successful with those kinds of injuries, that is pretty extreme, it hurts when Chris Samuels is your only starting O-lineman remaining and he isnít exactly the epitome of good health. The running game was alright. Portis was running his guts out on a slippery field despite being injured but he had a costly fumble, and while Green Bay came away with zero points despite getting the ball 10 yards from the end zone it did take away precious time. Jason Campbell was so impressive once again. He played an excellent game again but his teammates really disappointed him from having another weekly honor worthy performance. The one man who stepped up for him was Chris Cooley who had over 100 yards and a TD. But Santana and El were just awful. I think the drop numbers for the team were like 12. Santana obviously still bothered by the groin injury that forced him to sit last week was held to zero catches. He dropped 3 passes which would have won them the game if he caught any of them, and his one drop led to the Packers lone INT. Worst of all is his fumble led to Green Bayís only TD of the 2nd half which was the game winner in a 57 yard return by Charles Woodson. It was just embarrassing the drops and fumbles I couldnít believe that the Skins were actually in it until the last seconds. With all of this said I am not down playing the Packers at all. They are 5-1 and will make the playoffs, but I do have several worries for them. Brett Favre not throwing INTís is the biggest because they have a great pass rush, good young and athletic LBís and their corners are great. This game was very depressing for Redskins fans, but hopefully the Skins can bounce back next week against the Arizona Cardinals.
Adrian Peterson runs wild on da Bears
Man, Man, Man, the Bears are going south, but Adrian Peterson is the offensive rookie of the year. 224 yards and 3 TDís on just 20 carries he is already arguably the most explosive running back in the NFL despite having so few carries. Injury concerns will always follow him so I actually am not against Chester also getting 15-20 carries because Chester is a capable back and with a young QB it is doing both Tavaris and AD well. Tavaris was awful but it was enough to win so who really cares. As for the Bears their collapse continues with a bad loss. Cedric Benson once again showed nothing running the ball. On a side note Bears fans most likely donít give a crap but Thomas Jones had 130 yards yesterday. With that said Devin Hester is an absolute weapon on special teams, he will easily go down as the greatest returner to ever play the game when his career is over. I saw him terrorize crap teams like Duke and College so I must admit I never expected him to be this great, especially this early. His catch was nice and Iíd really like to see the Bears get the ball to him more often because he is dynamite with the ball in his hands, in any way the Bears are really struggling and better pick it up quick or they could be in serious trouble.
Steelers atop, Ravens improving, Browns improving, Bengals falling:AFC North interesting Shift
The AFC North has taken a very interesting twist this season. At the beginning of the year projections had the consensus that the Browns would be last in the division. As for the other teams Baltimore was basically the most popular pick to win the division but they were getting a lot of 3rd place votes. People had Steelers from 1st to 3rd but the general consensus was that the Bengals would finish 1 or 2 in the division but here week six that is not looking very good for Bengals fans. Pittsburgh is atop the division but with a very slim lead. Big Ben has looked great this season without having to force too much. While Willie Parker is 6th in the league in rushing and is looking very good. For the Ravens they have recovered after a bad start but worse thing is at 4-2 their 2 losses were against division foes in Cincy and Cleveland. We still have yet to get a great gauge of the Ravens. They lost 2 divisional games and their 4 wins are against the Jets, Cardinals, 49ers, and Rams all not very good teams, and next week they have Buffalo so you do have to wonder if they are just a product of an easy schedule, because at times this year their defense has looked much older and slower, and teams arenít intimidated as they used to be. Willis Mcgahee was a huge acquisition for them as he is 4th in the league in rushing yards. He is on pace for 1400 yards and we can only expect him to get more carries as the season goes on but on a negative he only has 2 TDís on the season with only 1of those being a rushing TD, but there is no way you can argue that he isnít a huge upgrade from Jamal Lewis despite them having a very young and inexperienced line. Derrick Mason is a big surprise for them this season. While many Ravens fans were quick to throw away Mason in favor of younger guns like Demetrius Williams and more particularly Mark Clayton, Derrick Mason has come out this year on a tear. He is shaking corners and catching balls left and right, and with the exception of Anquan Boldin Mason may be the hardest wideout to tackle after the catch because of his elusiveness and tricks of the trade that he has learned in all of his years as a wideout. He leads the league with receptions with 49 and is on pace for 120+ catches all of this despite having poor QB play from whoever is back there. He is quietly building a case for Hawaii in February. The Browns are a surprise at 3-3 and should really be 4-2 if it werenít for that heart breaking loss to Raiders. Itís pretty clear that I hate Brady Quinn and like Derek Anderson from his senior year at Oregon state and then with the Ravens, so obviously I am a little biased, and while fan girls are calling for Mr. Quinn to take controls Anderson is slowly becoming a very good NFL QB. Good job on the Browns part for getting rid of Charlie Frye. When he was drafted by the Ravens, many Ravens fans called him the next Tom Brady, and while that may have been far fetched I can see him being a very good QB. If the Browns were smart they would keep Anderson despite having Quinn but because the Cowboys will get a player like Run DMC the Browns will be so pressured to play him no matter what because what they gave up for him. In this case though Anderson is actually young unlike the Chargers situation among others. While Anderson has not been perfect he has shown me enough to know that he will be a very good QB in this league, but I have a feeling it wonít be for the Browns. Jamal Lewis although hurt seemed to be a decent signing although most of his yards were against the Bengals, but I like what I see from Wright. The 2 pass catchers for the Browns have really stepped it up. Braylon Edwards appears to be putting together a consistent season while Winslow too is most likely leading TEís in receiving yards although Iíd have to check on that as I have a feeling Gates probably has more. As for the Bengals they really have not lived up to expectations at all. While their one win against the Ravens was nice, they are a team that is struggling mightily and it was a bad loss against the Chiefs. Their defense is just so poor, with their defense they have no shot at threatening in the AFC much more making the playoffs. The Rudi Johnson injury hurts but the offense is not the problem. Larry Johnson had been struggling all week long but the perfect remedy comes his way, playing the Cincinnati Bengals. The Bengals better pick it up or they could have a top 5 pick next draft.
Trade Winds blowing
Chris Chambers traded to San Diego Chargers for 2nd rounder: This is a trade that I have very mixed feeling about. On one hand the Dolphins did get very good value for him in a 2nd rounder, you can argue that the Chargers gave up too much, but considering Deion Branch was traded for a first rounder I have no problem with this trade and I am very favorable to the Chargers having won out on this trade. The Chargers are a team that I have been waiting on for so long to finally return to their status last season as an elite team in the NFL, but they seem to be turning the corner despite Norv Turner, they still have struggled with having no real receivers. They drafted Craig Davis in the offseason but we couldnít really have expected him to step in and change the identity of the passing game, Antonio Gates has been shouldering the load for too long. In Chambers you get a legit deep threat and big time playmaker. He has all of the physical tools you look for, inconsistencies in his hands do exist but few wideouts in the NFL donít have that problem. I really think this could end up being a huge acquisition on their part. For the Dolphins I kind of get the move, but on the other hand donít really. Yes you are getting good value for him, and yes your team is/was going nowhere but they are even thinner at wideout now. They must really have a love affair with Ted Ginn Jr., but I guess you can understand the move because even if they had Randy Moss and TO with no QB there is no point in having good receivers. Miami I feel was holding down Chris Chambers and I really wish him well in Miami.
On a side note the Bucs traded for Michael Bennett. Who really cares, but with a bad running back situation I guess this was a solid trade, but again who really cares.
Cardinals QB situation in disarray
Well the Cardinals QB situation has taken a very interesting turn. We go from one week in which people are calling for Leinart to be benched for Kurt Warner, to present day in which both are out with injuries and a team many people had as a sleeper playoff team now finds itself without a top signal caller. They are now left with a very shaky and unstable QB position. They signed Tim Hasselbeck to be the backup but he sucks. He is the other Hasselbeck and you have to wonder how it was him and not his brother who got the hot wife. It is Tim Rattay who will get the start and most likely start as long as Kurt Warner is unable to go. Rattay has always been trash despite starting in this league and last week he was awful, this offense is headed for a train wreck but with his talent at WR he could do decently. I think Rattay could actually challenge the deep ball better than Leinart so thatís a plus I guess. But at any rate this is a very bad situation for the Arizona Cardinals.
Grandpa Vinny still shows some magic
Oh Vinny, Vinny, Vinny, he goes from one week on Sunday sitting in his boxers eating popcorn, to the next Sunday throwing TD passes for the Carolina Panthers. I for one was completely shocked when I heard that the Panthers had signed the QB. At first I thought it was just a joke, reminded me of the time that I heard a couple months that Reggie Miller was coming back. At 43 you wouldnít expect Vinny to come back. Even more shocking was the fact that he got the start over Rookie Matt Moore who I thought the Panthers would give a shot, but I guess they are serious about trying to go far this season although I do not see that at all. While having Steve Smith makes your life much easier he made some throws in that game that I did not expect Vinny T to make. While he may just be a temporary fix I most definitely will be cheering for the old chap.
LT back to MVP form
After weeks in hideout it finally appears that Ladanian Tomlinson is back to himself, and back to MVP form. We were waiting all year for his breakout game that would remind us again as to why he is so much more superior to any other back in the league and with this game he really reminded us once again. A lot of his early season struggles were due to teams stacking the box on him knowing that the Chargers had no vertical threat so the it was great to see LT dominate a game like we are used to from him. He had nearly 200 yards and 4 TDís in what appeared to be a light job for him. Hopefully he can continue this success as we expect nothing less from him.
Patriots vs. Dallas, did it live up to itís hype?
Well this was obviously the game of the week, or atleast coming into the weekend was the game of the week so the question is did it live up to the hype it got coming in, IMO no. This was nothing like a Patriots Colts game, or even a Patriots Steelers game. The game just didnít have that intense atmosphere, that and it was like no one was playing offense. In typical Patriots form it seemed like they were just toying with the Cowboys to start the game and finally pulled away. I donít know I was so pumped for this game but it just felt kind of boring watching it. Granted the score doesnít properly represent how the close the game was, I still didnít find it very interesting. The Patriots forcing in that final TD at the end of the game was pretty funny, but I love Kyle Eckel and his a midshipman so I am happy for him in that he was able to score his first career TD.
Jaguars AFC contender?
The Jaguars are a team that are very much flying under the radar and people might not realize it but they are actually 4-1 and IMO a strong contender this year to shock people deep in the playoffs. We know that they have a great defense but they have the tools to step it up on offense, and if the offense can score points consistently they are really a team to watch out for. I am a huge David Garrard fan and he is a QB who knows how to run a team. He is a very intelligent QB. Very accurate and never turns the ball over. Del Rio was so right in choosing him over Leftwhich who was just infringing on Garrards success. We know they have a two headed monster in the run game in Fred Taylor and Maurice Jones Drew and they still do have Greg Jones, although losing Alvin Pearman is an underlooked loss, as he could contribute both on kick returns and 3rd downs but he can easily be replaced. All they really need is for just one of those crack head receivers to step up, all of them look afraid to do well, and that is a damn pity.
Dolphins/Rams, remain winless
Man who would have thought that through week 6 both the Rams and Dolphins would remain winless. It is looking bad for both but I would have to say that the Dolphins are probably more likely to be the first of them to win but thatís not saying much. I see the Rams only winning 3-4 games on the season and injuries most definitely have a huge part in that.
Chad Pennington needs to be replaced by Clemens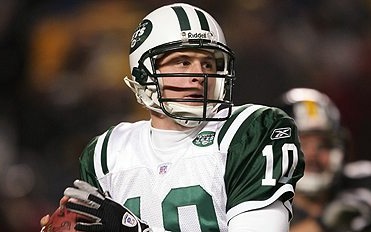 Ok the Jets need to let go. Chad Pennington is no longer a good QB. He is just holding back and stalling this team. His arm is depleted. He canít make those 15-20 yard throws towards the hash marks and he most definitely canít go vertical anymore. Because of this inability to go deep defenses are able to stack the box to shut down Thomas Jones. They need to put in Clemens who is most likely their future. He is a young gun with a lively arm and against the Ravens he picked apart that impressive defense in the 3rd quarter. The Jets are just gonna throw away a year of Clemens development if they refuse to put him in sooner rather than later. That half of a season Jason Campbell got 2 years ago under his belt did wonders for him despite him not necessarily performing that well in those games. Clemens has those tools to be good but he needs those in game experiences to learn the nuances and what not. The Jets are going no where this season so might as well start thinking about the future and maybe even getting rid of Pennington for as much as they can to a team like say the Cardinals or Dolphins or something where they can make the mistake of starting his dead arm.
These Players need more touches
The Following list I compiled are of players who I think need more touches:
Jerious Norwood: He has had a somewhat disappointing year but a lot of that has to do with Warrick Dunn getting the bulk of the carries. The team is going nowhere and Dunn deserves a rest so give Jerious the ball to help insure a better future. Norwood is a home run threat every time he touches the ball and the Falcons need to see if he can be a full time back or if not they need to evaluate to see if they need to draft a RB in next years draft or pursue one in Free Agency.
Maurice Jones Drew: This is actually a very similar situation to Norwood. Fred Taylor has been amazing for the franchise and they owe him so much and he can still get 15 carries a game but Drew should be seeing atleast 10-15 carries a game and he needs to be involved even more than he is in the passing game. He is probably their biggest receiving threat and since Garrard is a very accurate QB who builds on completions Drew will really help him to get rhythm in the game.
Marques Hagans: Dude needs to be more involved in the offense. He is very good with the ball in the open field after catching it so they should really get him involved any way they can like Pittsburgh did for Randle El by giving him reverses, screen passes, and trick plays. Heck Gus sucks Hagans would be better off playing QB as I have heard that him and Bennett are their emergency QBís. I sucks that he had to be short because if he was 4 inches taller he would have been a top 10 pick in the draft as a QB. He had a rocket arm, great accuracy and amazing scrambling ability.
Everrett able to walk
This has got to be the feel good story of the week. After suffering a horrific injury Kevin Everrett is now able to walk. It really was a terrifying incident so it is very great to hear this news, and I wish him nothing but the best in his rehabilitation and getting his life back together off the field, it would be nice to see the Bills give him a job somehow being involved with the organization.
My Week 6 Mancrush
Last week it was David Garrard this week it is Maurice Jones Drew. The kid is absolute dynamite every single time he steps on to the football field. He got off to a slow start but if he gets the touches I really believe that there is nothing stopping him from being great. Man I am giving too much Jaguars love here, I don't even like them that much.
Early Season NFL Award Winners, college style
: May sound weird and probably kind of dumb, but since there are no individual position awards I am gonna name my NFL Awards using college trophies, this is awards for first 6 weeks of the season:
Heisman Trophy Winner-Given to most outstanding player in the nation
:
Winner
-Tom Brady: The award goes to the QB of the best team in the nation. The Patriots are clearly the best team, but I this case Tom Brady is clearly the best QB in the league. Brady has been money all season long and while he does have new toys to play with in Moss, Stallworth, and Welker it is Brady running this well oiled machine not the other way around. Although only week 6 I am ready to proclaim Brady the league MVP, as he is just ripping the league apart, I donít like him but I gotta give props, where props are due.
Runners up: Peyton Manning, Randy Moss.
Maxwell Award:Given to best player in the nation
:This is an award which is commonly referred to the baby Heisman but really itís a chance to award to Seniors or in this case the old timers. Previous Winners include Jason White, Brady Quinn, Drew Brees, and Ken Dorsey
Winner
-Brett Favre: Well although it appears that Brett is finally returning to the Brett we all know and love from the past few seasons he has led his team to a 5-1 start. Does that all have to do with him , no, but donít get it wrong, this team would have 1 win with Aaron Rodgers at the helm. Brett is a wild mad man but he is a leader and a winner, he just brings an attitude and swag that is infectious.
Runners up-Derrick Mason, Tony Gonzalez, Fred Taylor
Davey O'Brien Award
-Awarded to best QB
Winner
-Tom Brady:This is an obvious one, best QB in the league, already explained above why Brady is the best.
Runners up:Peyton Manning, Carson Palmer
Doak Walker Award
:Most outstanding RB
Winner
-Adrian Peterson:This one was sorta easy for me at this point in the season. He leads the league in rushing with 607 yards to go along with 4 TDís, but even more amazingly on only 96 carries with a 6.3 ypc average. With elite backs either getting off to a slow start or getting injured itís pretty easy to chose Peterson for these first 6 weeks in the season. AD is a game breaker and he will run away with rookie of the year, how he will hold up a full season and how long his career will last is yet to be seen, but all we know right now is that his talent is legit.
Runners up:Joseph Addai, Ronnie Brown, LT, Brian Westbrook
Fred Biletnikoff Award
:Most Outstanding Wideout
Winner
- Randy Moss: Randy Moss has started out this season on a tear. I was excited to hear he was traded to the Patriots for his career but bad for the rest of the league. While some of it has to do with his talent I think most of it has to do with Tom Brady. He is the same player he was in Oakland but now he has someone getting him the ball and he actually has a purpose to play, but to be honest without Brady I donít think heíd be back in the spot light. But you canít argue the stats of him being the best wideout in the league this season.
Runners up: Chad Johnson, Braylon Edwards, Plaxico Burress
John Mackey Award
:Most outstanding Tight end
Winner
:Antonio Gates: Gates is still the superior TE in the NFL. He is such a specimen at the tight end spot, he is basically a wideout in a tight ends body. Thank god he chose football because seeing him play basketball at Kent I always saw him as just an average big man. I was hoping for a breakout year this year for Vernon Davis but injuries have slowed him down so far so Gates is the best TE in the NFL. He is #1 for TEís in receptions and yards, to go along with his 3 TDís. In terms of production he takes the cake, being his teams only real viable option in the passing game.
Runners up:Kellen Winslow Jr, Jason Witten, Tony Gonzalez
Outland Trophy
:Most Outstanding O-lineman
Winner
:Jason Peters:Ok Iíll admit with only 6 weeks into the season I have not seen enough of how the lineman are faring so far but the two guys who have impressed me the most having watched them are Jason Peters and Logan Mankins. Watching Peters I think he is so underrated by people and he is a dominant force. He really impressed me with his pass protection. He is still so young.
Runners Up:Logan Mankins, Chris Samuels
Chuck Bednarik Award
:Best Defensive player in the Nation
Winner
Michael Boley: Michael Boley really doesnít get enough respect on these boards as a pro bowl linebacker. Everyone always right away wants to give DPOY to Brian Urlacher, Jason Taylor etc., but as for these first 6 weeks of the season neither of those two are in my top 5 or top 8-10 for that matter. Boley has been flying all over the field making tackles and playing a big role in pass coverage. He most definitely deserves to make the pro bowl this year, and IMO has been the most impressive defensive player thus far in the first 6 weeks of the young season.
Runners Up:Julian Peterson, Kirk Morrison/Thomas Howard, Sean Taylor, Osi Umenyora
Vince Lombardi Award
:Best D-lineman
Winner
- Darnell Dockett:Most people would probably give this award to Osi Umenyora but you canít give it to a guy who got the majority of his sacks against an awful young Tackle. Yes Umenyora is disruptive but nothing to separate him from the whole other pack of DEís. Dockett has had production of the charts this season. His 22 tackles and 6 sacks are nasty and he has been pretty consistent thus far every single game, Fat Albert also deserves a shout out for being flat out dominant.
Runners Up:Osi Umenyora, Albert Haynesworth
Dick Butkus Award
:Most outstanding LB
Winner
:Michael Boley:No need to explain any more, I pretty much said everything I wanted to say in my earlier post.
Runners Up:Lance Briggs, Demeco Ryans, Nick Barnett
Jim Thorpe Award
:Most Outstanding Defensive Back
Winner
: Sean Taylor: Sean Taylor has made that jump that everyone has been expecting him to make since he entered the league. With the weight that he lost in the offseason he is flying around the field making plays, despite only having 4 INTís which is tied for league lead, he should have atleast 8 but drops donít count but atleast they are knock downs. He is yet to get beat on any pass play this year and is still an elite safety in terms of against the run but he now no longer has to carry the sole responsibility of having to make every tackle on defense like last year, now that he has players like London Fletcher and Rocky McIntosh making plays all over the field. This is not just a fan talking ask anyone who has seen him play this year.
Runners Up:Anthony Henry, Champ Bailey, Asante Samuel, Ed Reed
Randy Moss Award
:Given to nations top returner, I had no idea the award was named after him but last year was itís annual year with Desean Jackson winning it.
Winner
: Devin Hester: Is there a point in even posting it, it is Hester we all know that he is already one of the greatest ever.
Runners Up:Leon Washington, Yamon Figurs, Joshua Cribbs
Lou Groza Award
:Most outstanding kicker
Winner
-Kris Brown:Brown has been money all season long 2nd in the league in FGís made and only missed 1, he had his huge game last week with 4 FGís over 54 yards which included the game winner.
Runners Up:Matt Stover, Nick Folk
Ray Guy Award
:Best Punter
Winner
-Andy Lee:He has pretty much been the best punter the entire season, and having to play for the 49ers you will be punting a lot that is for sure.
On to my week 7 Picks
San Fransisco @ New York Giants
Prediction: Giants win 28-17:Giants have been on a roll as of late, Plexy Glass will score a couple TDís as well as a couple Eli INTís, but the 49ers offense is not much of a challenge to defend.
Baltimore Ravens @ Buffalo Bills
Prediction:Ravens Win 23-7: The Bills have had a bye week to think about that game they gave away to the Cowboys but still it wonít be enough against the Ravens who are building steam, Kyle Boller will be starting this game again at QB. Expect Willis Mcgahee to have a huge game against his former team.
Patriots @ Dolphins
Prediction:Patriots win 42-10:Patriots win big, Brady may be out of this game by halftime. Dolphins stand no chance.
Cardinals @ Redskins
Prediction: Redskins win 31-14:The Redskins will be pretty motivated after giving away last weeks game, expect Santana to redeem himself with some deep catches from Jason Campbell. Tim Rattay=2 Sean Taylor INTís.
Falcons @ Saints
Prediction:Saints win 23-17: This game might be closer than some expect but in the end poor Falcons QB play will lead to their loss.
Titans @ Texans
Prediction: Texans win 27-17: Matt Schaub will have a huge day and with Vince Youngís health in question it makes them even that much more an underdog.
Bucs @ Lions
Prediction: Lions win 27-23: The Lions have had the bye week to think on that pathetic showing against the Redskins and I think they will come out firing on all cylinders offensively. Kitna needs to back up his talking and Roy Williams and CJ should have big days, also Kevin Jones showed that he may also be back. The Bucs lack of a run game will hurt them.
Chiefs @ Raiders
Prediction:Raiders win 17-13 I like the improved Raiders in this one. I like their defense and their offense will do enough to win them the game. I personally want to see Jamarcus Russell in there but this early in the season that is just a pipe dream.
Jets @ Bengals
Prediction:Bengals win 37-7:With Chad still the QB the Jets could be facing a blow out against an angry Bengals team. The Bengals aerial attack will be in full force.
Rams @ Seahawks
Prediction:Seahawks win 24-3: Rams wonít get their first win in this game.
Vikings @ Cowboys
Prediction:Cowboys win 31-17: I think that the Vikings can keep it close by running the ball well and stopping the run, but eventually Tavaris Jackson will most likely lose them the game. This is the kind of game he needs to perform well in if he wants to remain a starting QB in this league, I am always watching out for a breakout game from him.
Steelers @ Broncos
** Upset Pick of the Week**
Prediction: Broncos win 23-14:This is my upset pick of the week, the Broncos have a lot to prove and starting off with a win against the Steelers could really propel them.
Game of the Week
Bears @ Eagles
Prediction: Eagles win 24-10: This could be a make or break game for both teams but I have to go with Mcnabb and the Eagles in this one. I just canít trust the Bears offense with doing anything productive.