Heres who I think would be the best players to build a franchise around. I have taken into account age, what position they play, and the abilities they bring to the table. All the guys in this list are 27 and under, and that was part of my criteria. This is not my idea, but some other poster's from another site.
1.
Ben Roethlisberger
, QB Steelers
I am pretty sure everyone here can agree on the fact that the most important position in the NFL is quarterback. He must be able to lead his team week in week out, set an example for his teammates, and bring the team Ws. No one is more loved than the QB of a winning team, and no one gets as much blame as the QB for a loss. With that said, I would find it hard to argue that a QB who already has a Superbowl ring, just threw for 32 TDs to 11 interceptions, has a career passer rating of 92.5, and just turned 26 two months ago doesn't deserve to be at the top of this list. Roethlisberger brings the toughness, leadership ability, and arm to be the franchise cornerstone for any team in the league.
2.
Joe Thomas
, LT Browns
Here is the number 1 reason for the Browns turn around. Some can credit it to the breakout of Derek Anderson or Braylon Edwards, but I am going to say that Joe Thomas at LT and Steinbach at LG changed everything. After an outstanding rookie season in which he only gave up 4.5 sacks, Thomas looks to hold down the fort at LT for the next decade. He is a great pass protector and moves his feet very well. Even with his outstanding job at protecting the QB's blindside, he does a good job creating room for the ground game.
3.
Mario Williams
, DE Texans
I am pretty sure everyone who thought the Texans made the wrong pick were very very very wrong. Mario Williams reminded them why this season. After getting 14 sacks this year (including 10 in his last 7 games) people will realize why this beast was taken number 1 overall. He was a pretty raw and inconsistent prospect coming out, but now that he is adjusting to the speed of the game, I might go as far to say that the NFL OTs will become his *****.
4.
Adrian Peterson
, RB Vikings
What we are witnessing right here just might be one of the top RBs to play the game, and no, I am not talking about LT. You want to talk dominance? Lets talk Adrian Peterson. His athletic ability is off the charts. We already know he has great top end speed, amazing feet, and will not go down after 1st contact. The most impressive thing about him to me is his vision. He came in right away in his rookie season and was able to find all the seams and was able to dominate teams. 1300 yards at a 5.6 average is a very impressive thing. He was 2nd in rushing while missing 2 games with injury and being held to 2 yards in another. If he can stay injury free, I expect nothing but Hall of Fame for him.
5.
Nnamdi Asomugha
, CB Raiders
You know you are good when one season you amass 50 tackles and 8 interceptions and the next season you get 34 tackles and 1 interception. With the way he is playing, there could easily be viable arguments made to justify him as the top CB. To be thrown to only 30 times and have only 9 of them completed is just flat out ridiculous. I don't care how much a defense is thrown at or how bad your opposing CB is. To negate a side of the field like that is just really good. When pairing up with DeAngelo Hall, who can make the best of ill advised throws, you have a terrifying secondary. I was very surprised to see that Nnamdi is only 26 years old.
6.
Jared Allen
, DE Vikings
After a impressive rookie season in which he accumulated 9 sacks from 10 starts, Allen has only gotten better. He just turned 26 and already has 43 career sacks. His latest accomplishment? 15.5 sacks (and 10 PD) in 14 starts. Now want to hear a scary thought? His production should go up…a lot. Now while he plays with the Vikings, there is no way he can be paid as much attention to as he did in KC. For opposing offensive lines, you basically pick your poison. Do you let Allen sack you, Kevin Williams sack you, or Pat Williams eat you? His DUIs were a concern, but I think he has really cleaned up his act since then. The trade should also provide a new setting.
7.
Antonio Cromartie
, CB Chargers
What a surprise. Another Charger. After his first breakout year, I don't think teams will be throwing anywhere near his vicinity. After being very raw when coming out of college, he has shown that when he has adjusted to the speed of the NFL, he can dominate. He has great awareness, hands, and vision. I question his ability to play man to man coverage, but there is no doubt that he will most likely learn how to do so in time.
8.
Larry Fitzgerald
, WR Cardinals
He has everything you look for in a player except top end speed. And when I say everything, I mean it. He runs excellent routes, makes great cuts, grabs everything near him, and is great after the catch. Not only all that, but he does a great job blocking and has a great character. He would be higher, but I don't think WR is such a premium position that you can start a franchise out with. I don't see how you can argue against him being a the top young receiver in the league.
9.
Jammal Brown
, LT Saints
Once again, the LT position is being emphasized. He is already one of the best at his position at age 26. He does a fantastic job of protecting Drew Brees' blindside. I would have him higher, but there are some doubts about his knees I believe. That is slightly concerning because top tackles often perform for a very long time.
10.
Patrick Willis
, MLB 49ers
Having a MLB up this high should be a testament to itself. I don't value the MLB position as much as other people do. I think an instinctive linebacker surrounded with some good players should do fine on a defense. Patrick Willis brings a whole new dimension to the instinctive linebacker. His athleticism is just off the charts. Not only does he have a nose for the ball, he is SO athletic. Its only a matter of time before he begins to use his athleticism properly. He was already a great linebacker against the run, and I only expect him to get better while the 49ers put some talent around him and he matures.
11.
DeMarcus Ware
, OLB Cowboys
It would seem as if Merriman and Ware are destined to be linked to one another. There will be constant debates about which one is better, but it really doesn't matter. They are both at the top of the league at their premier position while being younger than 26 years old. Ware has improved every season and that is why he is above Merriman in this list. Ware's all around game is better than Merriman's but you could make a case that because 3-4 OLBs blitz so much, pass rushing is much more important. I don't really want to get into a Merriman and Ware debate though. Ware is a stud.
12.
Shawne Merriman
, OLB Chargers
Pass rushers are such a commodity in the NFL, that Merriman and Ware could also make a case for themselves to be higher. I don't think anyone can make an argument against his production. ROY with 10 sacks. 17 sacks while starting only 12 games. 12.5 sacks while starting 15 games. Not a single season with less than 10 sacks and he is only 23. Sure there is a blemish because of his steroid scandal, but you cant argue with how he is on the field.
13.
Braylon Edwards
, WR Browns
He could easily be higher, but I had a hard time making a case for him to be above other guys on this list. He is very explosive and has some of the best hands in the league. I actually thought the 49ers should have taken him number 1 overall in the weak class, but that doesn't matter. After his breakout season, I expect him to show more consistently and be a constant deep and redzone threat.
14.
Jay Cutler
, QB Broncos
Damn the body builder Cutler (saw a lot of him when I looked for Jay's pic). Cutler could easily be higher just because he shows so much potential at the NFL's most important position. He has the leadership ability you look for and has a rocket arm. In his 2nd season, he is already looking like a vet with the stats he puts up. I expect a huge breakout season from him this year that will establish him as a top10 QB in the league. It's a shame to know that he has diabetes, but hopefully things will work out.
15.
Steven Jackson
, RB Rams
Steven Jackson brings great versatility to the field. As if he wasn't already too much to handle at 6'2"230 lbs running at you, he is a threat to catch it out of the backfield and gain some yards. His 2006 season was outstanding with 2300 yards from scrimmage. If he can somewhat replicate his previous success, he should get higher on this list. Also another concern is how violently he runs with the ball. I am not saying that it is a bad thing, but it is one of those things that could cut your career short.
16.
Justin Tuck
DT/DE, Giants
What an upcomer in the league. After breaking out this season with 10 sacks, he will only get better. He brings a lot of versatility to the Giants and is one of the key reasons for their Superbowl run. He creates mismatches all over the field. He is too quick for centers and guards and is too strong for tackles. He is going to be really good.
17.
Albert Haynesworth
, DT Titans
I think DT is one of the most important positions in the NFL (behind only QB, LT, DE, and CB) and you could make a case for Haynesworth being the top DT at the age of 26. I had him higher until 5 minutes ago when his motivational issues came to mind. When you are building a franchise, you need to make sure you get guys who will put in 100% every day. To me, it seems as if Haynesworth will only be dominant when he wants to. I thought that stepping on a guys face to be very immature as well. That's just not the type of character you can build your team around.
18.
Lofa Tatupu
, MLB Seahawks
I bet teams are just kicking themselves for passing him up because he might not be athletic enough. What he lacks in athleticism, he more then compensates in his instincts. He is always near the ball and just knows what the offense is doing. He has great leadership ability as well. His stats more than speak for themselves: 3 years, 3 pro bowls, 335 tackles, 6.5 sacks, 8 interceptions.
19.
Marcus McNeil
, LT Chargers
I bet the Chargers created concerns about his back just so they could nab him in the 2nd round (I think). As soon as he came in, he was the road grader everyone knew he would be. What is most impressive is how well he did against the pass. Thought to be too big and not quick enough to stop pass rushers, McNeil more than outdid his expectations in his rookie season. Though he was no Walter Jones or Orlando Pace, he did an average-above average job protecting Rivers, and that's all you could ask of him.
20.
Osi Omenyiora
, DE Giants
Here is a very good DE which could be the cornerstone of any defense. At the age of 26 he has 41 career sacks, highlighted by a 14.5 and 13 sack years. He does a great job against the pass. Though he isn't the best guy at the point of attack, he does an okay job against the run as well. I would put him higher, but his inconsistency concerns me.
21.
Tony Ugoh
, LT Colts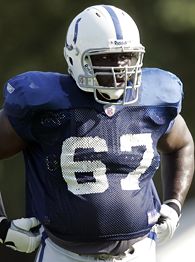 The Colts seem to have found a gem for their scheme in the 2nd round. Tony Ugoh has one of the hardest jobs in the NFL; he protects Peyton Manning's blindside. He has great feet, and though he may be undersized, he does a great job on stretch plays and an adequate job blocking for the run. His forte though is the blocking he does for Peyton Manning during pass plays. He does a great job, and finding LTs that do so is very rare.
22.
Andre Johnson
, WR Texans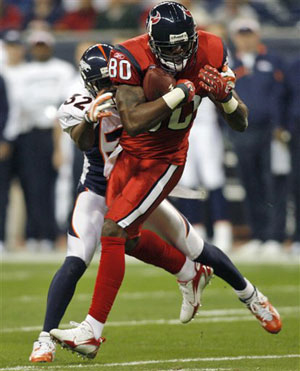 He is an absolute beast. I think a lot of people do not realize this. As soon as he is healthy for a season along with Schaub, I wouldn't be surprised to see a 100 1500 15 season from him. He does absolutely everything well and his only flaw may be some drops and his injury issue. He can stretch the field for a deep pass or take a 5 yard hitch to the house. He does a great job blocking and going over the middle. The only reason I have him this low is because his inability to stay healthy and some consistency issues. I think with the connection he has with Schaub now, he will establish himself as a top5 reciever.
23.
Haloti Ngata
, DT Ravens
I thought about him higher, but he has only had 2 years of experience and more consistency would be good. His stats wont explain what he has done with the Ravens. As if 63 tackles from a NT position isn't impressive enough, the Ravens ranked number 1 on defense in YPC with 2.8 yards last year and 2nd in 2006 with 3.3 YPC. He takes up many blockers freeing up his LBs and penetrating the pocket. Its kind of a scary thought that he is only 24.
24.
Trent Cole
, DE Eagles
After being selected in the 5th round in 2005, Cole has steadily improved until he exploded last year. After amassing 5 sacks as a rookie, 8 sacks as a 2nd year player, he burst out to get 12.5 sacks and 70 tackles from the DE position. Not only is he a great pass rusher, but he also does a great job against the run as well.
25.
LaRon Landry
, FS Redskins
I am sure I am somewhat biased in this selection. He was one of my favorite prospects last year, and he did not fail to deliver in his rookie season. After starting out at SS, he finished the season at FS in an outstanding manner. He brings great range, hard hits, and great instincts to the field. He may become the best FS in the league in a year or two.
Honorable Mentions (by team):
Buffalo Bills: Marshawn Lynch, Jason Peters (forgot him. he would be top10)
Miami Dolphins: Ronnie Brown, Jake Long
New England Patriots: Vince Wilfork
New York Jets: D'Brickshaw Ferguson, Kerry Rhodes, David Harris
Baltimore Ravens: Terrell Suggs
Cincinnati Bengals: Jonathan Joseph
Cleveland Browns: Derek Anderson, Kellen Winslow, Kamerion Wimbley
Pittsburgh Steelers: Troy Polamalu
Houston Texans: DeMeco Ryans, Dunta Robinson
Indianapolis Colts: Bob Sanders (He should be on the list. I forgot about him. Somewhere between 15-25)
Jacksonville Jaguars: Maurice Jones-Drew (He should be on the list. Forgot him too. Probably between 10-15)
Tennessee Titans: Vince Young, Michael Roos
Denver Broncos: Brandon Marshall
Kansas City Chiefs: Glenn Dorsey, Dwayne Bowe, Derrick Johnson
Oakland Raiders: DeAngelo Hall, Darren McFadden
San Diego Chargers: Luis Castillo
Dallas Cowboys: Marion Barber
New York Giants: Eli Manning
Philadelphia Eagles: Shawn Andrews
Washington Redskins: Clinton Portis
Chicago Bears: Lance Briggs, Tommie Harris
Detroit Lions: Calvin Johnson, Ernie Sims
Green Bay Packers: AJ Hawk, Nick Barnett
Minnesota Vikings: Kevin Williams (forgot him. he would be 10-15)
Atlanta Falcons: Roddy White, Michael Boley
Carolina Panthers: Jon Beason
New Orlean Saints: Reggie Bush, Marques Colston
Tampa Bay Buccaneers: Gaines Adams, Barrett Ruud
Arizona Cardinals: Anquan Boldin (could have been 15-25)
San Francisco 49ers: Frank Gore
Seattle Seahawks: Marcus Trufant
St. Louis Rams: Chris Long
So, who did I forget?