Who is doing the least with the most? Who is snatching defeat from the jaws of victory?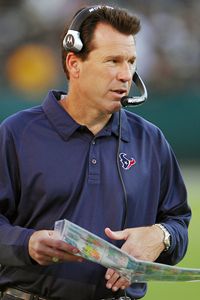 I don't know what is going on here, but the Texans should be three wins better than they are right now. I put a lot of the blame on Kubiak, his decision making has been suspect; last Monday's game had plenty to second guess, why was Chris Brown getting twice as many carries as Steve Slaton? Why not try and get closer for the potential game tying FG, with :08 seconds and 1 timeout?
I think he gets too much heat for the Favre fiasco, in the end he made the right call to go with Rodgers and it was definitely courageous on his part. That said, his drafts the past few years have been terrible. I like Clay Matthews, but did they really need another LB? I like Jordy Nelson, but they already had one of the best receiver corps. in the game. Brian Brohm, Justin Harrell, Brandon Jackson, high picks with no impact whatsoever. Meanwhile the team has gaping holes on the offensive line that have been ignored.