So, I have way too much time at work. We haven't done something like this since GermaineRace was here, I think.
This is essentially the same thing we'vve had for the Interactive All-American College team and what is currently going on in the draft section for prospect rankings. Essentially, we will interactively vote and rank the best players of all time by position.
For example, we will have a vote for defensive tackle. If you wish to vote for a player, simply type his name and, in parenthesis, what number person voting you are. If you're the fourth person to vote for Joe Greene, just type
Joe Green (4)
The first player to a certain number of votes wins the top spot in the rankings. Votes earned by other players carry over to the next ranking position. So if three people had voted for Bob Lily, these three votes would carry over to his race for second place.
No currently active players are eligible for vote. Positional rankings are fluid and vary from year to year with players, so it's silly to try and rank them from a historical perspective until we have a completed body of work to analyze.
A couple of things before we start:
Players will be ranked in groups on 10. First player to 10 votes secures spot #1. Next player to 10 fills spot #2. Etc, etc.
Rankings 1-5 will require 10 votes.
Rankings 6-10 will only require 5.
Now, remember: debate is encouraged! We want to know "why" you think a player is as good, or better, than another. At the end of the day, though, keep in mind that these rankings don't mean anything. It's just the collective opinion of a bunch of football nerds with too much time on their hands.
We'll start off with defensive positions, and move to offense after that (culminating with the great debate: best QBs of All-Time).
Some great resources:
www.hulu.com/nfl
Best thing to use. Has NFL Classics, Old Superbowls, Greatest Games, Season Highlights, and much much more.
profootballhof.com
Another great site. Has player bios, stats, and some videos of all players inducted into the Hall of Fame.
pro-football-reference.com
Has every statistic you could possibly image. Regular season, postseason, W-L record, boxscores, EVERYTHING.
Let's get this thing cracking gents! Old-timers, I'm expecting a lot out of you on this one.
G.O.A.T. Defensive Ends
1.
Reggie White
2.
Deacon Jones
3.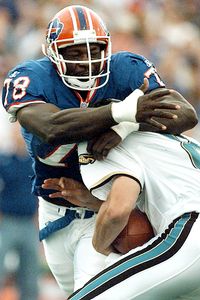 Bruce Smith
4.
Michael Strahan
5.
Jack Youngblood
6.
Gino Marchetti
7.
Carl Eller
8.
Chris Doleman
9.
Howie Long
10.
Doug Atkins