*Considering we don't get Malcolm Floyd, or Kevin Walter, What's your ideal Ravens mock..
1/21/09 Baltimore Ravens Mock Draft
+ Round 1, WR,
Damian Williams
, USC
- Although I'm the biggest fan of Tate coming to Baltimore, I think he'll be gone by the time we get on the board.. Damian Williams is just as good, if not better, runs better routes, and would be the future #1 target for Flacco.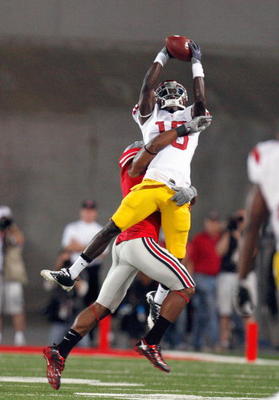 + Round 2, DE,
Corey Wootton
, Northwestern
- Big, and nasty. (think Chris Canty).. He'd be a future stud on a Baltimore D-Line that's getting older.
+ Round 3, CB,
Trevard Lindley
, Kentucky
- If Lindley falls to the 3rd, it'd be a huge steal. Great cover corner, that'll help improve a shaky, inconsistent secondary.
Round 4, TE,
Jimmy Graham
, Miami
- Huge, 6'8, redzone ANIMAL. Former basketball player that will need to be coached into huge playmaker.
Round 5, FS,
Van Eskridge
, ECU
- Possibly Ed Reeds replacement. Fiery, playmaker, thats good at everything. (Special teams Ace)
Round 6, WR,
Chris McGaha
, Arizona State
- Great hands, quick routes, great possession receiver. Baltimore needs help at receiver at McGaha, and Williams would be 2 different, and special targets.
Round 7, C,
Eric Olsen
, Notre Dame
- My boy outta Notre Dame!! Great leader, and intense drive blocker. Since center will soon be a need once Birk retires, he's a great last pick with a lot of potential.