Were slacking around here, I think we had the 2010 thread up in May after the 09 draft, or maybe it was just due to depression in the draft lol.
I was pushing the Earl Thomas bandwagon last year and while he would of been perfect for us he was out of our range. This year is really looking like a strong Safety class and it would be hard to pass up some of these guys but AOA cannot be forgotten either.
Does anyone have any favorites as of now for players, or to make it easier, just a position were gonna target in the 1st round? I wouldn't mind an impact 3-4 DE like Canty that can get after the QB but Safety looks pretty good.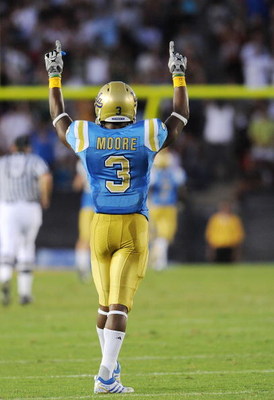 Everything I've learned about Rahim Moore I love, ballhawking FS that can capitalize on mistakes by the QB from the pressure we provide. That's easily our biggest need on DE, especially since creating turnovers has been lacking. Run support isn't there yet, but if he can react to the ball in the air like he's shown I could care less.
Deunta Williams may be a better prospect, more complete and better tackler, not sure he's the best fit for us though. I do like him and he's always stood out to me.
There are alot more safeties I'll probably look at later, these 2 are the most intriguing for now.