Your NEW Detroit Lions

Via draft pick:

#4 Overall
Glenn Dorsery, Defensive Tackle, LSU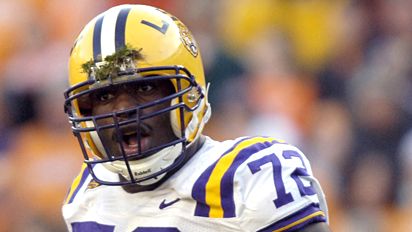 We traded up to get this pick after the offer came to us. We never intended to go this high but when the opportunity presented itself, we had to do it. We traded away Shaun Rogers and were going to try to replace him with a 2nd or 3rd round DT but Dorsey is the prefect replacement. We believe he can play the NT in the Cover 2 and do a great job. The one gripe with Shaun Rogers play was the horrible inconsistency. He'd be dominating one game and horrible the next. We won when he got pressure, lost when he didn't. Dorsey brings all the same skills and be just as good, if not better, and with a ton more consistency.
#15 Overall
Jonathan Stewart, Running Back, Oregon

Another hole that was immediately filled with another player that will probably be better in Jonathan Stewart. We traded Kevin Jones away, not because of a lack of talent, but because we saw him as a damaged player. After missing significant time with lisfranc surgery, he came back and was underutilized in Martz's offense. At the end of the season he suffered a torn ACL that leaves him possibly unable to be back by training camp. Enter Jonathan Stewart. Stewart is a punishing runner that has great size and very good speed. He can catch from out of the backfield and can almost do anything. With more of an emphasis on running, he will be very valuable.
#51 Overall
Philip Wheeler, Middle Linebacker, Georgia Tech

We managed to get our man even after we risked moving down in a trade. Wheeler is the perfect cover 2 MLB. He has great speed so he can cover the middle of the field. He has the knack for big hits and big plays so he will fit perfectly with Ernie Sims at SLB and Tavares Gooden at SLB. He will instantly become a leader on our transformed defense.
#87 Overall
Chevis Jackson, Cornerback, LSU

Chevis is the prototypical Cover 2 CB. He brings a toughness to this defense that Marinelli will definitely love. One of the weaknesses the Lions D has last season was not being able to tackle anyone. This will not be a problem for Chevis as he is reliable. He doesn't have great timed speed but will play well in zone coverage.
#91 Overall
Chad Rinehart, Offensive Guard, Northern Iowa

Ahhhh, the controversial pick. Some may have felt this was a reach, well, screw you, it worked out in the end. This guy is a small school sleeper so he has potential to rise on draft day. He is raw but has the groundwork to be a standout out offensive lineman. He can play both guard and tackle, either side, if needed. With how inconsistent the Lions line is [Woody's weight, Foster sucking a fat one, etc.], a versatile player is needed and welcome.
#137 Overall
Tavares Gooden, Outside Linebacker, Miami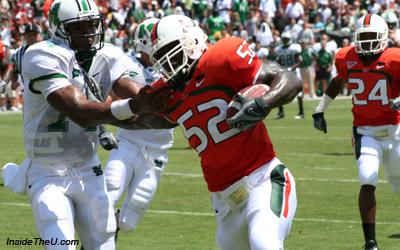 Well, this was just stupid. The #4 OLB falls all the way to the 5th round. Gooden will step in and immediately start at the SLB, after Paris "Postal Worker" Lenon was pushed from MLB to SLB to the bench. Maybe they'll rotate. He is fast, athletic and a reliable tackler, a great attribute in this D. He may not make big plays behind the line but that can be left to Wheeler and Sims. A
HUGE
steal for us.
Via trade:
Bertand Berry, Defensive End
Acquired from Arizona in the trade down that landed us Wheeler, he almost came, in our eyes, for free. While he has had injury problems, when on the field, he is a starter at DE for us. He can be dominant and that is needed in a Cover 2. He will bring a great pass rush.
Daniel Graham, Tight End
Graham brings us a player who can catch the ball and will probably come in and start at TE with Dan Campbell coming off injury. He has a championship attitude after winning with the Patriots. He will give us a reliable safety valve for Kitna [and Stanton].
Jason Avant, Wide Reciever
We got Jason Avant cheap and he can come in and compete for the #2 WR position. There have been concerns about Furrey's performance without Martz and Avant gives us an option if Furrey proves to be a #3 WR. And he's from U of M….
Overview
We think that this was a great draft for us. We lost 3 starters in Roy, Rogers and KJ. Roy is a big loss but the other two were inconsistent due to injury of just lack of effort. We have brought in 6 new starters to Detroit in Dorsey, Stewart, Wheeler, Gooden, Barry and Graham. Jackson can fight for a starting position as well as he may be suited better for Cover 2 CB then our current players. Rinehart will have a chance to develop.
Overall, our defense is completely changed. Our front seven is completely changed and will be very intense. Our line is going to pressuring the QB, stopping the run and letting our extremely athletic LB corps run amok behind them. This will take pressure off the weakness of the D, the secondary. It showed last season that when we got a pass rush we won. I think we will now get a very nice rush from our front seven. And we will actually tackle someone.
So now we have the fastest LB corps in the NFL. Nicknamed "The Fast Last Name Containing Vowels African American Linebackers". Acronym is FLNCVAAL, pronounced Falcon Covaal.
PLEASE LEAVE SOME FEEDBACK SINCE I WROTE THAT WHOLE THING