Detroit Lions' Mock Offseason
Created by: TacticaLion
Intro
The moves/signings/picks made in this mock are done with the team's beliefs in mind and have some sort of reasoning or logic behind them.
Transactions
Signing
: DET offers Jared Allen (KC) a 6 year, $60 million dollar contract. The Chiefs choose not match and receive DET's 2008 and 2009 1st round picks as compensation.
(Detroit needs a stud pass-rusher to make the Cover 2 defense work. Allen, a 4 year pro, led the NFL with 15.5 sacks in 14 games for the Chiefs in 2007. Kansas City only applied the non-exclusive franchise tag to Allen, which allowed negotiation with other teams. If they wanted to retain Allen without risk, they would've applied the exclusive tag... which makes me think they'd take the picks, if offered. And, if they wanted to pay him this much, they would already have a contract. A win/win for both teams.

The price: 2 1st round picks seems a bit steep, but he's a young, proven defensive stud. How much would it cost to draft either Chris Long or Vernon Gholston this draft? A lot. I'd rather have a proven player.)
Trade
: DET trades Roy Williams to MIA for their 2nd round pick (32).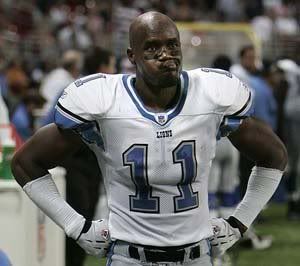 (Miami needs to add WR talent and Detroit is looking to trade Roy. Getting a proven #1 WR with your 2nd round pick is a steal, and Detroit can use the pick to fill holes. Works for both teams.)
Resigned
RB TJ Duckett
RB Tatum Bell
CB Travis Fisher
DT Langston Moore
OG Stephen Peterman
QB Dan Orlovsky
OG/OT Damien Woody
WR Brandon Middleton
DE Corey Smith
Released/Waived
QB J.T. O'Sullivan
OT George Foster
TE Sean McHugh
TE Jon Owens
DE Kalimba Edwards
RB Brian Calhoun
RB Aveion Cason
WR Troy Walters
CB Keith Smith
(I can see the above taking place. The coaches love Fisher as the NB. The team is also content with their end-of-season offensive line, so expect them to try to retain Woody and Peterman. Corey Smith is a hard worker and adds depth.

Releasing O'Sullivan, McHugh, Calhoun and Cason shows that the team is moving away from the Martz Movement.)
Free Agents
CB Brian Kelly
OG/OT Todd Steussie
RB Mewelde Moore
TE Ben Troupe
WR D.J. Hackett
(The Lions aren't expected to do much in free agency, but Brian Kelly is a player they'd love to bring in. He's a veteran CB with a ton of experience in the Cover 2 and played with Marinelli in Tampa Bay. OG/OT Todd Steussie seems to fit the mold of a Millen free agent - old with only a few years left. He provides versatility and depth and has a lot of experience. The team will also look to sign a RB in free agency. Mewelde Moore seems to be a likely target - a solid back that can return kicks and punts. And, lastly, the team can use a solid pass catching TE. Troupe is a young player with potential. Hackett adds WR depth.)
2008 NFL Draft
(*** Pick 1.15 forfeited to Kansas City for Jared Allen ***)
2.1 - Brandon Flowers / CB / Virginia Tech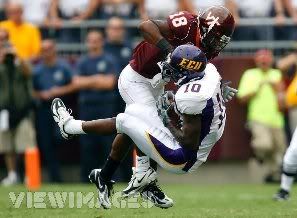 (Ideal Cover 2 CB. Physical, experienced in zone coverage and willingly supports the run.)

Other picks: Patrick Lee, Antoine Cason, Charles Godfrey.
2.14 - Trevor Laws / DT / Notre Dame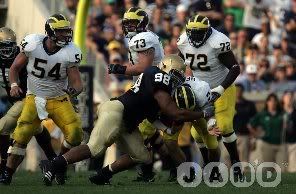 (At 6-1 295 LBs, Laws is a perfect fit to replace Rogers. He's a strong, smart, hard working leader with a non-stop motor that can penetrate and tackle. A true "Marinelli-guy"... the type of player that Rod loves.)
3.14 - Tavares Gooden / MLB / Miami (FL)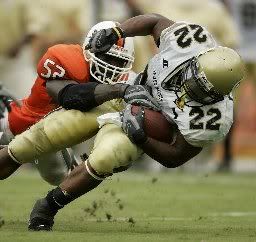 (One of my favorite prospect in the draft, Gooden is quick and fast with great range and a non-stop motor. He's also a hard worker and is great in coverage. Gooden is listed as an OLB, but has experience in each LB position in college. Great fit as a Cover 2 MLB.)
4.8 (Fr SF) - Chevis Jackson / CB / LSU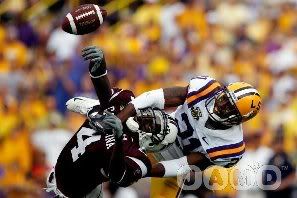 (Another ideal Cover 2 CB. Lacks elite speed but has great size, is physical, will support the run and is a hard worker. Will have time to develop behind Kelly, Flowers and Fisher.)
4.14 - Eddie Royal / WR / Virginia Tech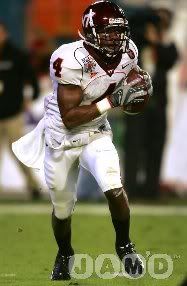 (Royal is a terrific athlete... very tough with great timed speed. He's a threat with the ball, but struggles with routes and lacks ideal size/strength. An excellent KR/PR.)
5.14 - Kirk Barton / OT / Ohio State
(The first OL pick is made in round 5... a draft in true Millen fashion. Barton is a hard working leader with a ton of experience. Can pass block and run block with effectiveness, but struggles in space and lacks athleticism. A "blue-collar overachiever"... makes up for what he lacks in physical tools with excellent intangibles. Adds depth.)
6.14 - Gary Guyton / OLB / Georgia Tech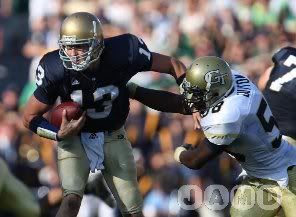 (Guyton is a big hitter with good range and solid intangibles. Lacks great speed and isn't a great tackler, but is excellent on special teams. Doesn't have a lot of tools but is a quality football player. Could eventually start at SLB.)
7.14 - Quintin Demps / S / U.T.E.P.
(The final pick in the draft is used to add depth to the safety group. Demps is another "Marinelli-guy"... a hard working team leader with top intangibles. He lacks elite speed and struggles against the run but makes plays on the ball and is great in coverage. Also has terrific instincts, outstanding hands and excellent range and has a lot of special teams potential. Great fit as a Cover 2 safety.)
Depth Chart
[Key - Blue is acquired, Red is drafted.]
Offense:
QB: Jon Kitna / Drew Stanton / Dan Orlovsky
HB: Kevin Jones / T.J. Duckett / Tatum Bell / Mewelde Moore
FB: Jon Bradley / Casey Fitzsimmons
1WR: Calvin Johnson / Shaun McDonald / Brandon Middleton
2WR: Mike Furrey / D.J. Hackett / Eddie Royal
TE: Dan Campbell / Ben Troupe
LT: Jeff Backus / Jon Scott
LG: Edwin Mulitalo / Frank Davis
C: Dominic Raiola / Blaine Saipaia
RG: Stephen Peterman / Manny Ramirez
RT: Damien Woody / Todd Steussie
Defense:
DE - Jared Allen / Ikaika Alama-Francis / Corey Smith
NT - Shaun Rogers / Trevor Laws / Langston Moore
UT - Cory Redding / Shaun Cody / Langston Moore
DE - Dewayne White / Jared DeVries / Corey Smith
SLB - Paris Lenon / Alex Lewis / Anthony Cannon
MLB - Tavares Gooden / Paris Lenon
WLB - Ernie Sims / Buster Davis / Gary Guyton
NB - Travis Fisher
CB - Brian Kelly / Brandon Flowers / Chevis Jackson
FS - Gerald Alexander / Quintin Demps
SS - Daniel Bullocks / Kenoy Kennedy
CB - Fernando Bryant / Stanley Wilson / Chevis Jackson
Special Teams:
K - Jason Hanson
P - Nick Harris
KR - Eddie Royal / Mewelde Moore
PR - Eddie Royal / Mewelde Moore
Summary
A top-tier pass-rusher and three Cover 2 CBs were added to the roster without trading Kevin Jones. A combination of Mike Martz's offense and Jon Kitna's release are what caused the Lions give up sacks in 2007, but an increased dedication to the running game and shorter, simpler routes from the WRs will lower that number greatly in 2008. This OLine unit is great in run blocking and has solid depth.
Players that fit the defense were added, and character, work ethic and leadership were paramount during the draft process. This team was
two wins away
from making the playoffs in 2007. I feel these moves
could
push them over the top.
Thank you for taking the time to read my mock. It wont happen... but, if it did, I feel the team would be much improved. Let me know what you think.