Minnesota Vikings Mock Draft – 4/05
Ok well here's my first shot at an actual mock for us. I'm a rookie so take this with a grain of salt and let me know what you guys think. I'll probably do another update the week of the draft but for now this is what I think could happen. Go ahead, let me have it.
1.22 – Hakeem Nicks – WR – North Carolina
I've made it known on this board that I really like Harvin for us but the number of red flags probably means he is going to be off our board when draft day arrives. That being said I really like Hakeem Nicks for us as well. He is a big body that is great after the catch and should be a terror in the red zone. With Peterson forcing teams to put extra guys in the box and Berrian stretching the field Nicks should see a ton of favorable matchups. The way we pursued TJ Housh indicates our need for a big time playmaker at the WR position and Nicks is just that. Obviously OL and CB are the other options at this pick.
2.54 – Jamon Meredith – OT – South Carolina
This pick is going to be either OL or CB. I think that we go Meredith because we have more of a need at this position. I think that Meredith will be the highest rated OT available at 54 which makes him the pick. He is an experienced player and should fill in nicely on the right side. Ryan Cook has struggled badly playing on the outside so Meredith should step in right away and contribute.
3.86 – Macho Harris – CB – Virginia Tech
At this point Macho would be a great value and terrific fit for our system. Harris has adequate size, is physical and has great ball skills. There is a chance that he is gone at this point but if he's available he is going to be the pick. He would immediately compete for a nickel spot and can also help out on special teams right away. Macho is a very confident kid that should be able to hold his own at the next level.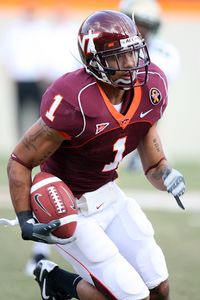 5.158 – Chris Baker – DT – Hampton
Here I am simply agreeing with Dynasty's fifth round pick. I think that DT is going to be addressed at some point in this draft in order to find an eventual replacement for Pat Williams. At this point Baker will probably be the best available. He would also be pressed into action early on if the Williams' Wall loses their case and are forced to sit out early next year.
7.221 – Sammie Stroughter – WR – Oregon State
This is a pick that will impact special teams right away could offer some upside at the WR position as well. Stroughter could be very dangerous returning kicks and punts inside the Dome. This kid is very elusive and the few times I watched him play he really had that WOW factor in the return game. I also really like the Wallace kid from Ole Miss but he should probably be gone at this point.
7.231 – Tim Jamison – DE – Michigan
We could use some depth at DE and while Jamison won't be an impact player he could be a nice depth chart filler.