Well after a hectic offseason the winds are settling as week 1 approaches. Due to this I will give my first Steelers mock of the year. Of course give your opinions and such.
Round 1
Malcolm Jenkins, CB, Ohio State, JR.
Yes, everyone knows that Jenkins is one of my favorite prospects this year and I have been high on him for awhile. However stars shine when others dont. Look no further than the Florida game to see that Jenkins was the only Buckeye defender worthy of being in that uniform. Jenkins is the best corner in the draft in my opinion, others will like King, Thomas, Cason and thats why Jenkins may fall. Corner is in much worse shape than many on here would like to believe. Can Ike Taylor be a number 1 CB? I think that will be the question throughout his entire career. McFadden is solid but Townsend is near retirement and Coke likley wont be on the roster next year. *** is solid but will be best in a nickel/dime-zone. By adding Jenkins immediatley every corner on our roster gets to play in their comfort level. Jenkins, Taylor, McFadden, ***. Thats a solid lineup for years to come.
Round 2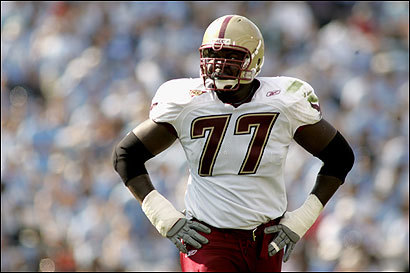 Gosder Cherilus, OT, Boston College, SR.
I monster imposer standing 6'7 318 and has been very consistant. Our line is absimal and Cherilus can play RT immediatley, gain experience and slide to LT when Smith leaves Pittsburgh, which isnt that far away.
Round 3
Kendall Langford, DE, Hampton, SR.
I pray we move to the cover 2 4-3 next year. If we do Langford can become a dominate DE with his immense size and strength. If we do stay in the 3-4 this pick still makes sense. 6'6 294 he can play both formations and will give the Steelers a tue beast on the line.
Round 4
Heath Benedict, OT, Newberry, SR.
Much for the reasons of picking Cherilus. Cherilus is NFL ready but Benedict could use the experience. It wont be long at all before Smith leaves town, Cherilus will slide to LT having been a stud RT and Benedict will start at RT. This line needs help and these two can resurect it. If we get these two the Steelers will be solid on O-line for uite some time.
Round 5
Jason Shirley, DT, Fresno State, SR.
A big space eater who will enter his senior year at 6'5 330. Shirley will have to wait a couple seasons before getting on the field but by that time should be ready to make an impact.
Round 6
Danny Woodhead, RB, Chadron State, JR.
Last years D2 POY, opened the 07 season with 290 yards. By next month will be the NCAA's all time leading rusher. An amazing talent who due to facing D2 defenses wont get the look he deserves, a great talent who is a huge sleeper this draft. Last year averaged 207 yards per game.
Round 7
MOS SLEEPER OF THE YEAR, POTENTIAL TO BE GREAT, I AM SO HIGH ON THIS KID ITS UNREAL, I LIKE HIM SO MUCH HE GETS MORE PICTURES!
Amarri Jackson, WR, South Florida, SR.
6'5 195 but lets throw that out the window, I think he can be a GREAT WR, GREAT. I wont write any longer on him because it would be very biased but I think by now you all know how I stand on him.
That concludes the 1st MOS Mock Draft of the 07-08 Season.