MOS Mock Oct/19/2007
Heres my Oct/19/2007 Mock Draft, haven't done one since preseason so here it is.
Round 1
OT, Gosder Cherilus, BC
6'7 318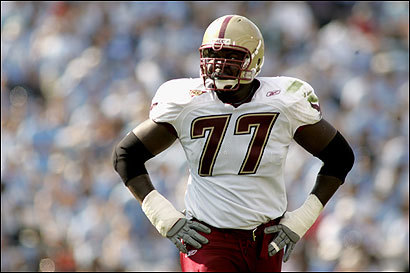 Its no secret that the offensive line is the biggest concern. With Marvel steps away from retirement and no true tackle opposite of him a franchise tackle is needed. Cherilus can step into the RT spot immediately. After a season Marvel would slide to RT and Cherilus would become our franchise LT.
Round 2
WR, Adarius Bowman, Ok St.
6'4 220
Not a great WR class and having the best 5 ranked very closely, especially with Doucet and Sweed having injuries its likely the second WR taken will be late first. Bowman should be here and the value of a big receiver to replace Ward would be tough to pass on.
Round 3
OT, Jeff Otah, Pitt
6'6 340
You better believe this is the year the Steelers reshape their o-line or you will be watching draft day in awe. With our future LT in place the Steelers take the RT of their future Otah. Otah will get the experience he needs while waiting 2 seasons for Smith to retire. This is an ideal pick as Otah has played phenomenal this season and while his draft stock will range from late 2nd-early 4th he is the pick if here.
Round 4
OG/C, Jordan Grimes, Pur
6'3 225
In love with this pick. Grimes to me belongs in a Steelers uniform. He can be a solid guard and can even be a great center. Mentality, attitude, technique he has it all.
Round 5
RB, Ryan Torian, Az St.
6'1 213
Big injury has sidelined him for the rest of his senior season. May or may not work out at the combine, if he does he wont be at full strength. Torain was a mid-late 2nd rounder prior to the injury and slips to at least rd 5 due to it. Remember Michael Bush was a sure-fire first rounder before his injury and was drafted in the 4th. Season ending injuries hurt draft stock badly, especially for RB.
Round 6
Amarri Jackson
6'5 195
Did you honestly think I would make a mock without my diamond in the rough. I have been touting Jackson for awhile and still he gets no recognition, he has immense potential.