OK so here it is. I'm going to go through all the possible first round picks, in my opinion, that the Patriots may make and give pros and cons and my opinion on each of them. There will be a few names that may surprise some of you but it always seems to happen that one strange pick is made.
Rey Maualuga-ILB USC
PROS;
Rey is the definition of an impact linebacker and would be a tremendous fit inside next to Mayo. Playing beside last year's first rounder will give the Patriots two young high quality inside 'backers to build a defense around. Maualuga has shown that he can be extremely effective against the run, can rush the passer well (3 sacks in last year's Rose Bowl) and can cope in coverage. He is able to get through blockers to make the tackle and may also help to keep extra blockers away from Mayo. Definitely a high upside guy.
CONS;
Many scouts have questioned his ability to stay on the field on passing downs as he was often exposed in coverage at USC. Belichick has previously stated that he doesn't think 2 down linebackers have much value let alone a first round value. A few times in college Rey was able to get by purely on athletic ability even if he made mistakes in coverage, something he will not be able to do in the pros. Maturity and intelligence have been questioned and that is a big worry in a defense as complex as the Patriots'.

MY VIEW;
If he is available and has been able to alleviate any doubts about whether or not he can play three downs then he will be very seriously considered at 23. Maualuga is exactly the impact guy the Patriots could use on defense and would mean that ILB doesn't have to be touched for 10 years. If there is any questions or doubts of his ability to play in the defense he will not be the pick. Definitely a high upside guy who could also have a big bust potential. I wouldn't be disappointed at all if he is the pick as it would show that BB has confidence in his ability to learn the defense and do a job.
James Laurinaitis-ILB Ohio State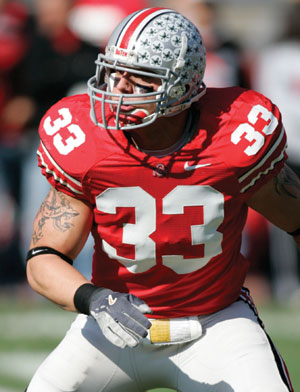 PROS;
Laurinaitis is an intense, high motor, smart linebacker that just seems to be a perfect Belichick fit. He is a natural leader who can stay on the field in any situation. May offer positional versatility for when the defense shifts to a 4 man front, especially on passing downs. Will offer a lot in coverage and let Mayo play closer to the line of scrimmage and make the tackles.
CONS;
Baby Animal just doesn't seem like a very good fit inside in a 34 defense. He struggles to shed blocks and can be taken out of the run game. He won't make the sort of impact on the defense that would be expected by a high draft pick. Doesn't offer much in rushing the passer and worst case scenario could end up being a nickel linebacker.
MY VIEW;
Looking at his intangibles it would make you think it was a nailed on cert that he would be a Patriot, especially if he fell to 34 however there are enough concerns about his ability to play the role necessary. With Mayo being able to roam from sideline to sideline it seems as though it is a thumper that is needed and Laurinaitis is definitely not that. I would honestly be a little disappointed if he was the pick, especially in the first.
Brian Cushing-OLB/ILB USC

PROS;
Cush will give the Patriots added versatility in the LB corps that is almost essential for Belichick. His best fit would be inside however he has shown he can rush the passer from his days in the 'Elephant' at USC. An incredibly hard worker who will lead by example and offers quite a bit in special teams. Another player who seems like a Patriots linebacker.
CONS;
May be a little overrated at the minute and definitely benefited from the talent around him in college. He will struggle at times in coverage and will not be a true impact linebacker. Seems like a perfect overachiever who has maxed out his potential to me.
MY VIEW;
With his versatility and special teams ability he has every chance of being selected if available at 23. Will give the defensive staff an extra tool in being able to disguise schemes and blitzes with his pass rush ability from both inside and out. Of all the 3 USC linebackers he would be my least favourite at this point.
Clay Matthews-OLB USC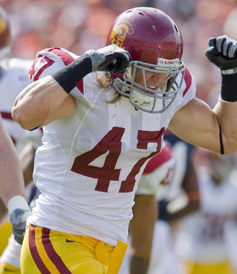 PROS;
His work rate is phenomenal and is a player who leads by making plays on the field. Extremely versatile and also played the 'Elephant' at 'SC. Matthews will immediately upgrade the special teams as he was voted USC special teamer of the year. Will add to a lacking pass rush will make an impact in both the pass and run game.
CONS;
Like Cushing may be an overachiever and was helped by the defensive quality at USC. May be a true tweener in the fact that he may not fit inside or outside in the Patriots scheme. Will give up plays if asked to stay in coverage for too long and he will miss tackles that he should make.
MY VIEW;
I am always wary of players who make a dramatic rise in the offseason. However Matthews seems to have the work ethic and bloodlines that will make BB drool. If he is the pick at 23 I would be happy, and i'd be absolutely delighted if he was there at 34.
Connor Barwin-OLB Cincinnati

PROS;
Barwin has an almost unrivalled upside in this draft and could give a much needed boost to a pass rush which was quite toothless last year. Of all the DE/OLB tweener prospects he is the most comfortable in space and can make the tackle. His first step is only rivalled in this draft by Everette Brown and Aaron Maybin and he would make a great Weakside OLB for the Patriots. Also offers positional versatility offensively and defensively.
CONS;
Barwin doesn't have a lot of experience playing DE let alone OLB in a 34. If he was to be drafted high it would be based on one year of game tape and a whole lot of potential. Doesn't have the size that BB ideally looks for in an OLB but could add some weight with a pro training regime.
MY VIEW;
A lot of 'experts' have had Barwin going to the Patriots since Vrabel was traded. Now I don't personally buy the whole comparison, I think people just see he can rush the passer and play TE and think 'Hey Vrabel can do that too'. However I think he can have the type of impact that Vrabel had in his peak and maybe better. Barwin is definitely a work in progress but I would love to get him at 34. 23 would be a reach in my opinion.
Aaron Maybin-DE/OLB, Penn State
PROS;
Maybin has the sort of first step that will give offensive coordinators and OTs across the league nightmares and his athleticism is scary for the position. His athletic ability will help him drop into coverage and he can chase down running backs and tight ends. Will at least upgrade the pass rush on 3rd down if picked and could develop into an elite OLB.

CONS;
He is severely under developed and intelligence and maturity may be questioned. After putting a lot of weight on for the combine he was quite slow but that has improved over time. While he will undoubtedly make an impact it may be a few years down the line and the OLBs could be upgraded this year.
MY VIEW;
Maybin would be the perfect looking to the future pick by the Patriots. It's the sort of pick I would love if we got a Jason Taylor or someone like that. I have a feeling that in three years people will talk about Maybin in the same breath as Demarcus Ware and Shawn Merriman. I may be a little apprehensive in taking him in the first however it could turn out to be a great pick. He will likely be gone by then though.
Everette Brown-DE/OLB, Florida State
PROS;
Brown would completely regenerate the pass rush as he is in my opinion the best pure pass rusher in the draft. His first step is great and he is very athletic. Is a good leader and could at least battle Shawn Crable for playing time this year before taking over completely next year. Has the ability to be serviceable in coverage and could fit in perfectly when we change to a 4 man front.
CONS;
Once again he doesn't have the ideal size that BB looks for and is very short for the position. His ability to grasp the nuances of the defense may be questioned and he lacks a ruthless consistency which is needed. Was not asked to drop into coverage and can get washed in the run game.
MY VIEW;
I think if Brown is available at 23 he has to be the pick. While there are legitimate questions around him there doesn't often be a player of his ability to get after the QB become available at 23. He actually reminds me a lot of Dwight Freeney(especially his sick spin move) and his best fit may come as a Tampa 2 DE but he has the athleticism to be an extremely effective OLB.
Darius Butler-CB, UCONN
PROS;
By all accounts Belichick absolutely loves the potential of this kid and Mayock says he has the best feet of any corner this year. Will offer return value as well which will push him up the board. May be liked because he has a great leaping ability and TO is now in the division and he can hold his own with big WRs. Butler is dangerous with the ball in his hands and seems like a great fit in the Patriots defense.

CONS;
While he has a great leap on him he lacks ideal height and the Patriots have got a lot of small CBs. Butler seems to be another prospect who is shooting up boards which worries me slightly and wasn't highly touted out of high school.
MY VIEW;
Butler is the sort of player I would like the Patriots to go after at 47. I think 34 is a slight reach and 23 is a big reach. However a few scouts and experts have him as high as 14/15 in mocks. I expect him to be the pick at 23.
Vontae Davis-CB, Illinois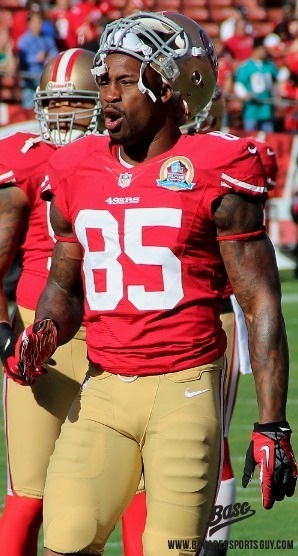 PROS;
Davis has all the tools in the world to be a great CB for a long time and could quickly become the #1 CB on the Pats roster even with the addition of Bodden and Springs. Davis also has the ability to play some safety which as has been shown in the past by BB is a big plus. Vontae will give a lot in run support as well and is a very good tackler.
CONS;
The most frustrating player in the entire draft if you ask me. Should be a top 5-10 pick but will likely be around the bottom of the first because he lacks the work ethic and consistency. If a player of his ability gets benched for a college team which isn't exactly a powerhouse(all due respect to Illinois) then warning signs have to show. A very risky gamble here.
MY VIEW;
I DON'T WANT HIM. Simple enough for you? He could become a top corner in the league or he could be exactly like his brother, the sort of player who every offseason loads of people say' Yeah he's going to breakout this year' only to be disappointed.
Eben Britton-OT, Arizona
PROS;
Britton will be an upgrade over Kazcur at RT from day one and will bring a toughness and leadership that is priceless on the O-line. Has the potential to take over from Matt Light when he hangs them up and is good and aggressive.
CONS;
While he has the potential to take over from Light he shouldn't be counted on as many people don't think he will be able to handle the speed that a LT needs to be able to. Is really a 'what you see what you get' type player in that he doesn't have much upside and will be a consistent player for a good while but probably won't be a pro bowler.
MY VIEW;
While O-line depth has to be one of the draft priorities I hope it is at the earliest 58. I would prefer a player in the later rounds with a good upside but not as high profile as Britton. I would prefer someone like Fenuki Tepou in the 4th.
These are the main players I think will be targeted in the 1st round on Saturday. I don't think any of the WRs will be looked at especially since Britt and Nicks haven't had the best of off seasons. If Knowshon Moreno is there then BB may go with him as he will almost certainly be BPA but I hope that is not the case. What are your views on these players and feel free to add anymore that you would consider possible first rounders.