Stephenson86's
Tennessee Titan Analysis
Offence
QB
Starter: Kerry Collins – Collins was never expected to be the starter within the organisation but when called upon he helped manage the team on route to a 10-0 start. He is not a game changer and he will never be the player that takes us to the promised land but he won't hamper us getting there. He does his job and he fits what we need within our run first offense, look for him to have 3000+ yards and about 16 TD's.
Backup: Vince Young – Young has not lived up to expectations and has regressed since he got into the organisation. He has the athletic tools to be one of the biggest game breakers in the NFL but he needs to get it together before he takes the reins again.
RB
Starter: Chris Johnson – Johnson was the starter in Tennessee by week 2 after proving what a dangerous player he is. He has things to work in within the passing game (especially his blocking) however he is an explosive instinctive runner who once he is in the clear can't be chased down by anyone. He is the heart and soul of the offence, look for him to have close to 1,500 yards.
Backup: LenDale White – White was unseated as the starter and had a lot of carries taken away from him down the course of last season. He is a big bodied back who is not easy to take down but does not use his size effectively and gets lazy. This is his contract year and if he doesn't produce he is likely gone, with Javon Ringer likely to take over, look for him to have 10+ TD's.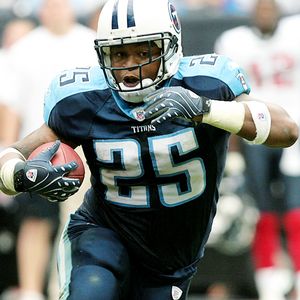 FB
Starter: Ahmard Hall – Hall has been one of the most underrated players in the NFL since he arrived and has paved the way for the Titans rushing attack. He can run the ball, catch the ball and he is a battering ram when he blocks, he is a pivotal piece the Titan rushing attack and I hope he gets his recognition from the rest of the league sooner rather than later.
WR
Starter: Justin Gage – Gage has been a solid receiving threat for us and came on strong at the end of last season so I have high expectations for him going into his 3rd year. Having Washington on the other side should take some heat off him and he should see more single man coverage as he won't be the only viable receiver. Look for him to have 800+ yards.
Starter: Nate Washington – Will be the main man across from Gage unless Britt is lights out in training camp. He brings a vertical threat to the team and will make the DB's sit back a bit further, helping to open up the run game that bit more. It also means if we go down and have to chase the game we have another option to throw to. He should have about 600+ yards.
Slot: Kenny Britt – Britt will feature a lot in our offense down the line but he may start out slow in the offense as we are run first and he will be working from the slot. He is destined to be our number 1 guy and he will make massive strides this year and could end up opposite Gage. Exciting prospect to have on the team, bright future ahead of him, look for him to have about 500+ yards.
Fourth: Lavelle Hawkins – Hawkins I very much doubt will start ahead of Britt but he is likely to be the fourth receiver in our spread formations. He didn't get many opportunities last year but he did not come on as much as I think some people had hoped, look for him to have 250+ yards.
TE
Starter – Bo Scaife – Scaife has been a solid set of hands in the offense since he arrived and he has been our Quarterbacks best friend. He will see less action now because of the addition of Jared Cook but he will still be a very well used commodity in our offense, look for him to have 600+ yards.
Backup – Alge Crumpler – Crumpler was a disappointment last year and he is unlikely to see a lot of action this year as I expect Jared Cook to take over from him fairly quickly. However he is a very good veteran leader and he still has his uses in the passing game, look for him to have 300+ yards.
LT
Starter: Michael Roos – Roos has started every game since he arrived in Tennessee and he has become possibly the best LT in the game and he is the perfect blind side blocker who gets fantastic push in the run game. He is locked up for the next 5 years and look for him to finish his career here.
LG
Starter: Eugene Amano – Amano was good in his first season as a full fledged starter, however he can be upgraded and there is a chance that Leroy Harris could unseat him in training camp. However is Amano is the starter expect him to grow and have another successful campaign paving the way for Chris Johnson.
C
Starter: Kevin Mawae – Mawae is getting old and is not a durable as he used to be but still he is an impressive blocker and he provides irreplaceable leadership In the trenches and the locker room. His replacement is Leroy Harris as it stands who proved in the Baltimore game that he can hold his own.
RG
Starter: Jake Scott – Scott came from Indi and in his first season stepped right in and was a monster in the trenches, he is better than Amano and for me him and David Stewart form the best run blocking right side in the game of football. He is locked up for 4 more years and he will no doubt improve this year.
RT
Starter: David Stewart – He is a mauler and the most violent of all the offensive lineman making him a formiddable run blocker with fantastic push. He is no slouch in the pass game either however out of all the OL I would like him least in passing down situations. Was a first team all-pro as a RT last year which is nothing short of remarkable.
Defence
LE
Starter: Jevon Kearse – Kearse will be the starter but by no means will he be the only rusher off that side he may even be unseated and become a situation rusher but as of now the freak is the starter at LE. He was solid last year and was effective in the rotation the Titans use, look for him to have about 4 sacks this year.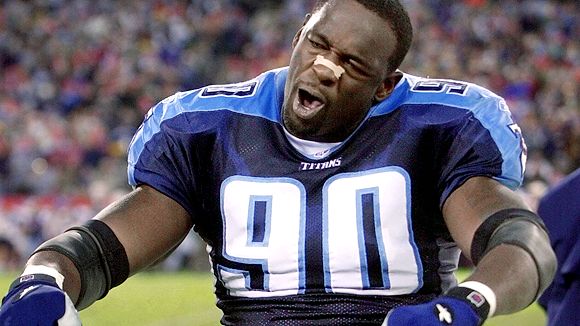 Backup: Jacob Ford – Ford came along a lot last year as a situation rusher and is fast becoming an all round DE who will take over from Kearse either this season or next season. He has good size and bulk and when he is allowed to pin his ears back and go he can get to the QB, look for him to have 10 sacks this year.
DT
Starter: Tony Brown – Brown is underrated and has been a key plug in the middle of the defence. He will become the NT in the defence but will likely still be used as a one gap penetrator. He is in his contract year and based on how the rest of the DT's perform will dictate whether or not he is still a Titan. Look for him to have 5 sacks this year.
Starter: Jason Jones – Jones was outstanding in the action he saw last year and showed he knew how to get after the QB from the UT spot and do it effectively. He will likely become the feature interior lineman over the next couple of years and have success at the position. Look for him to have 8 sacks this year.
Backup – Javon Haye – Haye has immense potential that he should begin to fulfill with the Titans. He is a prototype one gap penetrator who suite the Titans defensive line philosophy. He should see some good time as a roation guy but will be a backup on paper to jones and brown. Look for him to have 4 sacks this year.
Backup – Kevin Vickerson – Vickerson is still an unknown but he did show flashes in his spells last year and is the biggest body on the defensive line and will be the most Haynesworth esque player remaining on the DL. Look for him to have 1 sack this year.
Backup – SenDerrick Marks – Marks will likely see some action but he is not expected to have a massive impact because there is a lot ahead of him. He was drafted mainly to be groomed and for his immense potential as a one gap penetrator. He will see probably 30% of snaps this year from one of the DT spots. Look for him to have 2 sacks.
RE
Starter: Kyle Vanden Bosch – Bosch has been a great source of inspiration on the DL and his non stop white boy motor makes him a relentless player. He knows how to do it all and he does it all well. He needs to stay healthy however so it is yet to be seen the impact he makes this year. Look for him to have 8 sacks this year.
Backup: William Hayes – Hayes came on leaps and bounds last year towards the end of the year and with that under his belt will likely be the second man behind KVB. He is a big bodied guy and he is a baller. He will see a lot of time if KVB goes down injured. Look for him to have 4 sacks this year.
LOLB
Starter: David Thornton – Thornton is underrated and has been a force on the Tennessee defence, especially as a thumper in the run game. He is not the best in coverage but when it comes to stopping the run he steps up and delivers the blow, he has some good years ahead of him and will likely have another successful year. Look for him to have 3 FF this year.
MLB
Starter: Stephen Tulloch – Tulloch is an undersized MLB in the mould of London Fletcher but unfortunately he has not been the same player. He is in a contract year and if he under performs will will likely resign him but look to upgrade him. He delivers fierce hits but needs to become a better footballer. Look for him to have 2 INT's this year.
ROLB
Starter: Keith Bulluck – Bulluck is the key to the Titans defence and he keeps all the players fired up emotionally when times get tough. He is a vet and underrated for most of his career. He rarely misses a tackle and he makes his fair share of game changing plays. A true baller and without him the Titans defence would severely lack the pzaz it has. Look for him to have 3 INT's this season.
CB
Starter: Cortland Finnegan – Finnegan is not a shut down corner like Nnamdi is but he does lock down his CB's very well and plays a very physical game. You are unlikely to beat him deep but he can be exposed in the red zone. An All pro and pro bowler and one of the best up and coming talents in the NFL. Look for him to have 6 INT's this year.
Starter: Nick Harper – Harper is an old guy with not much speed but he knows how to play ball and he has come up with some crucial plays as a Titan. He is good for probably one more season as the starter and we will likely look to replace him and move him into the nickel next year. Look for him to have 2 INT's this year.
Nickel: Vincent Fuller – Fuller is nothing to write home about but he is the best we have for the Nickel spot right now unless Mouton lights it up in training camp but i'm not holding out much hope for that. Fuller will be serviceable but unlikely to have a major impact. Look for him to have 1 INT this season.
Dime: Ryan Mouton – Mouton is a speedy rookie who was brought in mainly to be a Dime or Nickel majoring in KR/PR duties. He is relatively unknown and it will be interesting to see just how well he does this year. Look for him to have 2 INT's this season.
FS
Starter: Michael Griffin – Griffin came into his own last season and with 11 INT's in just 2 years has become a ball hawk who can change the game in an instant (see Pittsburgh game). He hits hard and flies around the field with a purpose. He will probably take a step further this year and I can see him as the INT leader. Look for him to have 9 INT's this season.
SS
Starter: Chris Hope – Hope is a good leader in the secondary but he has been a bit up and down since he arrived but returned to good form last season after a nasty neck injury. He provides great leadership for the young guys on D and will be good for another handful of seasons. Look for him to have 3 INT's this season.
Special Teams
K
Starter: Rob Bironas – Very strong accurate Kicker who can be relied on.
P
Starter: Craig Hentrich – He is a wirey vet who can still punt with the best of them.
KR/PR
Starter: Ryan Mouton – This is up in the air right now but for me he is the best decision for the job as he is immensely atheltic in the mould of devin hester just not AS explosive.
Projected Depth Chart
Offence
QB – Kerry Collins
RB – Chris Johnson
FB – Ahmard Hall
TE – Bo Scaife
WR – Justin Gage
WR – Nate Washington
LT – Michael Roos
LG – Eugene Amano
C – Kevin Mawae
RG – Jake Scott
RT – David Stewart
Defence
LE – Jevon Kearse
DT – Tony Brown
DT – Jason Jones
RE – Kyle Vanden Bosch
LOLB – David Thornton
MLB – Stephen Tulloch
ROLB – Keith Bulluck
CB – Cortland Finnegan
CB – Nick Harper
FS – Michael Griffin
SS – Chris Hope
Special Teams
K – Rob Bironas
P – Craig Hentrich
KR/PR – Ryan Mouton
Overall
The Titans have done nothing but get stronger on offense, which stalled badly during the playoffs and prevented the Titans from reaching the Superbowl. Kerry Collins is not being asked to do anything outside of not turn the ball over and move the chains. The Running game will once again be the focal point of the offense and hopefully Chris Johnson can reach his goals of NFL MVP and take the team to the superbowl. The addition of Nate Washington and Kenny Britt give Kerry Collins two very capable weapons to play with and will help take some heat away from the run game.
On defence the loss of Haynesworth will be hard to contend with but in the game against the Superbowl champion Pittsburgh Steelers without him we managed to shut down the Steelers offence without him. We will continue to use very consistent DL rotation to get the best out of out guys and I hope to see a high sack total again. The linebacking core has not changed from last year and I expect much of the same. The DB's are returning and once again I expect them to blanket receivers and pick off the ball.
Projected Record
11 – 5 – 0
Notable Stat Predictions
Chris Johnson over 1500 yards.
Lendale White over 10 TD's.
Bo Scaife over 600 yards.
Jacob Ford over 10 sacks.
Jason Jones over 8 sacks.
Keith Bulluck 3 INT's.
Michael Griffin 9 INT's.