I'll start by saying this. I don't think, at this point, that the Rams will pass on Clausen with the first pick. In most years, I'd say its a no brainer. But it's been a while since a player like Suh has come through the college ranks so anything can happen and a lot can change between now and April.
So let's assume that at pick #4, Clausen, Bradford and Okung are all available. Who should we pick and why? I've wrestled with this a lot and obviously there are arguments for both players.
I'll admit that I have been against the qb pick for quite sometime now. But deep down I know that my logic is not necessarily reasonable. I've loved Colt Brennan since day 1 and I want badly for him to get his shot. I want more than anything for the Skins to build the offensive line and give Brennan a legitimate chance before going in another direction but I know that opportunities to draft franchise qbs dont come around often.
I think a lot will depend on the cap and what happens with Campbell. It looks more and more like 2010 will be an uncapped season which leaves the Redskins with a decision to make with Campbell as a RFA. Either drag things out for another season or try to trade him for some sort of value. No team is going to match an offer sheet for a 1st and a 3rd but the Skins can try to trade Campbell for lesser value. I think that a handful of teams could be interested.
Basically, if Campbell is on the roster for 2010 then I think drafting a qb is the wrong decision. In that case, the Skins have to build the line and go with Campbell and Brennan and possibly a FA or late round pick. If Campbell is gone though, the Skins could face a tough decision with the 4th pick.
Lets take a look at these three players.
Jimmy Clausen, QB, Notre Dame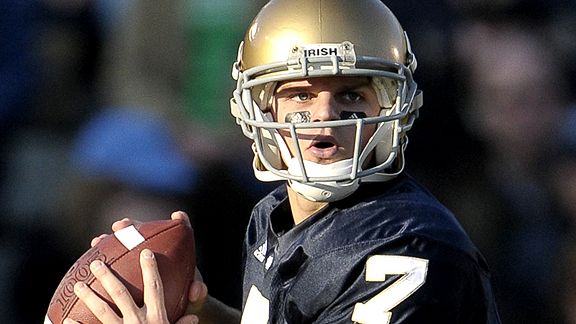 Things I like: Mental toughness, no real serious injury concerns in his past, passionate about winning, impressive accuracy (not necessarily elite), quick feet in and around the pocket, reads coverage well, and good mechanics.
Things I disklike: deicision making, arm strength questionable, doesnt throw a great deep ball, uncertain leadership qualities, takes a lot of sacks, and will force throws.
Reminds me of: Aaron Rodgers coming out of Cal
Russell Okung, OT, Oklahoma State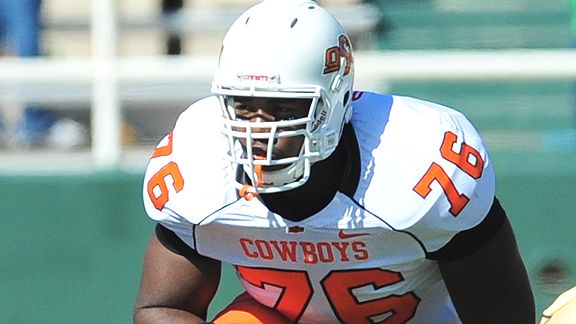 Thinks I like: tough as hell, mauler in the run game, quick impressive footwork, excels in both pass and run protection, 47 consecutive starts, consistent, prototypical size and strength, leadership
Thinks I dislike: doesnt always lock defenders, sometimes loses focus and gets too high
Reminds me of: Joe Thomas
Sam Bradford, QB, Oklahoma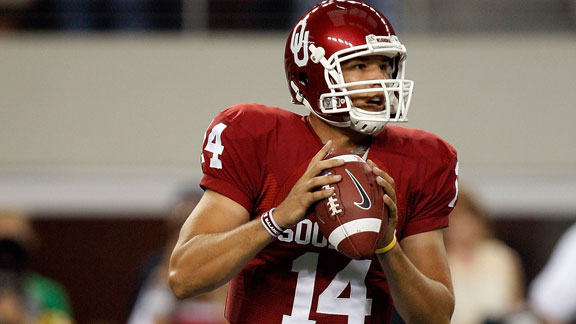 Thinks I like: production, competitive hard worker, leader who commands in the huddle, incredible accuracy, can avoid the rush and throw on the run, and student of the game
Thinks I disklike: mechanics, average arm strength, durability and history of bad injuries, minimal experience taking snaps under center, missed 90% of junior year, tends to stare down targets
Reminds me of: Chad Pennington
Those are most of my thouhts for now. What do you guys think?