Western Conference Standings
Dallas Mavericks 65-17
Los Angeles Lakers 64-18
San Antonio Spurs 61-21
Phoenix Suns 52-30
Golden State Warriors 49-33
Houston Rockets 48-34
Utah Jazz 47-53
New Orleans/Oklahoma City Hornets 44-38
Portland Trailblazers 39-43
Denver Nuggets 39-43
Los Angeles Clippers 35-47
Seattle Supersonics 34-38
Memphis Grizzles 34-48
Minnesota Timberwolves 33-49
Sacramento Kings 31-51
Southwest Division (by PF)
Dallas Mavericks
(2006 record: 67-15)
Additions: Stromile Swift, Aaron Gray, Wilson Chandler, Coleman Collins
Losses:
Notes: The best overall record in basketball last year, but didnít advance as deep as they would have liked in the playoffs. If there was a weakness on this team it was in the frontcourt, and that need was addressed with the addition of Stromile Swift in a trade with Memphis and the drafting of Pitt Center Aaron Gray. This team is probably better overall than last yearís due to the additions and I find no reason for them not be up there in wins again.
Projected wins: 65-17
San Antonio Spurs
(2006 record: 58-24)
Additions: Jumaine Jones, Ali Traore, Jared Dudley, Sean Singletary
Losses:
Notes: The NBA Champions didnít make any moves other than selecting players with their three picks. A team with a nice mix of veterans and youth will return everyone, and there isnít anything that would suggest that they cannot compete for another title. Tim Duncan is still one of the top players in the league and Tony Parker really emerged as one of the leagueís best point guards with his performance throughout the playoffs.
Projected wins: 61-21
Houston Rockets
(2006 record: 52-30)
Additions: Gabe Pruitt
Losses: Dikembe Mutombo, Jake Tsakalidis
Notes: Houston made the playoffs in 2006 but had an early exit to the hands of the Utah Jazz. In free agency they added nobody and lost two big men inside; neither player is a dramatic loss but depth is important as teamís progress through the season. Gabe Pruitt was a nice addition in the draft, but he is still learning how to play the point guard position and his impact early is questionable. This team still has the pieces to be a playoff contender, but they did not make any moves that would allow them to reach that next level.
Projected wins: 48-34
New Orleans/ Oklahoma City Hornets
(2006 record: 39-43)
Additions: Paul Pierce, Thaddeus Young, Dominic McGuire
Losses: Hilton Armstrong, Peja Stojakovic, Desmond Mason
Notes: The Hornets were a team that contended late into the year for a playoff spot in 2006. The Hornets made a terrific trade in the off-season by sending Peja and Hilton Armstrong, a player who was buried on their bench, for perennial All-Star Paul Pierce. Pierce and Paul in the backcourt is very intimidating for visiting opponents along with emerging star David West in the frontcourt. The Hornets did lose Desmond Mason in free agency, but found a very nice replacement in Georgia Techís Thaddeus Young and Dominic McGuire was drafted for depth behind Thaddeus. From the end of the season to now the Hornets are definitely a better team and are probably at the level where they can expect to be a playoff team. They are still quite young, but the addition of a star like Paul Pierce should be enough to get them over the edge.
Projected wins: 44-38
Memphis Grizzles
(2006 record: 22-60)
Additions: Marcus Williams, Gerald Wallace, Al Horford, Dorrell Wright, Danny Fortson, Charlie Bell, Brad Miller
Losses: Hakim Warrick, Dahntay Jones, Brian Cardinal, Damon Stoudamire, Stromile Swift, Mike Miller, Kyle Lowry
Notes: The Grizzles were the worst team in the NBA in 2006 with only 22 wins, but they have put in place a very nice young team with a new coach as well. This roster has some very talented players on it, but most of them are still young and have not yet reached their potential. Depth is a problem, but with future drafts and free agency that problem can be fixed. I see this team winning more games, but in a very tough Western Conference I still see them as one of the lower teams for now. In the future the story will be different but for NOW they still have to develop into a team that can compete.
Projected wins: 34-48
Northwest Division (by Windy)
Utah Jazz
Previous Record: 51-31
No big moves made however they have one of the strongest starting lineups. They do have a hole at SG and even with the addition of Afflalo, it could still be upgraded.
Projected Wins: 47-53
Portland Trailblazers
Previous Record: 32-50
Amazing additions and now a contender. Within a few years, I'd expect them to win this division.
Projected Wins: 39-43

Denver Nuggets
Previous Record: 45-37
They had an average offseason. Losing Camby is going to hurt with Nene's injury history and the unpredictability of Chris Webber. I like their Draft and some of the role players they added.
Projected Wins: 39-43
Seattle Supersonics
Previous Record: 31-51
I like their Draft a lot. They got some great players for the future. I could see them in the Playoffs again soon.
Projected Wins: 34-48
Minnesota Timberwolves
Previous Record: 32-49
They rebuilt and I like what they did. Losing Garnett is going to hurt but they do have some young stars to make up for the loss in the future.
33-49
Pacific Division (by D-Unit)
Los Angeles Lakers
Kobe and KG together will be the toughest duo in the entire league. Their dominance potential is unlimited. With the rest of the Lakers acquisitions, good luck NBA, the Lakers are BACK! At PG, Jarrett Jack is a nice young player and Chucky Atkins is a savvy vet. With a year under his belt Farmar should also continue to improve. Turkoglu is so much better than Radmanovic and he has been battle tested in the playoffs. He's a great complimentary player to Kobe and KG and should relish being the team's third option. If Mihm and Visser don't screw things up, this team should be one of the best in the league. Only thing holding them back is themselves.
Projected Record: 64-18
Phoenix Suns
As long as the Suns have Nash, Marion and Stoudemire they will be one of th top teams in the league. They didn't make a splash in the offseason, but they didn't have to. In order to beat the Spurs they needed to add toughness. They didn't appear to address that greatly, but they did at least try. Brezec is a decent player who can hold his own. I also like his fit with the team. Gomes and Powe aren't ready to have an impact on the team, but they have some promise. West was an interesting pick up but a wash compared to Banks. Koppenen needs a lot of time to develop, but has nice natural skill and smarts. I would've liked to see the PG depth address with a little more stability. Also, getting a bruising PF would have been nice. There was opportunity to get tougher and the Suns didn't address it well enough. Still one of the best teams in the league, the Suns easily make the playoffs, but their game is no mystery. Teams know what their about and thus they don't dominate like they did in 2006.
Projected Record: 52-30
Golden State Warriors
The Warriors showed something in the playoffs that was very promising. An overhaul would have been uncalled for and I'm happy to see that they stuck their core together. The acquisition of Villanueva was a masterful move. He fits their style perfectly as he can run the floor and light it up from behind the arc. They also did a good job in working with what they had. Mohammed, Hardin and Fernadez are all quality pick ups. A huge move that was overlooked was the resigning of Matt Barnes. With another year of playing together along with the solid acquisitions made in the offseason, Golden State should be primed for a big improvement over last year. The only thing is their style of play over the course of the entire season will wear them out, and it's a high risk, high reward type system. Still, I see another playoff entry.
Projected Record: 49-33
Los Angeles Clippers
The Clippers didn't do a bad job this offseason. They got rid of a lot of guys that didn't have long term keeper value and added some nice young talent. The loss of a savvy veteran like Cassell without a capable replacement will have ramifications however. Livingston will probably not play next year while still recovering from his grotesque injury. If he does, he'll have a lot of rust to work off. That leaves Collins solely in charge. Expect a big learning curve and growing pains. Seeing as they have no one with the ability to play point forward, expect a D-League call up for PG depth. The reinforcements they added are ok, but not spectacular. With the loss of leadership they lost in Cassell and Mobley, I see a drop in the standings.
Projected Record: 35-47
Sacramento Kings
The Kings went crazy this offseason and now have 5 new starters. The inexperience of playing along side each other will cause some growing pains alone. The acquisition of Carter was a head scratcher. It leaves their best player last year and their best young player period, Kevin Martin relegated to a 6th man role. Instead of building a new team around him, they built a new team over him. They lost some scoring in Bibby, but Miller and Rondo are a solid duo. Mike Miller is an underrated player, but he's very effective if given a complimentary role. That's where the good news stops. The frontcourt of Dalembert and Walker cannot stand up to the rest of the frontcourts in the West and the depth is very shallow. McRoberts is a promising prospect, but he's not able to do much as a rookie. until the frontcourt is upgraded, this team will remain in the lottery.
Projected Record: 31-51
Eastern Division Standings
Cleveland Cavaliers 52-30
Chicago Bulls 51-31
Detroit Pistons 44-38
Washington Wizards 43-39
Miami Heat 41-41
New York Knicks 40-42
Toronto Raptors 38-44
Charlotte Bobcats 37-45
Philadelphia 76ers 36-46
Milwaukee Bucks 33-49
Indiana Pacers 29-53
Atlanta Hawks 29-53
Boston Celtics 28-54
New Jersey Nets 26-56
Orlando Magic 25-57
Atlantic Division (by CCB)
Boston Celtics
(2006 record: 24-58)
Additions:TJ Ford, Peja Stojackovic, Hilton Armstrong, Marco Bellinelli, Tiago Splitter, Taurean Green, Jonas Maciulis
Losses: Paul Pierce, Delonte West, Rajon Rondo, Leon Powe. Theo Ratliff
Notes: The Celtics made alot of moves this offseason, not all exactly great moves though. The TJ Ford trade was a fine trade. The celts werent in great need for a big man after picking up Hilton Armstrong in the Pierce deal and there was not another PG even close to the level of Ford in the draft so good move there. The Paul Pierce trade was necessary, Pierce has done alot for Boston and its only right he gets his shot to win a championship before he gets too far over the hill. Peja is a player who can step in now but is no the long term answer. With all the youth getting on year older and the aquistion of TJ Ford Is ay the celtics upgraded slightly. The core of TJ Ford, Gerald Green, and Al Jefferson could be a menancing trio in 2-3 years.
Projected Record: 28-54
New Jersey Nets
(2006 record: 41-41)
Additions: Kyle Lowry, Grant Hill, Marquise Webb, Corey Brewer, Quincy Dooby, Kenyon Martin, Kenny Thomas, Daryl Watkins
Losses: Vince Carter, Marcus Williams, Bostjan Nachbar, Clifford Williams, Jason Collins
Notes: Worst offseason by far. The Nets downgraded in such a major way. Grant Hill is a shell of his former self. Losing VC hurt immensley whether this GM knows it or not. Kenyon Martins career is over as far as im concerned and this guy has him starting. Kyle Lowry is a good aquistion and in a good spot to learn from Kidd but other than that this is an awful offseason for the Nets. Corey Brewer was a decent pick, He should have taken Yi though. Yi and Mikki Moore would be a great 1-2 punch in the low post.
Projected Record: 26-56
Toronto Raptors
(2006 record: 47-35)
Additions: Theo Papalukas, Brandan Wright
Losses: TJ Ford, Mo Peterson, Pap Sow, Uros Sokar
Notes: The Raptors downgraded for next year but upgraded for the future. Branden Wright is not ready to step in and contribute, the kid is frail. He needs atleast 3 years riding the bench before hes going to do anything. I am also weary of how great of a combo Wright and Bosh could be. They are both slim finesse players. I think the Raptors could have been better off pairing Bosh with a big bodied banger in the middle. But Wright and Bosh have the potential (key word potential) to work great together. Jose Calderon is overrated on this board IMO and I think the Raptors messed up by trading a fantastic young PG in TJ Ford.
Projected Record: 38-44
Philladelphia 76ers
(2006 Record: 35-47)
Additions: Mike Bibby, Shareef Abdur Raheem, Spencer Hawes, Sean Williams, DJ strawberry, Alando Tucker, Glenn Davis
Losses: Sam Dalembert, Willie Green, Andre Miller
Notes: I actually like what the 76ers are doing. I dont think trading Andre Miller was the answer but they pick up a more potent offensive weapon in Mike Bibby. Love the selection of Spencer Hawes, he has the ability to become of the premier offensive post players in the league. Losing Sam Dalembert was not a huge blow to the team since they were able to replace him with a player who I feel is alot like him in Sean Williams. The sixers got great value with their draft picks. The athleticism on this team is insane with Alando, Iggy, and Carney. The sixers are heading in the right direction.
Projected Record: 36-46
New York Knicks
(2006 record: 33-49)
Additions: Antawn Jamison, Etan thomas, Sam Cassel. Derek Anderson, Zabian Dowell, Jermareo Davidson
Losses: Channing Frye, Steve Francis, Channing Frye, Jared Jeffries, Mardy Collins, Kelvin Cato, Randolph Morris
Notes: The Knicks are going in the right direction. They are clearing cap space but still improving towards being a playoff caliber team. Moving Channing Frye will not hurt the Knicks, they are stock piled with young big men and between Curry, Frye and Lee it was smart to move one of them. Jamison will come in and help immediately, he will add veteran leadership and will be a good personality for the lockeroom. With the young big men getting another year of experience and the addition of Antawn Jamison I think the Knicks have became a playoff team.
Projected Record: 40-42
Southeast Division (by Ghetto)
Washington Wizards
(2006 Record:41-41)
Additions:Yi Jianlian, Channing Frye, Steve Francis, Ekene Ibekwe, Mustafa Shakur
Losses:Antwan Jamison, Etan Thomas, Deshawn Stevenson
Notes:Last year the Wizards were a couple injuries away from making real noise in the playoffs, they elect however to make huge changes in the offseason. Antwan Jamison was an integral part of the big 3 but they did come away with some terrific players and the future looks bright. First off any team with Gilbert Arenas and Caron Butler is likely to make the playoffs. The acquisitions of potential All stars Yi Jianlian and Channing Frye were incredible as both fit perfectly with the Wizards new fast paced style. Problem though is both are young and will go through growing pains, and neither are great strong defenders. Last years weak interior defense will remain that way, but the Wizards will rely on outscoring their opponents even more. Steve Francis and Gilbert Arenas will be interesting to see how the ball is shared but being back home and have his fans cheer him ever day will I think help Steve recapture some of the player that he used to be. This team you can argue is worse than last years squad, but in a weak division they find a way to sneak into the playoffs on the shoulders of their 2 allstars.
Projected Record: 43-39
Miami Heat
Additions:Ron Artest, Othella Harrington, Damon Stoudemire
Losses:Antoine Walker, Dorrell Wright, Michael Doleac, Eddie Jones
Notes:This is an aged Miami heat team that will struggle with consistency all season long. Ron Artest is a good acquistion depending on how he acts, but even then he has become a bit of an inconsistent player, especially on the offensive end. Shaq is old and rotting and don't expect much more than 13 ppg, 7 rpg. This team really is one of the oldest and least talented team in the league, but any team with Dwayne Wade, and Shaq on some nights as well as underrated players like Haslem and Poosey will keep you in every game. This however will not be a championship team, unless some of these oldies recapture their glory days, however props for dumping Toine for something.
Projected Record:41-41
Charlotte Bobcats
Additions:Chauncey Billups, Eddie Jones, Jeff Green, Marcus Camby, Jason Smith
Losses:Gerald Wallace, Primoz Brezec,Derek Anderson, Othella Harrington, Ryan Hollins
Notes:Well somehow the Bobcats were able to get Chauncey Billups to come to them. Have no idea why because they are not a championship contending team and he doesn't fit but MJ must have seduced him or something, but in actuality the team would have been better off giving the money to Gerald Wallace, and had this team had Gerald Wallace on the squad they would be a 6 or 7 seed in the east as is while they have youth, and veteran talent I find it too hard for them to make the playoffs but they should challenge. Billups at SG is an awful fit for them, if anything Felton would be a better SG but as is they have a small lineup and I can't see it working. Billups is not a wing and spot up shooter, he needs the ball in his hands to make shots and create plays, however with Felton he will be relied to catch and shoot something he is not great at, or if he does dominate the ball than Felton will be useless standing around, add to that the fact that on defense their backcourt is vastly undersized. Billups will find himself guarding guys like Tracy Mcgrady, Vince Carter, Kobe Bryant, LeBron James, etc.. on a frequent basis. I do love the acquistions of Jeff Green and Marcus Camby if he can stay healthy. In the end this is not a playoff team and they will really suffer and regret the Chauncey Billups signing when the Felton, Billups experiment fails.
Projected Record: 37-45
Atlanta Hawks
Additions:Greg Oden, Acie Law, Demetris Nichols, Raef Lafrentz
Losses:Josh Smith,Speedy Claxton, Royal Ivey, Stanislav Medvedenko,Esteban Batista
Notes: Moving a potential superstar like Josh Smith will always be questioned but getting a guy like Greg Oden will quite all of the doubters. This is a very young team, but they have improved. Their biggest problem is the frontcourt where Marvin Williams is not a great fit at the 4, where the Hawks have previously tried him, but saw that he can't rebound will and his offensive game is best when it is perimeter oriented and slashing from the wing. He will have trouble hanging in there, so don't be surprised if he gets benched sometime during the season for Zaza or Shelden Williams. Acie Law is an upgrade at PG and Joe Johnson is an Allstar. A lot will be dependent on Greg Oden, and while this team won't make the playoffs don't be surprised to see them fighting to not be last place in the division. The future is bright.
Projected Record: 29-53
Orlando Magic
(2006 Record:40-42)
Additionsaequan Cook, Willie Green, Aaron Brooks, Vladamir Radmonovich, Travis Outlaw
Losses:Grant Hill, Jameer Nelson, Travis Diener, Pat Garity, Hedo Turkoglu
Notes:This Orlando team IMO took a step backwards. Having rookies like the raw Daequan Cook and Aaron Brooks in the starting lineup is not impressive at all for a team hoping to make the playoffs, while most teams have improved the Magic have seem to take a step backwards. Their biggest need was a true PG instead they aquired a rookie PG who is very small, and doesn't have great PG skills. Probably overpaid for Darko but it was a must because of their pathetic front court, the fact that Travis outlaw a skinny SF is primary backup at PF shows how weak the frontline is. I feel sorry for Dwight Howard with the only big men backups being Tony Battie, Bo Outlaw, and James Augestine. Unless Darko can somehow average 25 and 12 this team is going no where. Their guard and SF positions are far too young to be starting in Daeqaun Cook, Aaron Brooks, and Trevor Ariza.
Projected Record: 25-57
Central Division (by WMD)
Cleveland Cavaliers
(2006 Record: 50-32)
Added: -
Lost: Dwayne Jones
Comments: Bringing back virtually the same team as last year, the team should get around the same results. LeBron led them to the NBA Finals which will help the team play with a ton of confidence next season. I would've liked to see them make a move for a big Point Guard, seeing as how they were abused by Tony Parker in the Finals, but oh well. They won 50 Games with this team last year, and I think LeBron will realize that he needs to take over basically every game for this team to be as good as they can be, considering his surrounding cast. I'd look for a more aggressive and dangerous LeBron, and a more confident Cavaliers team for this regular season..
Projected Record: 52-30
Chicago Bulls
(2006 Record: 49-33)
Added: Dahntay Jones, Joakim Noah, Carl Landry
Lost: Martynas Andriuskevicius, Andre Barrett, Malik Allen
Comments: They didn't address their Post Presence. Carl Landry could be good but I don't think he's going to be able to give them the immediate help they need to make it far into the Playoffs. This is a young team, that won 49 Games last year.. One more year of experience, bringing back the same team basically with the additions of Joakim Noah and Dahntay Jones, their bench should be one of the better ones in the NBA. They didn't lose anybody major, so I don't think they're worse off than last year. The addition of two solid bench role players has to be good for a couple games of improvement.
Projected Record: 51-31
Detroit Pistons
(2006 Record: 53-29)
Added: Mickael Pietrus, Javaris Crittenton, Marc Gasol, Ryvon Coville
Lost: Chauncey Billups, Nazr Mohammed, Dale Davis, Chris Webber
Comments: Major loss in Chauncey Billups.. I don't understand why they traded Nazr for Pietrus, the team now has one real center, being Marc Gasol. This veteran team is going to be forced to play two rookies heavy minutes this season. Might not hurt as bad in the Regular Season, but come Playoff time, they will likely make an early exit with this team. Just not enough size to do anything worthwhile. They definitely took a step or two back here.
Projected Record: 44-38
Milwaukee Bucks
(2006 Record: 28-54)
Added: Rodney Stuckey, Cuttino Mobley, Derrick Byars, Hakim Warrick, Patrick O'Bryant, Zeljko Rebraca
Lost: Charlie Bell, Charlie Villanueva, Dan Gadzuric, Bobby Simmons
Comments: I don't think they needed to move Charlie Villanueva at all. Even if they got a couple picks in return, they only got a Backup Center to play for them this season. Their inside game is going to hurt as a result.. They did add a couple young ballers through the draft in Stuckey and Byars, so that should help out. Also gained a solid veteran in Cuttino Mobley.. This small team is going to be forced to shoot, shoot, shoot, all day long.. That alone should win them a few more games than last season. They have improved from last year, but I think they would've been a lot better off keeping Villanueva.
Projected Record: 33-49
Indiana Pacers
(2006 Record: 35-47)
Added: -
Lost: Rawle Marshall, Keith McLeod
Comments: A severely disappointing 06/07 season in the Pacers organization and they didn't do anything to help themselves for the next year. Jermaine O'Neal is going to be unhappy which is going to lead to poor play. Danny Granger should develop some, but not into anything special this year.. at least, nothing that can bring this team up from the bottom of the Central Division. This team needed to have some moves made and nothing happened. Their record was 15-29 after they made the trade on January 17th, I don't see any reason for that trend to change.
Projected Record: 29-53
Round 1
Dallas Mavericks 65-17 vs. New Orleans/Oklahoma City Hornets 44-38
Dallas wins series 4-1
Los Angeles Lakers 64-18 vs. Utah Jazz 47-53
LA wins series 4-3
San Antonio Spurs 61-21 vs. Houston Rockets 48-34
Houston wins series 4-3
Phoenix Suns 52-30 vs. Golden State Warriors 49-33
Phoenix wins series 4-3
Round 2
Dallas Mavericks 65-17 vs. Phoenix Suns 52-30
Phoenix wins series 4-3
Los Angeles Lakers 64-18 vs. Houston Rockets 48-34
LA wins series 4-2
Conference Finals
Phoenix Suns 52-30 vs. Los Angeles Lakers 64-18
LA wins series 4-3
Round 1
Cleveland Cavaliers 52-30 vs. Charlotte Bobcats 37-45
Cleveland wins series 4-0
Chicago Bulls 51-31 vs. Toronto Raptors 38-44
Chicago wins series 4-1
Detroit Pistons 44-38 vs. New York Knicks 40-42
Detroit wins series 4-3
Washington Wizards 43-39 vs. Miami Heat 41-41
Miami wins series 4-3
Round 2
Cleveland Cavaliers 52-30 vs. Miami Heat 41-41
Cleveland wins series 4-2
Chicago Bulls 51-31 vs. Detroit Pistons 44-38
Chicago wins series 4-2
Conference Finals
Cleveland Cavaliers 52-30 vs. Chicago Bulls 51-31
Chicago wins series 4-3
Championship Series
Los Angeles Lakers 64-18 vs. Chicago Bulls 51-31
LOS ANGELES WINS THE CHAMPIONSHIP SERIES 4-1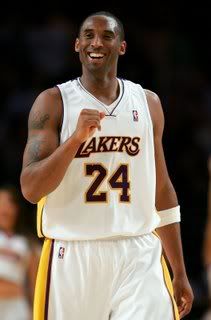 Lottery Teams
Orlando Magic 25-57
New Jersey Nets 26-56
Boston Celtics 28-54
Indiana Pacers 29-53
Atlanta Hawks 29-53
Sacramento Kings 31-50
Minnesota Timberwolves 33-49
Milwaukee Bucks 33-49
Seattle Supersonics 34-38
Memphis Grizzles 34-48
Los Angeles Clippers 35-47
Philadelphia 76ers 36-46
Denver Nuggets 39-43
Portland Trailblazers 39-43
Lottery Draft Order (Randomized using ESPN Draft Lottery Machine)
1. New Jersey Nets 26-56
2. Orlando Magic 25-57
3. Atlanta Hawks 29-53
4. Indiana Pacers 29-53
5. Boston Celtics 28-54
6. Sacramento Kings 31-50
7. Minnesota Timberwolves 33-49
8. Milwaukee Bucks 33-49
9. Seattle Supersonics 34-38
10. Memphis Grizzles 34-48
11. Los Angeles Clippers 35-47
12. Philadelphia 76ers 36-46
13. Denver Nuggets 39-43
14. Portland Trailblazers 39-43
* This does not reflect traded picks.