Players Signed
1. Jonathan Vilma, LB - Saints off-season prioarity.
2. Jake Grove, C - Will strengthen our offensive line
3. Tank Johnson, DT - Will start opposite Sed Ellis
4. Ken Lucas, CB - Will start as the nickel
5. LaMont Jordan, RB - Be a complimentary back to Pierre Thomas and Reggie Bush
6. Landon Johnson, LB - Battle for the WLB spot with Scott Shanle
7. Brian Iwuh, LB - Special Teams player and backup to Scott Fujita
8. Antwan Lake, DT - Rotational guy.
9. Fakhir Brown, CB - Depth/Camp body
10. Mike Furrey, WR - Will start either as the #2 or slot
11. Floyd Womack, OL - Provide depth on the offensive line.
12. Josh Bullocks, S - Provide depth
13. Jahri Evans, OG - RFA that was tendered
14. Lance Moore, WR - RFA that was tendered
15. Zach Strief, OT - RFA that was tendered
16. Courtney Roby, WR - RFA that was tendered
17. Leigh Torrence, CB - RFA that was tendered
Players Released/Lost To Free Agency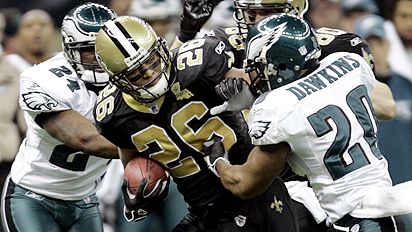 1. Deuce McAllister, RB (released)
2. Jason David, CB (released)
3. Mike McKenzie, CB (trade)
4. Devery Henderson, WR (free agency)
5. Jon Stinchcomb, OT (free agency)
6. Mark Campbell, TE (free agency)
7. Eric Johnson, TE (free agency)
8. Joey Harrington, QB (free agency)
9. David Patten, WR (released)
10. Kevin Kaesviharn, S (released)
12. Brian Young, DT (released)
13. Mark Simoneau, LB (released)
Off-Season Analysis
The Saints knew what they had to do going into free agency. There were several players that were earning more than their worth and needed to be cut. Deuce McAllister, David Patten, and Mike McKenzie were all big names while with the Saints and it was sad to see them go.
However, new blood was brought in and the offense added more depth while the defense saw an overhaul. On offense, Center Jake Grove was brought in from Oakland to improve the middle of the offense while OL Floyd Womack was brought in to provide depth. WR Mike Furrey will off-set the loss of deep-threat Devery Henderson. Finally, RB LaMont Jordan will be that bruising, short-yardage back the Saints have lacked the past two seasons.
On defense, new defensive coordinator needed to fit the personnel to his scheme and the Saints were aggressive in going after those players they feel would fit best. LB Jonathan Vilma was retained, which was key. DT Tank Johnson is the big body they need next to Sedrick Ellis and should help keep blockers away from Vilma. Savvy veteran CB Ken Lucas will compete for a starting spot opposite Tracy Porter and Leigh Bodden, who was acquired via trade. Linebackers Landon Johnson and Brian Iwuh will provide depth along with DT Antwan Lake.
Trades
1. New Orleans trades the #14 overall pick for the #20 overall pick and CB Leigh Bodden.
2. New Orleans trades CB Mike McKenzie to Oakland for S Michael Huff and Oakland's 7th Rd draft pick.
3. Traded #203 pick for LB Jon Alston
4. Traded #112 for #131 and #137
Draft
1.20 - Louis Delmas, S, Western Michigan
Delmas was the #1 Safety on the Saints draft board and felt that he was worth a slight reach at #20 despite their best efforts to trade down. He fits the exact mold the Saints want with their SS and will be a significant improvement over former SS Roman Harper.
5. 131 - Rashad Jennings, RB, Liberty
While the Saints have Bush, Thomas, and LaMont Jordan they felt that Rashad Jennings was the best player available. He will compete with Jordan for the #3 back and will see time as a FB, as well as time in the Saints goal line jumbo package.
5. 137 - Bradley Fletcher, CB, Iowa
Fletcher has been a fast riser and raised a lot of eyebrows in the Shrine Game. He will have time to develop and learn behind Randall *** and Ken Lucas and if things go according to plan, he will earn the nickel spot next year.
7. 199 - Jason Boltus, QB, Hartwick
Boltus is a very intriguing prospect and one that Sean Payton would love to work with. Boltus will have time to learn, develop, and grow under Drew Brees and will be groomed to be his eventual replacement years down the road.
UDFA
Dominique Edison, WR, Stephen F. Austin
Cameron Morrah, TE, California
Ryan Purvis, TE, Boston College
Lendy Holmes, S, Oklahoma
Anthony Heygood, LB, Purdue
Tom Brandstater, QB, Fresno State
Rylan Reed, OT, Texas Tech
C.J. Spillman, S, Marshall