Ok it's coming up on us somewhat surprising how fast for me, so discuss everything thanksgiving here. From the food, stories, tell what you are thankful for, what you will be doing, the sports, everything. For our Canadian and British Friends, feel free to join in, we love all. Greatest day of the year, Family, food, football, and for me atleast seasonal action. I'll start off by giving you my thanksgiving meal every year, best meal of the year you can't beat it. I usually lose the feeling in my fingers for a couple hours, so here it is, feel free to take ideas:
Your standard deep fried Turkey. The quintessential for any thanksgiving meal, my grandma used to make it I do know, although I will admit I am a pssy and I am always afraid of getting burnt with hot oil so I wear long sleeves whenever I deep fry anything. This is my one job for thanksgiving make the Turkey, which is actually the most important part, you screw up the Turkey, you screw up thanksgiving. If anyone wants tips just give me a holler. Personally I use peanut oil, it's the best. The dry rub you use is up to you, for my seasoning I use a lot of garlic to go with the basic, pepper, salt, etc. Of course with Dressing inside. The dressing inside the Turkey is the greatest, we always have to have extra stuffing of course. Not sure what my auntie puts in her stuffing but it's got all kinds of nuts, and what not, but a personal no no for me is raisins or cranberries in my stuffing. It really does just ruin the taste of it so I always insist against it.
Giblet Gravy. Giblet gravy is the ish, Turkey just wouldn't taste the same without this gravy. You need to buy the turkey Giblets, it's like the heart, neck and some other stuff of the turkey. Just put some Chicken stock, some pepper, a couple eggs, and some uncooked stuffing for consistency and it's a money recipe. You really can't beat it. Also for simplicity just take the excess Turkey juices put it in a pan and add your favorite stock.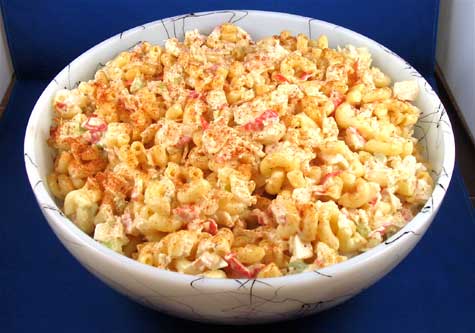 Macaroni is huge in my household, growing up and still to this day. Thatís why we make both a Macaroni Casserole as well as just simple plain old fashioned Mac N cheese. The casserole is heavenly, using stuffing as both crust on the bottom and sides, it is also used on top. It is a crunchy stuffing topping followed by a warm and smooth mac n cheese inside, with the bottom a crunchy crust. There is honestly no better side in the world. The plain old simple Mac N cheese is another side dish perfect to go with your food. Test with different cheese's chedder, Asiago, whatever you like best.
Skillet Cornbread+Stuffed Cornbread. We eat two types of cornbread, the standard skilet cornbread and our stuffed cornbread. It is stuffed with Sour Cream, cheese, onions, and a little Garlic, it's pretty amazing I must say.
Spinach Mashed Potatoes. There is really only two rules in making Mashed potatoes, actually mash potatoes as the powder stuff is nasty, also use as much butter as you can. Personally we put in cream of spinach as scallions, but it is pretty simple.
Sliced Canned Cranberries. It's simple buy a can, slice it up, put it on the table. No one in my family really likes it but it's just there, I'll get a little on the side but no big deal if I don't get any. I actually liked these sliced canned one's than a fresh cranberry sauce. To some cranberry sauce is important but for me I could care less.
Honey glazed ham. My grandma always brings it now, but bleh don't really like Ham.
Collard Greens. It's really the only vegetables I eat on thanksgiving, they complement the entire meal very nicely.
Catfish Gumbo. My sister makes it but I helped her last year but I have a general idea of what she puts in there. Basically the rule is put as much as you can in it. Shrimps, Crabs, Catfish, bacon,muscles basically everything you can find. Make sure you put garlic powder and tabasco.
Paella with Chicken, Sausages, and Shrimp. Usually it's either gumbo or Paella. On a special year it's both. Usually if it's cold it's gumbo, if it's warmer it's Paella, both are money so I could care less.
Salmon Puff Pastry. Simple to make, buy some puff pastry I get mine from the Pepperage farm store. Just fill the pastry with Cream of Spinach and Salmon and bake. I actually prefer pre cooking the salmon a little to avoid a risen dough but raw salmon inside.
Like there is room for dessert but sweet potato Pie and sometimes apple crumb pie, or pumpking cream cheese pie.