Part III
Mike Tirico:
Well, we've gotten through 5 picks so far and the Minnesota Timberwolves are on the clock. They have 3 picks in the first round this year. Chad, any idea what they might do with this first pick?
Chad Ford:
Well, when you have 3 picks in the draft, you have several luxuries. You can use them as assets and try to move around in the draft or ship them off for a future 1st. I thought they might've offered a deal to the Wizards to get Blake Griffin, but it seems they were content staying at #6 and keeping their other two picks. Either that or the Wiz weren't budging at all. Another luxury you have is that you can either go with the best player available regardless of need. Or you can take a gamble here and take a player who might not normally go this high, but you like him so much that you can avoid your other needs because you can address them later. Minnesota's next pick isn't until 18, so you might see them gamble on upside seeing as there is no real clear cut BPA. In my mock, I have them going with Demar DeRozan. They drafted a Trojan last year in OJ Mayo, only to trade him a few minutes later, but I think they might go that route again.
Mike Tirico:
That makes sense Chris. Looks like the Commissioner is ready to make the pick. Let's see if you're right on the DeRozan selection.
With the 6th pick of the 2009 NBA Draft, the Minnesota Timberwolves select
Guard, Tyreke Evans from Memphis University.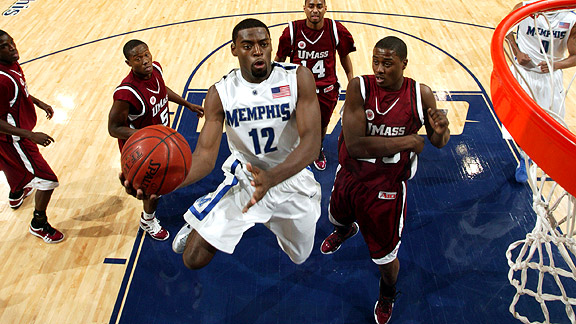 Jalen Rose:
Oooooooooooh, Sweet Baby Jesus! :) I'ma big Tyreke fan. I don't say this often, but I do see a lot of myself in Tyreke and the way we both play the game. In today's terms, a lot of people use the word Combo Guard, but there are different types of Combo Guards in my opinion. Both Tyreke and I would be in a mold completely different from say a Combo Guard like Dwyane Wade or Ben Gordon. We're more like "Smooth Guards". hahahaha.
I know people have questioned his shot selection and FG%, but he's still just a kid. That will come with hard work, dedication and a strong support system. Tyreke has all of that and the talent to make it all come together. Good pick by the T-Wolves. No Great pick.
Bill Walton:
Tyreke has a nice flare to his game and I can see the comparison between he and yourself, Jalen. That's a nice compliment from you. But Tyreke HAS TO learn how to cut down on those turnovers. That'll kill his team. Gutsy move by McHale right there as Tyreke's stock has been all over the place, but no where higher than 7.
D-Unit's Analysis:
The Timberwolves are gunnin' for that 2010 FA class with the best of them. After the '09/'10 season they will go from a $50M+ salary payroll all the way down to a miniscule $15M. Fortunately for them, they are armored with 3 first round picks in '09 to make the team an attractive place for an elite veteran player or two to want to be apart of. If the rebuilding effort shows signs of quickly turning around, their plan could really hit the jackpot. With this pick, I can forsee the Wolves selecting Tyreke Evans. They drafted another player in the same mold in OJ Mayo last year, only to trade him hours later. Watching Mayo excel from afar probably has them second guessing themselves at times, but Tyreke will help erase those thoughts. He came into the college scene with a lot of fan fare, and started off slow. But really came on strong especially in the tournament. Memphis didn't reach as far as many thought, but they were riding the hype of last year and they weren't as talented as that team who lost 3 first rounders. Tyreke matured his game as his college season progressed, but really, the NBA is where his game will really take off. Just like Mayo. Expect him to have a similar impact in the league in his first year. If you think this is too high for Evans, you may want to reconsider your stance as scouts are sure to give him high grades during the draft process.
Kid went toe to toe against Derrick Rose and we all know how good Rose has been. Remember Rose was a Senior and Evans was just a Junior at the time.
Check it out here.
Mike Tirico:
Next up are the Golden State Warriors. Just a couple years away from that great playoff win over the then #1 seeded Dallas Mavericks, when they beat them as a #8 seed. Boy, have they fallen in a short amount of time. It's almost as if....
Looks like we'll have to continue that discussion later. Rick Bucher is reporting that we might have another trade about to go down.
Rick Bucher:
Yes Mike. It is true. It appears as though the Warriors who are on the clock now with the 8th overall pick are poised to pull off a trade with the Milwaukee Bucks who are interested in taking Jordan Hill, the Forward from Arizona. Hill was considered by most to be the #1 ranked PF in this draft class and potentially a Top 3 pick at one time. The terms of the deal are not completely known at this point, but players are also involved in the deal. We're not certain on the names, but will try to get it to you as soon as we can.
Mike Tirico:
That's great scoop Rick! Looks like Commissioner Stern has something to say...
We have a trade to announce.

The Golden State Warriors have agreed to send the 7th overall pick to the Milwaukee Bucks. The Bucks are now on the clock and have 4 minutes left to make their selection.
Stephen A. Smith:
Did my ears just fool me or did I hear that correctly? The Commish announced the trade, but didn't dish out the details. What in tarnations is going on??? Did they just give away the pick? hahaha.
Bill Walton:
Yeah, that was really weird.
Rick Bucher:
We've been able to confirm with our sources that the players involved in this trade are Golden State's Jamal Crawford and Milwaukee's Charlie Villanueva. The reason why I don't think the Commissioner announced the details of the trade just now are because the terms are not yet official in writing. Villanueava is a Free Agent. Therefore, unless he's in some sort of Sign and Trade deal, the Bucks are not permitted to use him as a trade chip. Our sources say that Villanueva has verbally agreed to the trade, but he hasn't signed and faxed in the deal.
Mike Tirico:
If Villanueva has agreed to the deal, then he must be happy with the money involved to ignore having the market set his rate in Free Agency.
Rick Bucher:
That is exactly what he and his agent are thinking, Mike. They were prepared to enter Free Agency hoping to land some team's Mid-Level Exception. This year it's rumored to be slightly under $6M per season. With this deal, Charlie will be making more than that. Something in the ballpark between $7M and $8M per season. The trade between Golden State and Milwaukee has to be a near match in salary. Jamal Crawford's salary hovers above $8M annually. So by agreeing in principle to this Sign and Trade deal, Charlie will make more than the MLE. That's why he has agreed to this trade and that's why the Commissioner could not announce the full terms of the trade. Once the faxed contract reaches the right hands, I'm sure the Commissioner will announce the final terms.
Mike Tirico:
I'm sure the #12 pick owned by the Bucks will also be sent over.
Bill Walton:
This is a great deal for both teams. It also seems to be a great deal for Charlie Villanueva. But you have to be wondering what Jamal Crawford has to be thinking at this point. He just got traded to Golden State last November and after this trade he will have been the property of 5 different teams in his young career. Remember, he was drated by the Cleveland Cavaliers and his rights were traded to Chicago on draft day. This is the second draft day trade for him. How unique is that?
D-Unit Analysis:
Oh what a mess! This gets downright dirty. Golden State's downfall has come from the very top and has matriculated all the way down. Here's a really good read if you're interested, explaining some internal problems plaguing the Warriors.
http://www.mercurynews.com/sports/ci_11929555
Coach Don Nelson signed a 2 year contract extension last year, so he's looking at this draft heading into his final year. That presents a delimma on the vision for the future because "Nellie Ball" requires a specific type of line up. So do they focus on finding a player that fits that system? Or a generic type player? Who's calling the shots? We know Chris Mullins is just a face to the GM title and he has little say. Is it Nellie? Doubt it, he's gone after the year and the rookie won't have an immediate impact while he's still coaching. The man beind the scenes is Golden State President Robert Rowell... a businessman calling the shots for a basketball team. That makes their draft a huge wild card, but let's follow the clues. I know they are high on Marco Belinelli and Monta Ellis, so they won't be taking a 2 guard. They wastefully blasted their money on 2 guys who play the same position when they signed the oft injured Corey Maggette and oft suspended Stephen Jackson (haha, had to take a jab). So they've got to roll the dice and can't afford anymore resources at the 3 spot. They've got young projects at PF with Brandan Wright, Anthony Randolph (a tweener) and Turiaf is serviceable. They are lucky to have hit on Biedrins, but could use more depth. Now think, do you really want to address depth picking this high? No. In recent news (real life) Nellie approached Jamal Crawford and asked him to opt out of his final year of his contract. Needless to say, he and his agent were fumed at the request. That fact, teamed with the fact that the team took an absolute nose dive without Baron Davis... I'll suspect the pick will be a PG. Well, there isn't one worth taking at #7 that you can't find at #12. Add in the fact that you rid yourself of Crawford who you've asked to opt out and add a player who can have an immediate impact in Nellie's final year who also happens to be a perfect fit for his system and there you have it. Works perfectly for Golden State.
For the Bucks, this is also a win win situation because Villanueva has been on the block off and on for a long time now. He was set to leave as a FA anyways, but now you get to use him as leverage to move up in the draft AND acquire a versatile PG like Crawford who is a tremendous compliment to Ramon Sessions. Sessions is a small guard with real PG skills, but lacks range on his shot. Crawford loves to light it up from beyond the 3pt arch and his length allows the Bucks to put a big line up on the floor to match up with other big line ups that they'll face in the NBA. Crawford will also be happy because he won't be forced to opt out of his big contract and can cash it in all the way to the end.
Mike Tirico:
Here comes the Commissioner with the Buck's pick. Bucher is reporting that player is supposed to be Jordan Hill.
With the 7th pick of the 2009 NBA Draft, the Milwaukee Bucks select
Power Forward , Ed Davis from the University of North Carolina.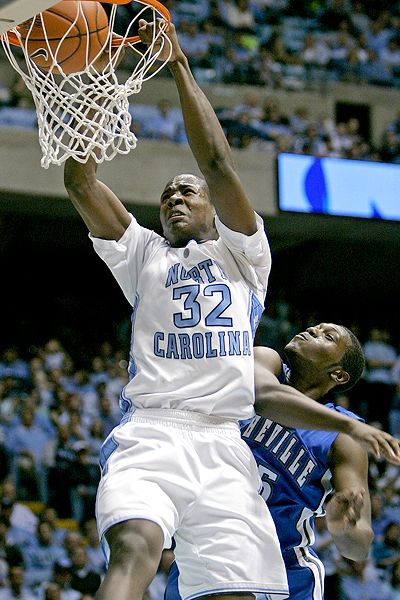 Mike Tirico:
Whoa! A bit of a surprise there! Ed Davis is selected as the first Power Foward to come off the board.
Chad Ford:
I can't really say that I'm surprised by this pick at all. Davis has been climbing the draft boards ever since Carolina's tournament run began. I remember speaking to several GMs during the tournament who spoke very highly of Davis and considered him a Top 5 player. I know Roy Williams was trying to hide him from scouts, but couldn't resist playing him over Junior Forward, Deon Thompson in the tournament. Roy is a smart man and knows winning is the ultimate goal. Besides, Roy can afford to lose him. Thompson will return as well as Tyler Zeller. He also secured the recruitment of top prospect, John Henson as well as the Wear twins. Roy learned fast after losing Marvin Williams and Brandan Wright after their freshmen years, that over recruiting big men is impossible to do for a school like UNC.
For me, it was a bigger surprise to see him keep his name in the draft. It's very common for kids to put their names into the draft and then pull out as they just want to test their draft stock. Because Davis had said during the tournament that he wanted to keep playing at UNC, I thought he was a strong candidate to go back. However, the draft process can be cunniving and tempting proposition for a top player. They will hear sweet nothings whispered in their ears to prevent them from going back to college. I think the nice things he kept hearing were too much to pass up on. It's a good thing it worked out for him. Last year, Donte Greene was a lock for the Top 10 until he got selected #28 overall.
Ed Davis High School Mix
D-Unit's Analysis: I can see the doubters already. It's ok. I'm just going by what I feel, while trying to go on the unpredictable side as well. Fact of the matter is that big board rankings today will be completely different on draft day. If Jordan Hill is a top 3 pick, then slap me silly. But I personally don't think he's going to be any better than a Ronny Turiaf. Meanwhile, I'm a huge fan of Ed Davis and think his upside is unreal.

As for the Bucks... The Bucks are one of those teams that think they have a million good ideas on how to get better and each idea pulls them in a different direction. One minute they're stoked to sign Redd to a new deal, the next, he's on the block. No, nevermind... Richard Jefferson is on the block! While we're at it CV is on the block too... Wait, no he ain't. Uhh... yeah he is... wa what??? Eh... I know, let's give this Luke Ridnour feller $13M and see if we can make him our starting PG... We'll give him 2 years to prove it. If it works we're a genius (because a starting PG being paid $6.5M is a damn deal), if it doesn't we're a genius (because we only committed 2 years)... hmm this Sessions guy is pretty good... Forget it, let's see if we can clear salary and start over... With our lottery pick we have to take Joe Alexander, because he's tearing up the workouts and a lot of people are talking about how good he can dunk... Darn... he's the white version of Desmond Mason... been there, done that... But this Mbah a Moute guy is not half bad... He needs more playing time! Give him more PT! Blah, blah, blah... it's a never ending story with the Bucks. I really wouldn't be surprised to see them move up the draft to take Jordan Hill because they see him sliding. They don't realize he's sliding for a good reason. But who cares, right? All they know is that they need someone to play PF and he is listed at 6'10, 235 on the team website. LOL! Kidding aside, the Bucks do need help at the PF spot and I'm going to give them the benefit of the doubt and give them the better player in my eyes, Ed Davis. Don't be surprised if Davis is long gone by pick 7 on draft day. I'm dead serious.
*Commercial Break*