The following is a waste of my time, but once I started, my imagination got on a roll and then I couldn't turn back. Had fun doing it, but there is a 7 part series to this where I will mock out the NBA Draft Lottery. Complete with trades, drafting, ESPN commentary, guest appearances, commercial breaks, pictures, video, and some personal analysis of each pick and why I made it. Hopefully you can have a laugh out of it all. :)
Welcome all to the the
2009 NBA Draft here in Madison Square Garden!
Mike Tirico:
Thank you all for joining us and tuning in today. We've got a packed house and great crowd today! You can see them all buzzing with excitement for what is about to take place over the next few hours when their favorite teams make decisions that could propel them in the standings and pile up numbers in the win column.
Rich Bucher:
You can tell they are all getting antsy waiting for the draft to begin. As they should be. My sources are telling me that we're in for a lot of wheelin' and dealin'. You never know how things will unfold, so hold onto your seats folks.
Tirico:
Well it looks like the time has arrived, the stage has been cleared and we should be hearing from Commissioner David Stern any moment now.
David Stern:
We welcome all basketball fans from around the world on this fabulous day and thank you for joining us as we kick off the 2009 NBA Draft. There is sure to be excitement to follow and we hope you enjoy your teams' draft pick selections. With no further adieu, the clock is now officially started and the Washington Wizards are up for the #1 overall pick.
Tirico:
Joining us here in studio is ESPN's NBA draft analyst, Chris Ford. Chris, were you surprised with Washington landing the first overall pick in April's lottery? Where do you think they'll go with the pick and why?
Chad Ford:
The Wizards were definitely very fortunate to have landed the #1 overall pick in the draft. Was it a surprise? Not really. When you finish with the 2nd worst record in the league, you earn it. Washington started giving away meaningless games as the season ended once title contention became out of sight. But they won't tell you that of course.
However, I think the NBA has done a great thing to try to avoid teams throwing away games, when they came up with this lottery system. With the lottery, the worst team is no longer automatically given the #1 pick, so teams won't necessarily be rewarded by purposely ruining the integrity of the game. Plus, I think it's another exciting event to have the lottery set up the way it is.
Teams will think of anything to bring as much luck to them as possible and it's really no joke. I know one GM and won't mention any names, that actually wear's his wife's favorite lucky thong underneath his trousers. It's true!!!
When the representative from Ernst and Young, one of the nations best auditing firms, opened up the envelop which revealed the Sacramento Kings, (the team with the best chance of winning) would be picking second in the draft, the Washington Wizards representative, newly annointed Redskins starting QB, Colt Brennan, was so happy it brought him to tears! It must have been his lucky Hawaiian lei!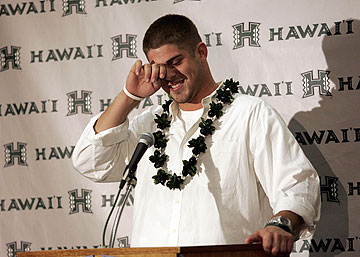 Stephen A. Smith:
Yeah, it must have been the lei. I know for sure it wasn't a lucky thong! I KNOW who was wearing that... *mumbles Larry Bird cough cough*...
Thank the Lord, it looks like Washington is ready to announce their pick!
With the 1st pick of the 2009 NBA Draft, the Washington Wizards select
Forward, Blake Griffin from the University of Oklahoma.
D-Unit's Analysis:
The Wizards have fallen on hard times recently and have seen every team in their division surpass them. But now they're about to get a kick start back into gear. Landing Griffin is a tremendous coup for any team and the Wizards are thanking their lucky stars. There's no doubt that Griffin is getting picked by which ever team gets the #1 pick. My fun guess is that the Wiz hit the lotto.
Stephen A. Smith:
I bet nobody saw that one coming! HA! :D Blake is gonna tear up the league from Day 1! And that's a cold hard fact. He instantly puts the Wizards back on the map. I'm excited to see the brotha in the league. Hmm.. no wait. Is he a brotha? Or brother?
Jalen Rose:
Oh damn slick! I can't believe you went there! Griffin is a baller fo' sho. But I'm not sure he would've went #1 in a lot of other drafts. He doesn't go #1 overall over my boy C-Webb.
Tirico:
Well, speaking of C-Webb, next up are the Sacramento Kings, a team C-Webb had some golden years playing for. I bet there were at least some in the draft room hoping that Griffn would fall one spot. Let's see what they do here.
With the 2nd pick of the 2009 NBA Draft, the Sacramento Kings select
Point Guard, Brandon Jennings, Euroleague
Jalen Rose:
OH SH********! Young Money! Did that just happen???
Bill Walton:
I don't agree with this pick at all. This is an absolute mind boggler. I get that the Maloof's understand all about gambling, but this is HUGE! They are about to commit millions to this kid who comes with so many question marks.
Magic Johnson:
Bill, I know where you're coming from, but I absolutely LOVE this pick! This is all about flash and I know flash. The city of Sacramento needs a jump start and the last time they got a jump start they had a kid nicknamed "White Chocolate" who put fans in the seats. I'm sure the Maloofs are banking on that happening again with this kid.
Tirico:
Brandon Jennings is coming to the NBA after spending 1 year in Rome, Italy playing in the Euro League. ESPN the Mag followed him for a day and it's available here:
http://espn.go.com/video/clip?catego...809&id=3695454
D-Unit's Analysis: The Kings are a struggling franchise on and off the court. Attendance has been at an all time low and there are talks of moving the team to another city. Arco Arena used to be packed with rabid fans, but that was a time when there was an exciting team on the floor with White Chocolate and C-Webb. The flash is back with Brandon Jennings. Right now people are throwing all kinds of negatives towards his way because of his detour in Europe. Fact of the matter is that he was never gonna succeed there. His flamboyant style and American prima donna attitude would never break the barriers that are established there. Once teams get to see him in workouts and evaluate him at camps, he will see his stock soar. His talent is undeniable and upside is unparallel. The Maloofs know how to make a gamble pay off big and Showtime is their business.
Check it out.
Bill Walton:
I still think this is too much of a risk... but next up are the Clippers... Is it possible that they can ever emerge from the abyss they are in?
Stephen A. Smith:
Possible? Yeah, it's poooosible. But
Quite Frankly
, it sure as hell ain't probable!
Jalen Rose:
*Reaches under the counter* Hey guys, I recently broke into Coach Dunleavy's office and found this book!
*Laughs all along the panel*
Michael Wilbon:
Hahahaha! Now THAT is Funny!!!
Jalen Rose:
Yeah, but not as funny as Tim Duncan's "Nip Slip" caught on camera and shown on TMZ last night!
John Saunders:
You are killin' me Jalen. :p But you're also killin' the show. Let's settle down guys.
Jeff Van Gundy:
But... but... I like that book. I bought it because Cindy Crawford was on the cover.
*Silent blank looks*
Looks like Commissioner Stern is ready to announce the next pick. Let's listen in.
With the 3rd pick of the 2009 NBA Draft, the Los Angeles Clippers select
Center Hasheem Thabeet, University of Connecticut.
D-Unit's Analysis: Why can't the Clippers win? Baron Davis, Eric Gordon, Al Thornton, Zach Randolph, Marcus Camby and they can't win 20 games? They are just the ugly duckling of sports franchises. It's like no matter what they do, they can't win. Hah. I guess if you look at the glass half full, Eric Gordon and Al Thornton are decent pieces to build off of. ...and believe it or not DeAndre Jordan showed great flashes of potential. He impressed me with his defense and rebounding for sure. I'm choosing Hasheem Thabeet for them here. Some might project Jordan Hill instead, but I think by the time draft day arrives, Hill (a brick layer with poor fundamentals) will be exposed. The Clips can't afford that, but they can afford to play DeAndre Jordan at the 4 and Thabeet at the 5 when Kaman is injured again...lol. With Camby already talking about places he's like to play next season like NY, this pick makes enough sense.
* Commercial Break*