If this has been posted before, then I'm sorry that my search function abilities has failed.
This guy responds to people's online ads, and just ***** with them hilariously. Here are a couple of posts from his website.
http://www.dontevenreply.com/index.php
Camry Killer
Original ad:
selling 1997 toyota camry. 146k miles. engine and transmission in good shape. was in minor fender bender, damage shown in pictures
From Mike Anderson to ***********@***********.org

Hello,

Let me just introduce myself. My name is Mike, and two weeks ago my dog was hit and killed by a car in Manayunk. The driver did not stop. He was hit by a white '97 Toyota Camry. With the side of the bumper bashed in like in your pictures. I thought I would never find the killer, but then I saw the murderers car for sale in Manayunk on **********! YOURS. What, are you trying to get rid of the evidence? You killed my dog of 8 years, and didn't even stop. I had to tell my kids that they would never see him again. Now they just look dead inside, like their soul was taken from them. I can't blame them.

We can't bring Skip back to life, but I want you to come here and apologize to my kids. And buy them a new dog. It is the least you could do.

E-mail me back and we'll set up a time.

- Mike

From derek ******* to Me

what? i didnt hit your ******* dog. no way im buying you a new dog

From Mike Anderson to derek *******

There's no denying it. I've got you dead to rights. The car that hit my dog is unmistakably yours. I even remember seeing your Outer Banks bumper sticker as I watched the car drive away, leaving Skip in a mangled mess in the middle of the street.

Maybe you were drunk and didn't remember? That doesn't make you any less guilty.

From derek ******* to Me

are you ******* serious i didnt hit your dog!!! i even called my girlfriend and she had no idea what i was talking about. you are mistaken

From Mike Anderson to derek *******

No I am not. Does your girlfriend have long hair? I didn't get a good look at the killer's face, but I saw long hair from behind as they sped away. I just assumed it was a man because of their huge shoulders.

From derek ******* to Me

yes she has long hair but she didnt hit your dog. where did this happen?

From Mike Anderson to derek *******

You know where it happened. Right here in Manayunk. I think your girlfriend is lying to you. I would like to meet both of you and have a good chat with you two so I can figure out which one of you is lying.

From derek ******* to Me

no this is ridiculous neither of us hit your dog. im sorry it happened but this is not my fault

From Mike Anderson to derek *******

Why would you be sorry if you didn't do it? Seems like you feel guilty about murdering my dog. Just own up to it. Do the right thing. For my kids.
Helpful Mechanic
Original ad:
I have a 1998 nissan that rear ended someone last week. There is some minor damage that need fixed...but I cant afford to go to a body shop..anyone who is willing to help for less would be doing me a HUGE favor. thanks!
From Me to ***********@**********.org
Hey, how's it going.
I'm a mechanic looking to do some work on the side, and I can probably help you out with your car. How bad is the damage to the car?
Mike
From Kristen ****** to Me:
Hi Mike. The damage isnt bad...my hood is bent and i think the headlight cracked...but I took it for an estimate and they told me i was looking at at least a couple thousand for repairs. im not sure if they are trying to rip me off so take a look if you want. sorry...this is the best picture i could get with my phone
thanks!
Attachment: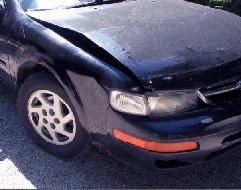 From Me to Kristen ******:
Ouch...that doesn't look good, Kristen. From glancing at the picture, it is obvious you are going to need a new hood, fender, and headlight. It looks like your headlight is indeed cracked, and it looks like you probably severed the headlight fluid line as well. From the way the hood is bent, it looks like your transmission has been dislodged and will probably have to be replaced. Judging by the headlight damage, I may have to replace your headlight fluid pump as well, and I need to take out the motor to get to that. It is going to be a lot of work.
How much were you looking to spend to get this fixed?
From Kristen ****** to Me:
wow i didnt think it was that bad...do you think you can fix it? i cant afford to spend alot of money on this.
From Me to Kristen ******:
I can absolutely fix it. I can probably steal the parts you'll need from a junkyard, but you will have to post my bail if I get caught again. Last time, bail was about $400 and I had to pay another $500 fine after court. As for the labor, it is going to cost you about $1500. Replacing the headlight fluid pump is very difficult, and will probably take a lot of time to do. So you are looking at anywhere from $1500 to $2400.
From Kristen ****** to Me:
ok thanks anyway. that is too much for me...ill just deal with it for now i guess
From Me to Kristen ******:
Kristen, I strongly advise you to get this fixed immediately. You will not pass inspection without a headlight fluid pump, and it is very dangerous to be driving without one. It is very likely that your car could catch fire and explode while you are driving.
Look, I understand you are on a budget and I'd be willing to knock a couple hundred bucks off of the cost of labor if I can have your car's CD player. You won't get a better deal anywhere else.
From Kristen ****** to Me:
what?! the other guy didnt say anything like that. im going to get a few more opinions first, ill let you know. thanks
From Me to Kristen ******:
Don't take too long - your car is in immediate danger.
From Kristen ****** to Me:
I just called the auto center and they said there is no such thing as a headlight fluid pump...or headlight fluid...they were laughing...what is your problem douche bag?
From Me to Kristen ******:
Whoever you talked to there obviously has no idea what they are talking about. Look, you can see it in the picture, you are clearly leaking headlight fluid. I pointed it out in the attachment, it is what the red arrow is pointing to. You can see it leaking from the headlight.
Attachment: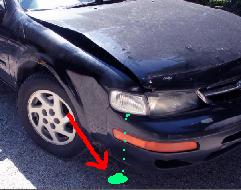 From Kristen ****** to Me:
Ok ass hole...thanks for wasting my time
From Me to Kristen ******:
Sorry for trying to save your life. You'll be sorry when that fluid ignites and makes your transmission explode while you are driving.
Caught Cheating
Original ad:
No strings attached - dinner wine whatever?
I am a nice woman just looking for a good time. Come over and drink and we can watch a movie and see where it goes from there ;)
From Me to **********@********.org:

Hey!

I live in the area and am also looking for a good time with no strings attached. I am a 37 year old man who just likes having some fun. How about you come over and we watch a movie and have some wine? You down?

Mike

From Karen ******** to Me:

Hi mike! Of course I am down for some fun ;) Do you have any pics of yourself?

From Karen ******** to Me:

Mike are you still there? I havent heard from you!

From Me to Karen ********:

STAY THE **** AWAY FROM MY HUSBAND.

From Karen ******** to Me:

umm...what?

From Me to Karen ********:

YOU HEARD ME, YOU *****. THIS IS MIKE'S WIFE. HE DIDN'T TELL YOU HE WAS MARRIED, DID HE, YOU ******* ****!

From Karen ******** to Me:

huh I swear he didn't say anything about that! I'm sorry! I won't write again!

From Me to Karen ********:

Karen,

It is Mike. What the hell did you say to my wife? She found out about us! She is packing her stuff and talking about a divorce. What did you do?!

Mike

From Karen ******** to Me:

I responded to YOUR email that's it! Maybe you shouldn't let your wife check your email! Lastly there is no "us"! I wouldn't screw around with a married man! Shame on you for cheating on your wife!

From Me to Karen ********:

Karen,

Look, I'm sorry, I should have told you about my wife. I just didn't think it was worth mentioning.

Now I managed to calm my wife down. She was willing to hear my side of the story. I told her you were an old girlfriend from high school that was still obsessed with me, and I was trying to get rid of you. She believes me, but she wants to kick your ass. Would you be able to come over here and let my wife kick your ass? Don't worry, she doesn't hit that hard. Just pretend it hurts. I'll give you $20 if you can do this for me.

Please help me out here!

Mike

From Karen ******** to Me:

why would you tell her that!!!!! just be honest and accept what you did!! no I wont go over there to get beat up are you out of your mind????

From Me to Karen ********:

Please Karen! If she divorces me, I am screwed. I made the mistake of not signing a prenuptial agreement when we got married, and now she is talking about taking everything! She even wants to take my Plasma TV! That TV is my world. It is like a son to me. Please don't let her do this. Just come over and let her kick your ass. Do it for me, Karen.

Mike

From Karen ******** to Me:

I'm sorry but this is not my fault at all. I can't help you.

From Me to Karen ********:

****. Well are you still down for a good time with dinner and a movie?

From Karen ******** to Me:

absolutely not.

From Me to Karen ********:

So you ruin my life, and now you won't even go out on a date with me? Thanks a lot, Karen. Next time why don't you add "WILL RUIN YOUR LIFE" next to your personal ad?
****** Roommate
Original ad:
Hey there! My roommate and I are looking for another housemate. We live in a large apartment in Upper Darby. There are two bedrooms and a spacious living area. The rent is $250 a month, which includes cable, internet, electric, and water.

My roommate and I are both vegans and will only live with another vegan. IF YOU AREN'T A VEGAN, YOU NEED NOT APPLY. We are looking for someone who will help with the cooking, in addition to the rent.

If you are a vegan and want to live with two vegans who respect your personal space, please e-mail us. Include some information about yourself, including your source of income.

From Me to ***********@***********.org:

Hey,

I saw your ad, and I can't tell you how happy I was to see that there are fellow vegans looking for a roommate. It is so hard to find someone to live with who respects my way of life. Are you guys still looking for someone to live with?

Mike

From Joanna ******** to Me:

Yes, we still are seeking a third housemate. Can you tell us about yourself?

From Me to Joanna ********:

Well, I am a 24 year old male, and I am currently make a living by being employed. It pays well. Now, as I said earlier, I am a hardcore vegan. I totally respect your lifestyle, but I will occasionally eat a veal burger, maybe two or three times a week. I hope that isn't a big deal. If it is, I can eat it outside, but I will still need to cook it in the kitchen. But besides that, I am easy to get along with. I love watching TV. I hope you guys like CSPAN and late night HBO as much as I do. I also love music, and think I will be a great addition to your apartment.

Mike

From Joanna ******** to Me:

You're not a vegan if you eat veal. Seriously, veal? That is perhaps the single worst thing a vegan can eat. Calves that are raised to become veal are ripped from their mothers at birth so they get anemia. Then they are starved of milk, food, and exercise. They often are put in crates so they cannot move at all; they just stand and suffer until their ultimate death. Veal goes against everything veganism stands for. How you even consider calling yourself a vegan astounds me.

From Me to Joanna ********:

Well thanks for the veal history lesson. My ex used to ***** to me about veal all the time, so I know all about it. Frankly, I think that is why I enjoy veal. Knowing that the calf suffered so much to make himself that much more tender and delicious for me makes it worth every bite. If I didn't eat veal, it would probably expire and be thrown away. Then, the calf would have died in vein. You wouldn't want that, would you. Seriously, veal isn't that bad. They give the calf a nice safe home to live in. Would you rather they just let the calf just be let loose out in the wild? Then, it would probably be killed by a lion or something. By supporting veal, you are supporting the safe life of cows everywhere.

Seeing as how you got all uppity about the veal, I guess I should tell you that I own two shotguns and an assault rifle for hunting and will need to store them in the apartment. I didn't think it would be a big deal, but I may as well tell you everything. Don't worry though, both the shotguns are registered and the assault rifle has the serial numbers filed off of it so it doesn't have to be registered.

From Joanna ******** to Me:

Don't worry, you don't need to tell me anything else because you aren't going to live with us. I highly doubt there is anything about your life that even makes you close to being a vegan. You're argument sounds like something a twelve-year-old would say. You're clearly just claiming to be vegan to live in a cheap apartment. If you really think you are vegan, think again. Vegans don't hunt, idiot.

From Me to Joanna ********:

C'mon, it isn't like I'm eating the animals after I kill them. I just kill them because I hate deer. I can't tell you how many times I've stepped in deer **** - they **** everywhere. They are worse than old people. One time my little brother ate some deer **** because he thought it was beans. We had to take him to the hospital to get him tested for Lyme disease. I'm just killing deer to make Pennsylvania a better, safer place for children. I'm not eating them, so relax. I still don't eat chicken or burgers or any of that ****. You are really picky about the vegans that you want to live with. So when is the lease for your place up? I'm looking for a place to live for about five or six months, and the sooner I can move in, the better.

From Joanna ******** to Me:

YOU'RE NOT A VEGAN!

From Joanna ******** to Me:

Not eating certain kinds of meat doesn't make you a vegan. Veganism is a lifestyle which prohibits using any kind of animal product, be it food, clothes, or anything else. Hunting is absolutely unacceptable and your reasons for hunting are ridiculous. You won't be living at my apartment so give it up.

From Me to Joanna ********:

Wow, I never thought I would find someone as pretentious as Bono, but you take the cake. Next time I bite into a savory beef brisket, I'll think of you.
Apologetic Nationals Fan

Original ad:
I am trying to get 2 tickets to the Nationals vs. Red Sox on Thursday, June 25th. I'm willing to pay up to $40.

From Mike Partlow to **********@**********.org

Hello, I do not have tickets to the Nationals, but I do have a video tape of my 7-year-old's little league team game last week. He plays for the Arby's Allstars, and they beat the Smith Hardware Little Leaguers. I am sure it will be way more entertaining than watching the Nationals get their ass whooped for the 49th time this season.

From austin ******* to Me

**** yourself, asshole.

From Mike Partlow to austin *******

Austin, my 7-year-old son was on the computer and he read your very offensive e-mail. Now he is going around telling everyone to "**** themselves." Me and my wife tried to raise him to be a kid who doesn't curse, but thanks to your profanity, he thinks it is okay. I demand an apology from you.

From austin ******* to Me

You want my apology? Go **** yourself.

From Mike Partlow to austin *******

I did have the tickets; I was just messing around with you. They were good seats - 10 rows back from third base. I was going to sell them both for $30. I would rather burn them, however, if you don't apologize. If you do apologize, the tickets will be yours.

From Mike Partlow to austin *******

I'm waiting...

From austin ******* to Me

I'm sorry about your kid.

From Mike Partlow to austin *******

Hah, what a sucker. I made you look like little ***** in front of my 7-year-old son. I don't actually have any tickets. Thanks for helping me teach my son a lesson about how not to keep your dignity.

Mike