Well damn its almost been four years. First off, thanks to Scott. I tell my buddies about this site anytime anyone wants to know anything about football, because it really is the best football site I've ever come across, and to be honest, it isn't even close. So I'd like to thank Scott for all the hard work he puts in and want him to know I appreciate it very much. I'd also like to thank JBond, not only does he help make the boards great, but his contributions to the site are bigger than anyone except Scott. Thank you for your hard work Shane, throughout the boards, we all appreciate it.
As for the rest of you slimy, e-scum that I've come to know so well, thank you to you all for putting me on the path to reach my full cool-internet-guy potential (which I am nowhere near yet).
Each and every one of you bastards on this list below has done something, in most cases many things, that I thought was awesome, or worthy of being mentioned in this list, not that most of you care.
21ST
619
703SKINS202
A Perfect Score
abaddon41_80
Addict
adschofield
AJHawk50
AkiliSmith
AntoinCD
aNYtitan
ATLDirtyBirds
AQ
B-Dawk
badgerbacker
BaLLiN
BamaFalcon59
Bantx
Beans
bearsfan_51
Bengals78
Bengalsrocket
bhaarat316
BigBanger
BigDawg819
Bills2083
BlindSite
BmoreBlackByrdz
Bob Sanders Dreadlock
BoneKrusher
Borat
bored of education
Bosanic01
Boss+Manning=Banning
Brodeur
broth223
Brown Leader
BuckNaked
Caddy
Charm City Byrdgang
ChiFan24
comahan
Complex
coordinator0
Crazy Chris
Crickett
critesy
CT Bronco Fan
cunningham06
D-Unit
dabears10
Dam8610
Damix
dan77733
DChess
derza222
descendancy
diabsoule
Dirty Thirty
djp
DLionALL
DMWSackMachine
doingthisinsteadofwork
Don Vito
Donno
DoughBoy
DoWnThEfiElD
Dr. Gonzo
draftguru151
DragonFireKai
drowe
duckseason
Eagles own the NFC East
eaglesfan605
Eaglez.Fan
EdReedUnstoppable
ElectricEye
etk
fear the elf
fenikz
fischbowl
Flyboy
FlyingElvis
Forenci
FreshBoy!
frubulubu
FUNBUNCHER
FuzzyGopher
*** Ork Wang
General Zod
georgiafan
GiantRutgersFan
Giantsfan1080
gpngc
Halsey
Hawk
HChu
HeavyLeggedWaistBender
HinesWardJr
Hollywood
holt_bruce81
Hurricane Ditka
Hurricanes25
Iamcanadian
ImBrotherCain
Im_a_Romosexual
iowatreat54
ironman4579
j05son
jackalope
Jakey
jayceheathman
jballa838
JeffSamardzijaIRISH
Jensen
JFLO
Jimmy
Job
josh07039
JRTPlaya21
JT Jag
Jughead10
Jvig43
kalbears13
katnip
KCJ58
keylime_5
killxswitch
KobeBryant833
kwilk103
Libid
LizardState
locseti
LonghornsLegend
LTgiants
M.O.T.H.
Malaka
marshallb
MaxV
Maybe Next Year Millen2
Me Likey Rookies
mellojello
Menardo75
MichaelJordanEberle
Michigan
Modano
Monomach
Mr. Goosemahn
Mr. VVoot (Wooty)
Mr.Regular
neko4
nepg
Ness
niel89
NIN1984
njx9
no bare feet
nobodyinparticular
Notredameleo
NYGibril28
OneToughGame
OSUGiants17
OzTitan
Ozzy
P-L
PackerLegend
PACKmanN
PalmerToCJ
Paranoidmoonduck
Paul
Philliez01
Poz51
princefielder28
prock
RaiderNation
RavenOfProphecy
RAVENS/WIZARDS/ORIOLES
Ravens1991
Razor
RealityCheck
Rob S
rockio42
S4L
Saints-Tigers
SchizophrenicBatman
Scotty D
SenorGato
Shiver
SickwithIt1010
skinzzfan25
slightlyaraiderfan
Smokey Joe
Smooth Criminal
soybean
Splat
Stash
Staubach12
steelersfan43
stephenson86
StripedWalrus
SuperKevin
superman8456
SuperMcgee
Supporting Caste
Sveen
sweetness34
T-RICH49
TACKLE
Tampa 2 4 life
terribletowel39
The Dynasty
The Unseen
thebow305
thefalconer
themaninblack
thenewfeature06
ThePudge
thetedginnshow
The_Dude
the_legend_killer
thule
Thunder&Lightning
Timbathia
TimDris
TitanHope
TitansCJftw
TitleTown088
tjsunstein
Todd Bertuzzi
toonsterwu
trkaline
vatech=accdomination
vidae
Vikes99ej
vikes_28
ViperVisor
VoodooMonkey
Ward
wicket
WinslowBodden
WMD
wonderbredd24
Xiomera
Xonraider
XxXdragonXxX
YAYareaRB
yodapoop
yourfavestoner
zachsaints52
Basically its a list that if you've done something I remember, if you're not on it, you're meant to be on it, I just lost track going through the list.
This is a group of guys that for whatever reason, stick out most to me, whether its because of their football, knowledge, personality, or whatever, these guys stick out to me, and if I had the time, I could've added about 50 of you to this list, but unfortunately, I can't write until tomorrow morning...
BeerBaron-Fellow PA guy, stuck in the middle of the state where the battle over Steelers/Eagles is as bad as it gets. I don't blame you for being a Bears fan. A lot of the work in the SWDC Fantasy Leagues was done by you, and I worked with you the most it seemed. Great guy here.
bigbluedefense-One of the most knowledgeable football posters on here, right at the very top. You are my favorite Giants fan (with scotty of course) and can always be relied on to get an unbiased answer when it comes to his guys or your guys. I respect your opinion as much as anyone else's on this site.
Brent-Though I have moved on from it, you introduced me to Maker's Mark, and it was great while it lasted. You know your ****, and are funny as hell. If you haven't killed a child yet, I think you're set.
bsaza2358-Fellow Eagles poster who has been around here longer than I. Another
very
knowledgeable poster who I have a respect for because you really do know your ****. We don't always agree, I've actually found a lot of the time we don't, but when it comes to the Eagles, I respect your opinion as much as anyone.
CJSchneider-Just for you, the pencil sharpener from my epic, "how the **** do I post a picture" night when MOTH came to the rescue.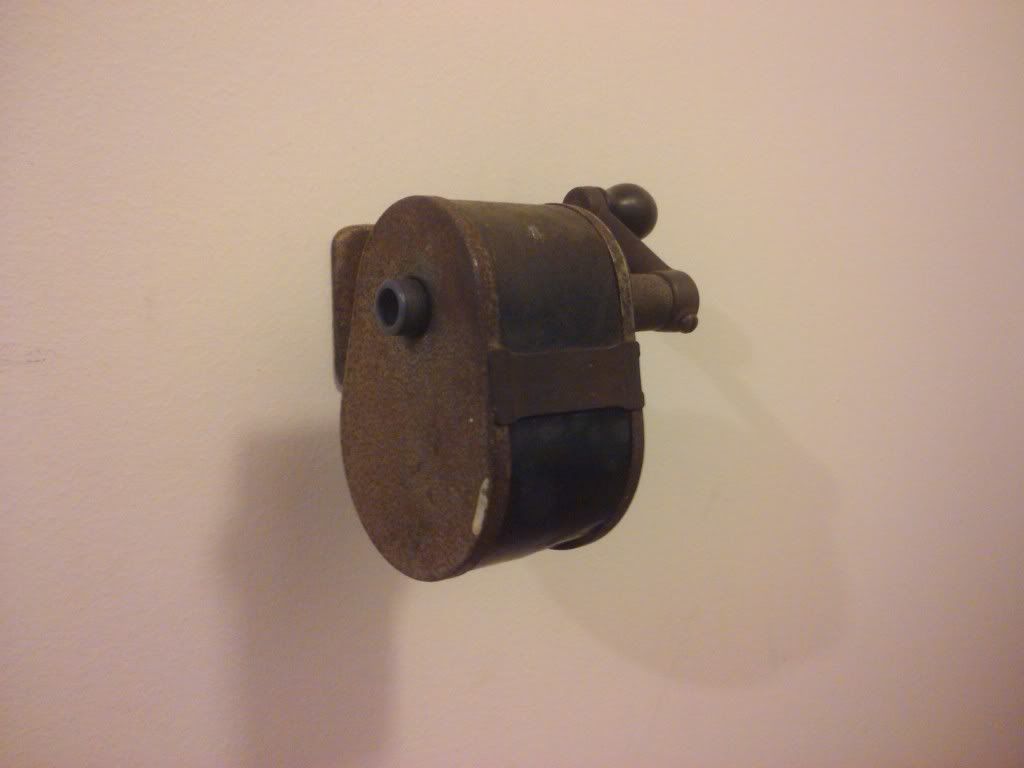 You are my probably my favorite poster on here, has made me laugh loud enough to interrupt my "real life" more than all the others on here combined. I only wish I had someone like you as a teacher, it would've made comign to school so much more fun. If I'm ever down in Louisiana, I'm gonna have to find a way to have a drink (or eight) with you.
Go_Eagles77-Along with Sniper, you've been the most active Eagles poster since I started, I feel like sometimes it would either be you or me keeping the threads alive when bsaza was busy working or Sniper wasn't around. Eventually one of these years we're going to have to meet up for one of the Training Camp practices...
MetSox17-My favorite Cowboys poster, you're very knowledgeable with your Cowboys, but you've helped introduce me to the music that I like more than any other type. Eventually I'm going to make it down to Texas for a concert of our bands, and I know it'll be a blast. Chances are, you might be there already, lol.
scottyboy-Never in my life did I think I would find a heterosexual man (pretty sure, lol) who was so in love with another man's thighs. But honestly, have you looked at them, I can't blame him. Scotty is one of my favorite posters, funny, very smart, especially about his Rutgers football. (Whoever doesn't know this must be new here)
SeanTaylorRIP-My favorite Skins fan on here, he is another very knowledgeable poster, with one of the most memorable posts on this whole site. That post got me more emotional than any other one on here, and though it came unders terrible circumstances, I thank you for it.
Sniper-A local kid who's opinion I respect very much. We definitely don't agree all the time, but unlike some other posters from our team (Thumper, cough), we handle it well and it doesn't bother us. He hails from my high school's rival, and is a fan of Michigan, and I must point out that Emmaus beat Parkland this year, and Penn State beat Michigan... haha.
To wrap this up (its way too long already)
thank you all for the time you have spent on here
it really has been fun, its made me a better, smarter football fan and, especially when I first started out here, helped me find new aspects of my personality. THANK YOU ALL