Okay, since I've critiqued everyone else's mock draft to this point, I figured I should put my money where my mouth is and post my mock draft.
Now, again, this is before all of free agency is over, but here is my Saints mock draft, round by round.
Now, in the first round, I think that our need will either be linebacker or cornerback. With the Saints getting LB Brian Simmons in the off-season so far, and re-signing Scott Shanle, but not landing a free agent corner yet, I think that cornerback would be the pick here over linebacker. Again, as I've said earlier, players like Leon Hall and Darrelle Revis would probably be gone, so here's my pick for the Saints at twenty-seven...
Chris Houston, cornerback, University of Arkansas
Now, with the Saints picking near the end of the second round as well, I think that a majority of the bigger name players would be gone. Looking to provide some quality depth here, the Saints again look to a defensive player...
Quinn Pitcock, defensive tackle, Ohio State University
Okay, now with the Saints getting a legitmate starting cornerback and now a top defensive tackle to learn from Hollis Thomas and Brian Young, the Saints look to add another player to the defense with the next selection, this time in the third round...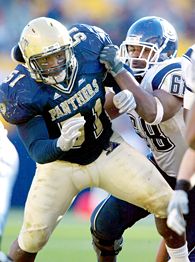 H.B. Blades, inside linebacker, University of Pittsburgh
Now on to Day Two...
After getting three straight defensive players in the first three rounds, I think that it might be time for the Saints to get their first offensive player... here's hoping that this guy will still be available in the fourth round...
Steve Smith, wide receiver, University of Southern California
Now, with the Saints getting three defensive players, and now a wide receiver, the Saints continue to address depth at key positions. Even after getting Eric Johnson in free agency, I think that the Saints could use a young back-up tight end who could take over if Johnson doesn't pan out or the other two continue to be hampered with injuries.
Matt Spaeth, tight end, University of Minnesota
Now, with the second selection of the fourth round, the Saints look to add more quality depth at key positions. Here's another player that I think can add depth to a position of need.
Andy Alleman, guard, University of Akron
Now, if even part of the first four rounds go the way I want, that'd be great. Now, on to the fifth round...
I think with the fifth round here, I'm not certain what I would want the Saints to target... but there's a bevy of cornerbacks that could add depth, so here goes...
Travarous Bain, cornerback, Hampton University
So now, the Saints have picked up two cornerbacks, a linebacker, a defensive tackle, a wide receiver, a tight end, and an offensive guard. What's left?
In my opinion, we need a good quality back-up quarterback to learn from Drew Brees since Jamie Martin is no Spring chicken... here's someone that not many people have mentioned, but I'm high on this guy...
John Beck, quarterback, Brigham Young University
And now, lastly, in the seventh round, the Saints could just pick someone that would be a camp body. I'm not sure what the Saints need here, since it is the last round and all. Against my best judgment...here's my last selection for the Saints...
Andrew Wellock, kicker, Eastern Michigan University
So, that's my mock draft for the Saints...in review:
First Round: Chris Houston, CB, Arkansas
Second Round: Quinn Pitcock, DT, Ohio State
Third Round: H.B. Blades, ILB, Pitt
Fourth Round (a): Steve Smith, WR, USC
Fourth Round (b): Matt Spaeth, TE, Minnesota
Fourth Round (c): Andy Alleman, OG, Akron
Fifth Round: Travarous Bain, CB, Hampton
Sixth Round: John Beck, QB, BYU
Seventh Round: Andrew Wellock, K, Eastern Michigan
So what do y'all think? I think that this draft would not only be solid, but spectacular, in my opinion... :D