Week 3:
Sunday, September 23, 2012
San Francisco 49ers (2-0)
At
Minnesota Vikings (1-1)
Location: The Metrodome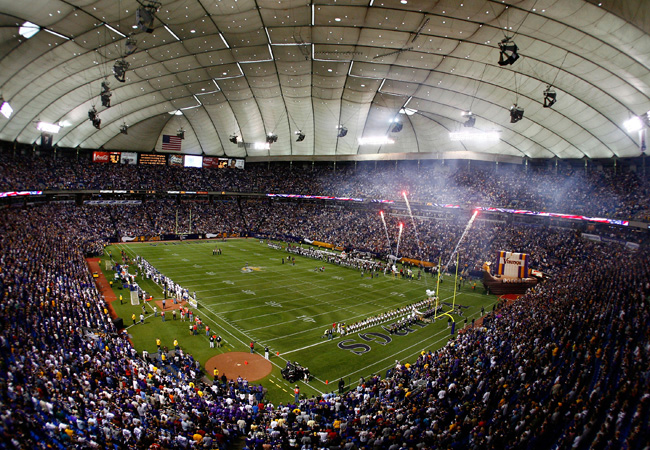 Time: 10:00 am pst
Line: SF -6.5
Announcers (FOX): Kenny Albert, Daryl Johnston, Tony Siragusa
I'll be honest. I didn't expect this team to be 2-0. I really didn't think they'd go into Lambeau and win. And if they somehow pulled that off, that they'd avoid the letdown and beat the Lions and their vaunted offense. Really didn't see it happening.
It happened.
So what now? I took another look at the schedule, and all of a sudden, it really doesn't look as difficult as I previously viewed it. I mean, when you walk into Lambeau and dominate a team that went 15-1 last year, that will severely change your thoughts on their capabilities. Not that I was worried about this particular game prior to the season, but going to Minnesota hasn't always been …
fun
successful.
I remember the last time the 9ers went into Minnesota.
This happened: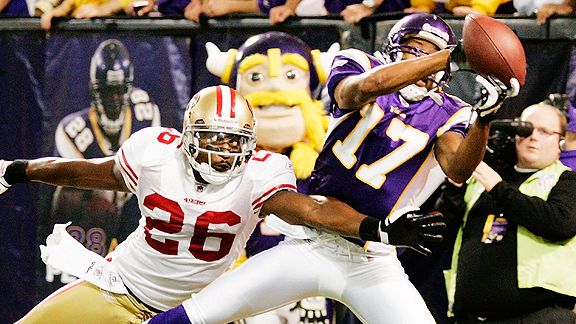 Yeah, that didn't suck or anything. I'm pretty sure Favre could come out of retirement and still find a way to beat SF. **** that guy.
Then, as I tried to remember the previous time the 9ers went to Minnesota, I thought of the highly anticipated T.O. vs. Randy game in 2003 where this happened:
Player/ Rec/ Yards/ TDs
Owens 5 55 0
Moss 8 172 3
This was the game where T.O. officially became dead to me. He didn't give a crap that the 9ers got smoked that game. All he cared about was that America just witnessed Randy Moss take a gigantic crap all over the Niners and T.O. did nothing. Randy scored TDs, T.O. threw tantrums. That's pretty much how I remember it all going down … throughout their careers.
This might be the most boring gameday thread of the year. Sorry. There really isn't much to discuss. The 9ers are better across the board. There is just nothing I must include. I guess we can go with:
The Vikings best player is still this guy:
And yet, he still has to face this
That will definitely make you scratch your head
I guess I should worry about this guy:
But I just don't seem too worried because of this
I actually don't hate Christian Ponder … for his quarterbacking abilities. I hate him because he humps this at night:
Yep, this gameday thread still sucks. There is just nothing interesting to write about. So, here are some .gifs. Enjoy the game.
Standings:
NFC West
1. San Francisco 49ers (2-0)
1. Arizona Cardinals (2-0)
3. Seattle Seahawks (1-1)
3. St. Louis Rams (1-1)
NFC North
1. Detroit Lions (1-1)
1. Chicago Bears (1-1)
1. Minnesota Vikings (1-1)
1. Green Bay Packers (1-1)
Special Note: