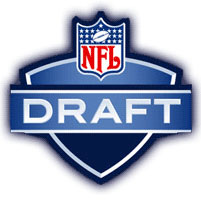 1. Kansas City Chiefs: Geno Smith, QB, West Virginia
Chiefs are in complete re-build mode, first place to start is QB
2. Jacksonville Jaguars: Bjoern Werner, DE, Florida State
Jacksonville needs a pass rusher and Werner is the best 4-3 DE I have seen in years
3. Cleveland Browns: Sam Montgomery, DE, LSU
Another team who needs a pass rusher badly
4. Carolina Panthers: Johnathan Hankins, DT, Ohio State
Panthers got holes all over, but they need to start by building in the trenches
5. Buffalo Bills: Tyler Wilson, QB, Arkansas
Fitzpatrick is not the answer at QB. This team has a very talented offense that and a young D, they are a few good drafts away from being contenders for their division.
6. New York Jets: Jarvis Jones, DE/OLB, Georgia
Don't know where to start with this team, but Rex would love to have a player like Jarvis on his team.
7. Oakland Raiders: Matt Barkley, QB, USC
Carson is not the answer, neither is Leinart and neither is Pryor. Time to move on
8. Tennessee Titans: Star Lotuleilei, DT, Utah
With the top DEs gone and no CB worthy of a pick this high, they go BPA.
9.Arizona Cardinals: Taylor Lewan, OT, Michigan
While I feel QB is their biggest need, there is no QB worthy of this pick left on the board so they sure up the OL.
10. New Orleans Saints: Barkevious Mingo, DE, LSU
Saints can't shut down opposing QBs because they have no pass rush or secondary. Mingo needs to bulk up a little if he wants to play DE in the NFL, but his athleticism will entice teams to take that chance that he can bulk up and still succeed.
11. San Diego Chargers: Dee Milliner, CB, Alabama
Jammer is old and they don't have much behind him
12. St Louis Rams: Luke Joeckle, OT, Texas A&M
I still have faith in Bradford as long as they can keep him upright and get him some weapons.
13. Cincinnati Bengals: Manti Te'o, LB, Notre Dame
LB is a slight need and Te'o is the BPA
14. Detroit Lions: Jonathan Banks, CB, Mississippi State
Lions don't have much at CB and I absolutely love Banks size and speed to not only start, but excel at CB in the NFL
15. Minnesotta Vikings: Keenan Allen, WR, Cal
I love Percy Harvin, but the Vikings could use another WR across from him. A young improving OL, a healthy Adrian Peterson, a ever improving Christian Ponder and 3 young talented receiving threats leads to a bright future for this team.
16. Philadelphia Eagles: Eric Reid, S, LSU
17. Tampa Bay Buccaneers: Xavier Rhodes, CB, Florida State
18. St Louis Rams(f/ Washington Redskins): Justin Hunter, WR, Tennessee
19. Dallas Cowboys: Tyler Bray, QB, Tennessee
20. Baltimore Ravens: Dion Jordan, DE/OLB, Oregon
21. Indianapolis Colts: Damontre Moore, DE/OLB, Texas A&M
22. Seattle Seahawks: Robert Woods, WR, USC
23. Miami Dolphins: Terrance Williams, WR, Baylor
24. San Francisco 49ers: Sheldon Richardson, DE/DT, Missouri
25. New York Giants: Alex Okafor, DE, Texas
26. Pittsburgh Steelers: Le'Veon Bell, RB, Michigan State
27. Atlanta Falcons: Tyler Eifert, TE, Notre Dame
28. New England Patriots: Cordarrelle Patterson, WR, Tennessee
29. Chicago Bears: Jordan Poyer, CB, Oklahoma State
30. Houston Texans: Kenny Vaccaro, S, Texas
31. Green Bay Packers: Barrett Jones, OL, Alabama
32. Denver Broncos: John Jenkins, NT, Georgia
I only provided my explanation for the first 15 picks, but if you want one for any picks after that, just ask.