As we inch ever so close to NFL Draft Season, I wanted to dive into the needs of the teams (as I see it). It's a fun dive down the rabbit trail but unless you're in the front office of the team, you and I know nothing about what a team will actually do. I look at areas of weakness, and grades and try to compile my best guess as to what's next.
Biggest Team Needs – NFC West
Arizona Cardinals
This is a team that could see huge changes, maybe a new coaching staff, maybe not. Injuries have beat this team up again in 2022, Kyler is hurt again and there are plenty of holes on both sides of the ball. I will always be a firm believer that a good team starts in the trenches, and like most of the teams I look into, I start with the offensive line. 
Because their 1st round picks are potentially a top 10, they will have plenty of options. I know Shane just mocked Christian Gonzalez to them, and that's a great option.  Their tackles are the best part of the line, though they are aging, so this team could target a tackle and shift the others around. Paris Johnson or Broderick Jones is probably the highest-drafted tackles this year.
San Francisco 49ers
What do you do to add to a team that looks like a Super Bowl Contender? I know their top two QBs are hurt but that's not a need. So a group like this can just take the best player that fits what they look for. The Interior defensive line feels like a safe spot to target, as it could use a talent infusion. 
Sadly, this team won't draft until later on day two, maybe they can get a guy like Zacch Pickens from South Carolina or Mike Morris from Michigan. Both are pretty different styles of linemen but you plug them in and let them be matchup nightmares for you.
Seattle Seahawks
Is this team a fraud? Is Geno Smith legit? All very good questions that only time will tell about. What I think it does tell us is that Pete Carroll will probably get another year to build this team. With two first-rounders, they are going to be fun to watch in the draft for sure!
With a top 5 pick from Denver, I see a lot of people sending Will Anderson their way. This team really is desperate for line help on both sides of the ball, so it makes sense. I'd love them to come back and target another defender like Nolan Smith with their 2nd pick. 
The offensive line is not great but it's serviceable, they need to strengthen a defense that is not great. They need a consistent pass rush, look what even a remotely solid pass rush is doing for Detroit…
Los Angeles Rams
Say it with me OFFENSIVE LINE, the problem is they've spent too much time believing the "F-Them Picks" mindset, and now they have little to use to get players. 
So, they can target the offensive line early, late, or with all the picks and I'd think that's still not enough haha. The nice thing is that 2nd rounder could land you a solid lineman, Sedrick Van Pran from Georgia or Dawand Jones from Ohio State would immediately start for this squad.
Biggest Team Needs – NFC South
Atlanta Falcons
Their potential top-10 pick probably will be too low to get Stroud or Young, though if they like what they see in Ridder that won't matter. To run an Arthur Smith offense, do they need a game-changer at running back? Is Bijan Robinson worthy of that? Maybe. 
I'd love to see this team target Bryan Breese if he's there. This defensive line needs a talent infusion, Grady Jarrett can't do it all himself. If not him, they could target Tyree Wilson from Texas Tech or a Myles Murphy from Clemson (though he's probably gone as well).
Carolina Panthers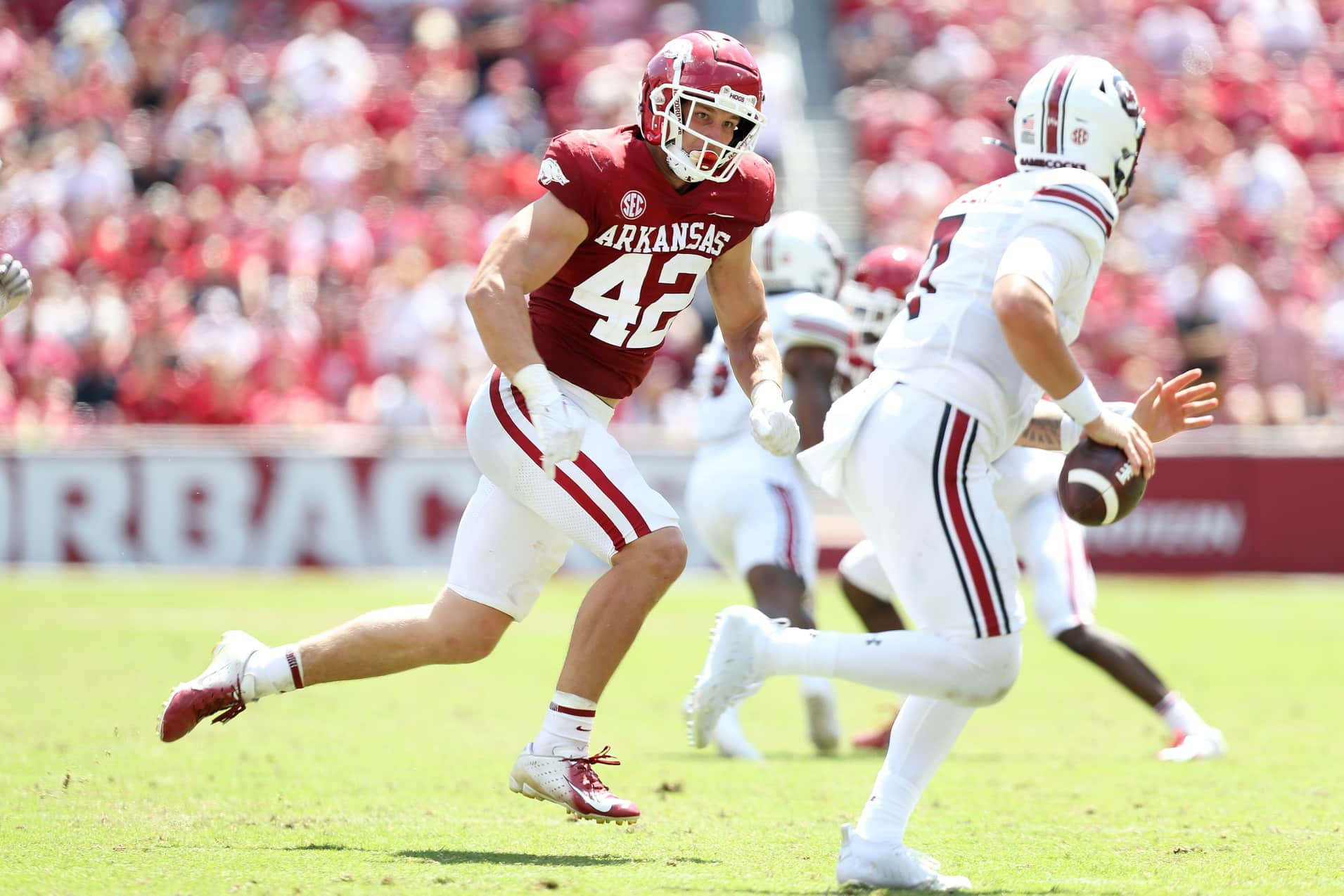 Who's the coach? Steve Wilks has shown that the players trust him, which could be huge (I like him too!). I'd love Will Levis in this spot, he may be gone though. They could go for linebacker help, Drew Sanders or Trenton Simpson could be really helpful as well. 
San Francisco has proven that with a dominant defense, you don't need an amazing offense, so could this team lean on Sam Darnold, Matt Corral, or a free agent to lead the offense? Maybe, if you add a linebacker and another pass rusher, this could be a top-10 defense pretty fast.
New Orleans Saints
They need help on both lines, and with no first-rounder, that 2nd round pick needs to start for this team immediately. Free agency could be really interesting for this team as well, and what they do at QB is critical this year. Has Dalton shown enough to get another year? What's up with Jameis? 
Matthew Bergeron from Syracuse or Jarrett Patterson from Notre Dame would be huge gets to strengthen this offensive line. If they go defensive line Tuli Tuipolotu from USC or Siaki Ika from Baylor could be fun!
Tampa Bay Buccaneers
From champs to chumps in a short time leaves this team scrambling to figure out how to move forward. Does Brady stick around? This team's injury issues have hurt big time and put them in a spot where they have plenty of needs.
Picking in the late teens (potentially), they probably get their choice of second-tier edge rushers if they want, I'd love to see them strengthen the interior of the offensive line, and O'Cyrus Torrence from Florida would be a great choice. If they want a tackle, Jaelyn Duncan from Maryland could be a huge addition to the line. 
This team could target Nolan Smith or Isaiah Foskey as well if they want edge rusher help. The secondary has some nice names that are probably available, like JL Skinner from Boise State or Joey Porter Jr from Penn State could be nice pieces to target as well. 
Any questions or just want to keep the conversation going, hit me up on Twitter Feel free to @ me or DM me and we can talk more about him and the rest of the 2023 NFL Draft, and don't forget to check out our Mock Draft's here on Draft Countdown!